One of the coolest things about social media is every once in a while you'll come across a post that embraces the very best humanity has to offer.
One that celebrates the weird & wonderful quirkiness that makes us all unique and makes life a whole lot more interesting.
This is that post.
Comedian Caleb Hearon, aka @calebsaysthings, started the discussion on Twitter about "the guy" & based on the hilarious comments on his twitter thread, and other places it's been shared, it's totally true.
You know the guy, the one everyone knows about and who is just a part of the local scene. The one visitors can't help but do a double-take when they see him (or her). And yet, who's just "that guy" to everyone who lives there.
Like the guy who walks his dog while riding a lawnmower. Or the guy who jogs in a Speedo.
Or…the horseback Jesus guy.
His tweet reads:
every city has a "guy" they all know about. you can visit a friend in their town and see a man dressed in robes, riding a horse & your friend will go "oh yeah haha that's horseback jesus" and then that's just the end of the explanation.

— caleb hearon (@calebsaysthings) December 5, 2019
His Twitter thread brought some hilarious responses, and so did this post by blogger, Meredith Ethington when she shared Caleb's tweet on her Facebook page.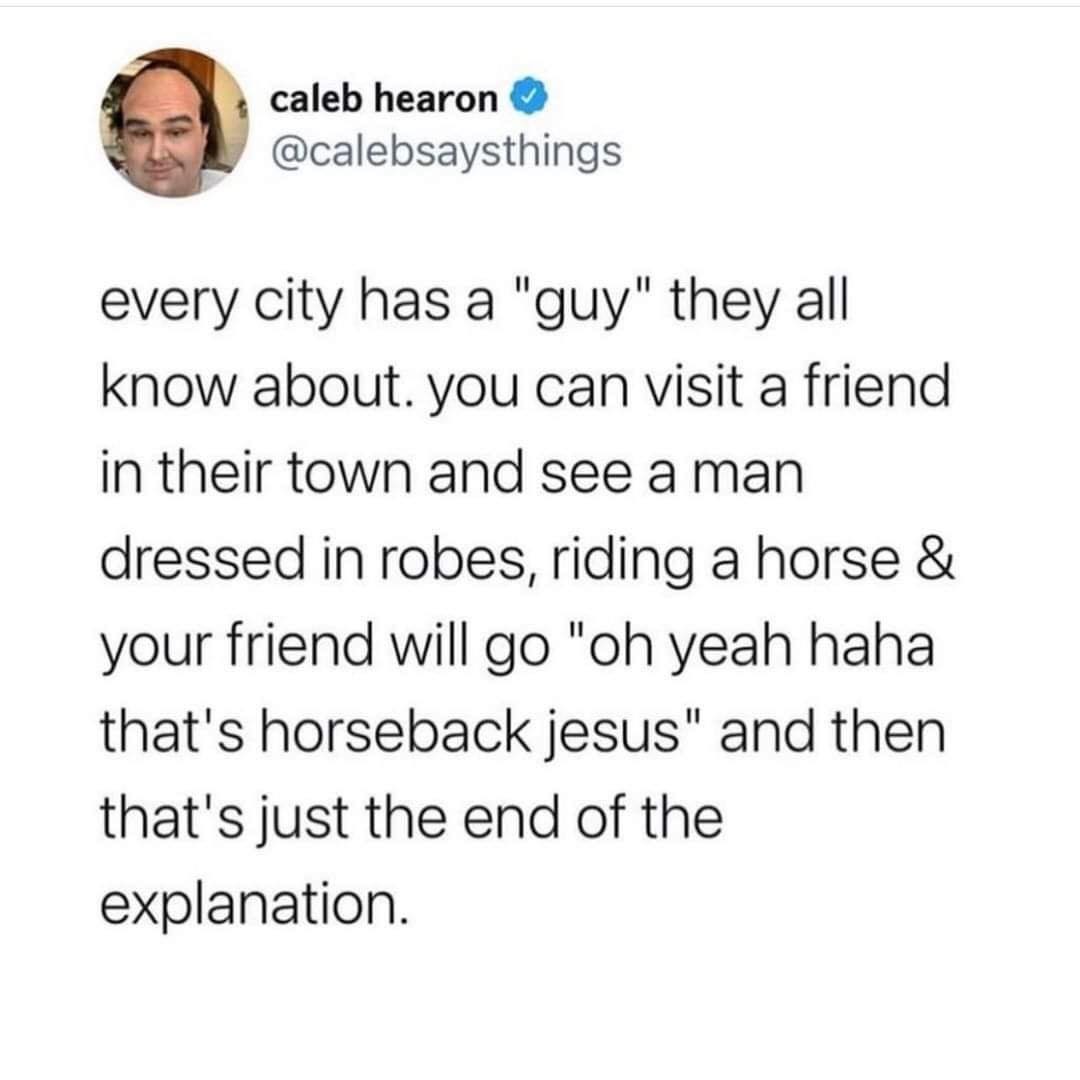 Because nothing screams "this is just a normal everyday sighting, like someone riding a bike or a scooter," like a horseback riding Jesus, amirite?
Cities and towns often build landmarks to set them apart from all the rest. Sometimes it's buildings, like the Empire State Building, or the Washington Monument, or the Space Needle.
Sometimes it's a statue representing the town's claim to fame, like a giant potato in Idaho, or the Jolly Green Giant in Minnesota, or the Golden Driller in Oklahoma.
But sometimes the landmarks aren't buildings or statues, they're people. Local celebrities.
Someone who adds a little extra unexpected flavor, sorta like putting raisins in Mac N Cheese. Someone who turns the mundane and ordinary into something extraordinary.
And according to Caleb, every town has one. And based on the comment section? I'd have to say, agreed.
Commenters were quick to give the deets on the dudes (and ladies) of their towns.
First, there are the ones who set themselves free from the (shoelace) ties that bind and cast off the shackles of shoes.
Like "Tan Man," who wore robes and walked around town barefoot.

And barefoot sheep guy. And I have SO.MANY.QUESTIONS:
Then there are those who take it one step further and aren't so much about the bare feet as they are about the "bare" everywhere.

And Speedo Man. Who, you guessed it, is all about the speedos and nothing but…that is all.

And one lucky town has both – Flag Man AND Speedo Jesus.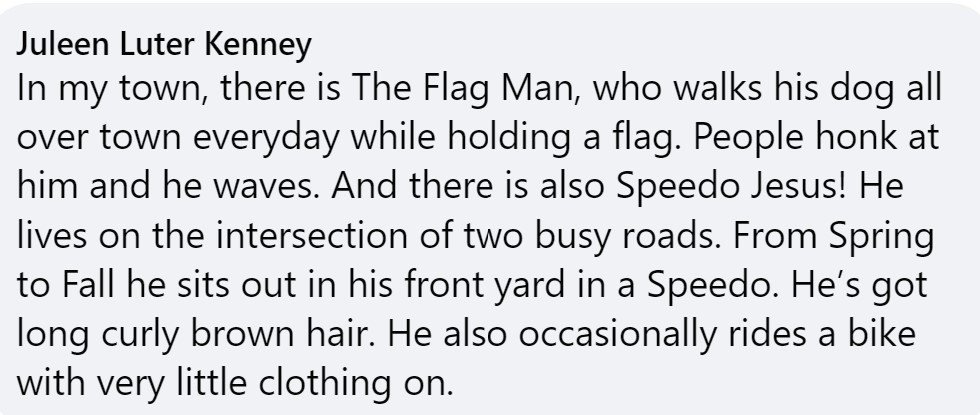 However, my personal favorite? Move over Wolverine. You're living in Milwaukee Milverine's world now.

Behold: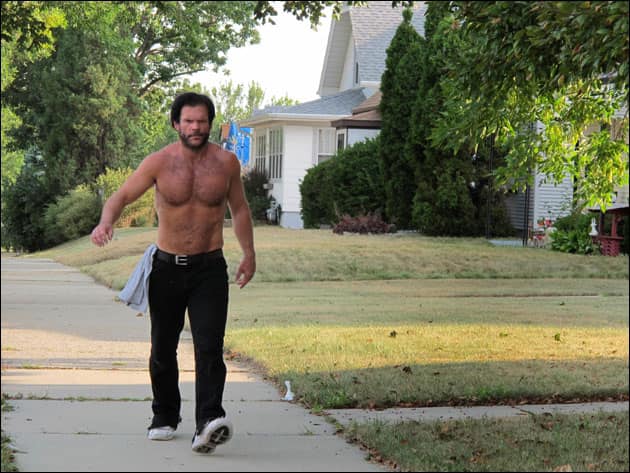 Who is only rivaled by this fellow jogger (and I REALLY wish we had a picture):

Sometimes it's not so much about what they're wearing (or NOT wearing), so much as what they're riding OR driving, like Brother Ron aka the Milwaukee Preacher (and what is happening in Milwaukee?):

Forget the Batmobile…It's Ron's Ride now.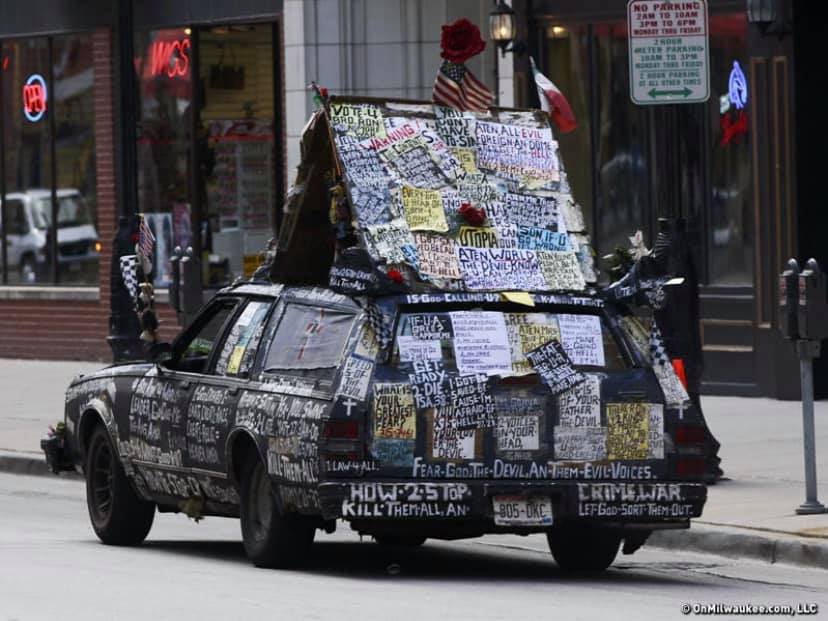 Speaking of cars, Brother Ron isn't the only one with a cool ride. There's also this guy:

And this woman from Nashville, TN who's all about spreading the holiday cheer with her own version of the "Happiest Place On Earth." Seriously, who even needs Disneyland?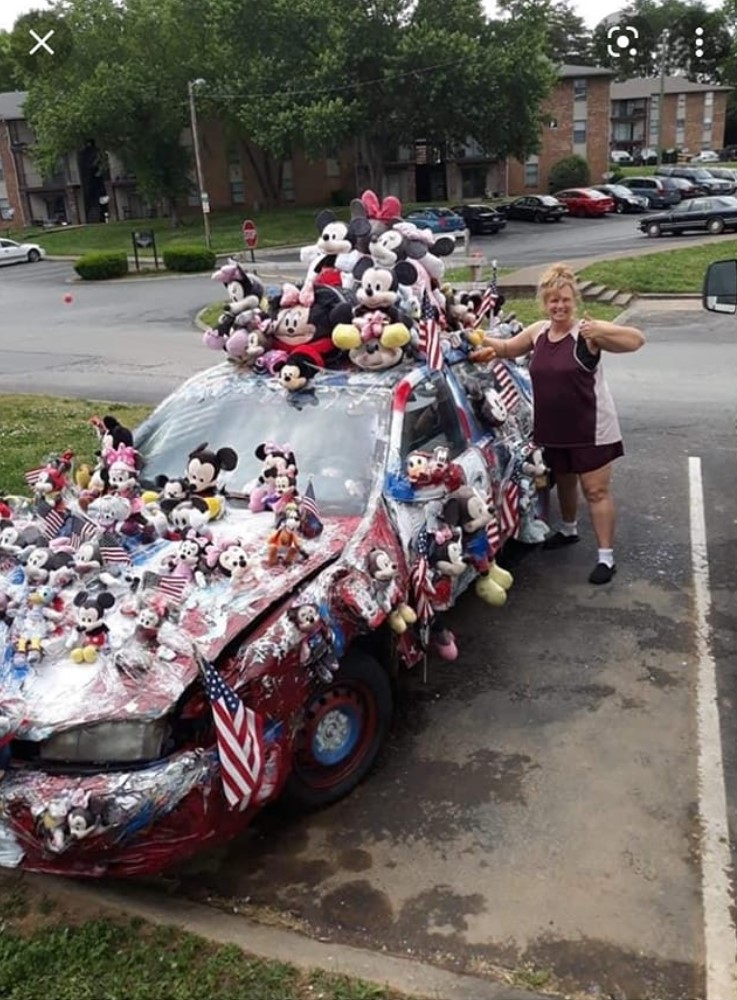 And our list would not be complete without "The Unipiper." Or 'Darth Bagger' as I like to call him.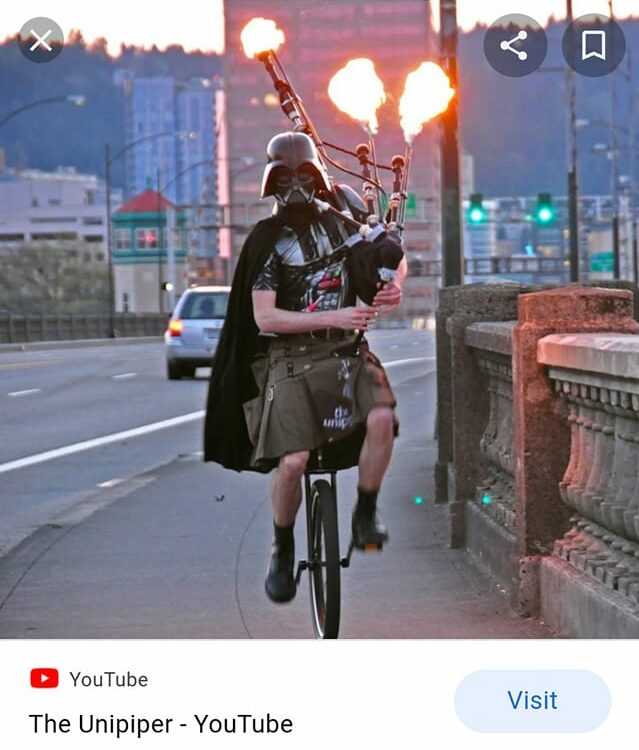 And if the melodious sounds of his bagpipe don't make you feel like dancing like 'Dancing Dave' or 'Dancing Kenny', I don't know what will.


Alas.
As for me? I was 10 years old the first time I saw her. I stepped onto a city bus and there she was, a flower-bedazzled straw hat perched upon her head and her duck in a wicker bag perched upon her lap.
The bag was emblazoned with the words "HARVEY THE DUCK."
In all of my 10 years, she was the most amazing thing I had ever laid eyes on. And in all the years since, I have never forgotten her.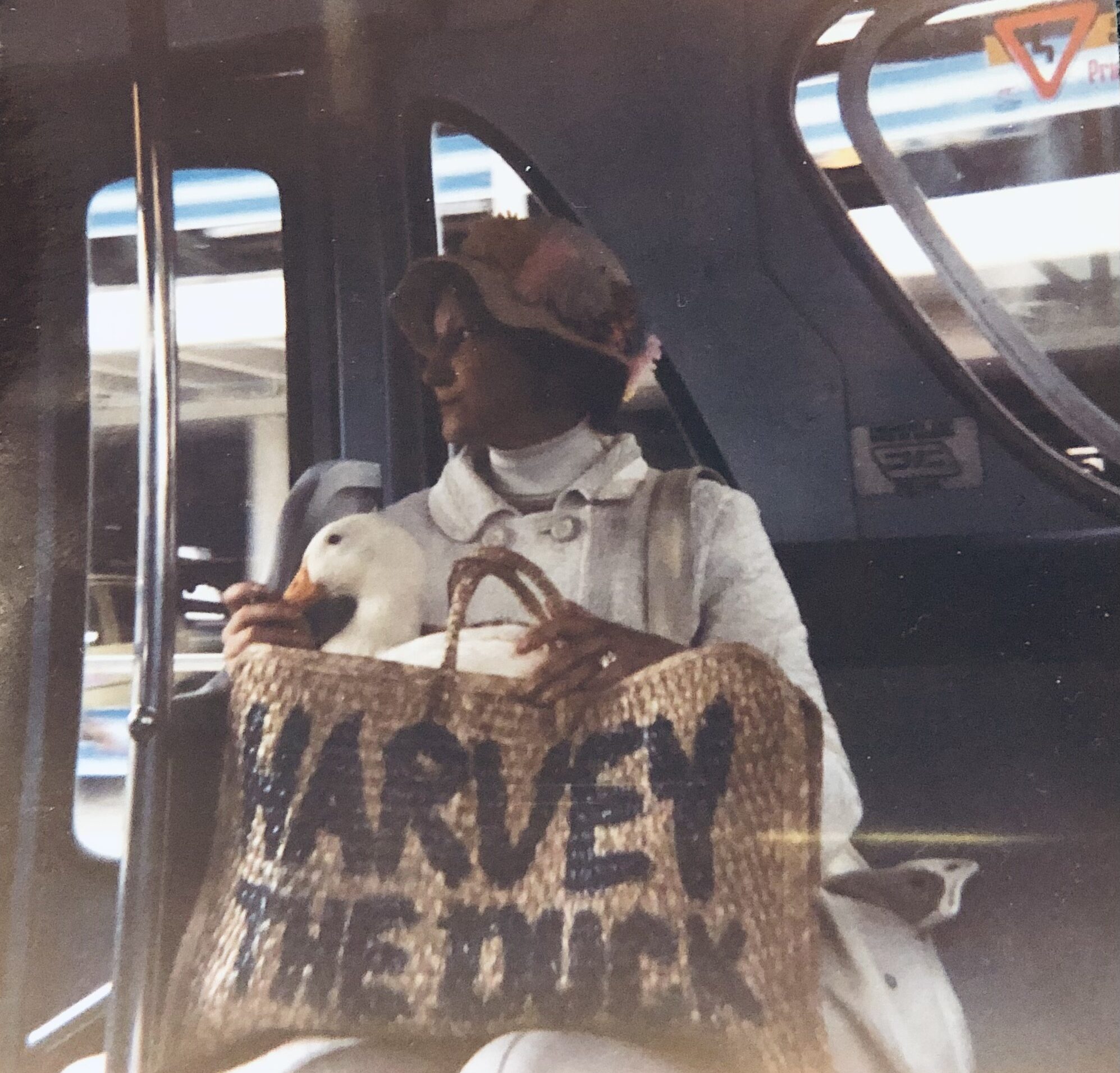 And that's the thing about "the guy" in your town. They leave a lasting impression on all who are fortunate enough to bear witness.
And make the world a little bit brighter while doing it.
Do you have a "guy" in your town? Leave us a comment, and check out Caleb's idea for the future for the "guy" in your town.
don't just reply to this with your city's "guy" please. do that AND get them elected mayor. change happens locally.

put Chicken Suit Bethany on the city council and let's all just have some fun for once.

— caleb hearon (@calebsaysthings) December 5, 2019
You can check out more of the comments on Meredith's facebook page here.