Recently, folks in Wise County, VA celebrated the 109th annual Virginia Kentucky District Fair.
The event took place over a week and included carnival rides, food, live music, a horse show, various contests, ATV and Motocross races, and an exhibit center.
However, it was a woman named Linda Skeens who really stole the show.
Linda battered the competition when she "racked up" all the wins in the "Baked Goods" contests; winning first place in every single category, literally.
She even managed to snag all THREE top spots in cookies, savory bread, and candy.
Impressive no??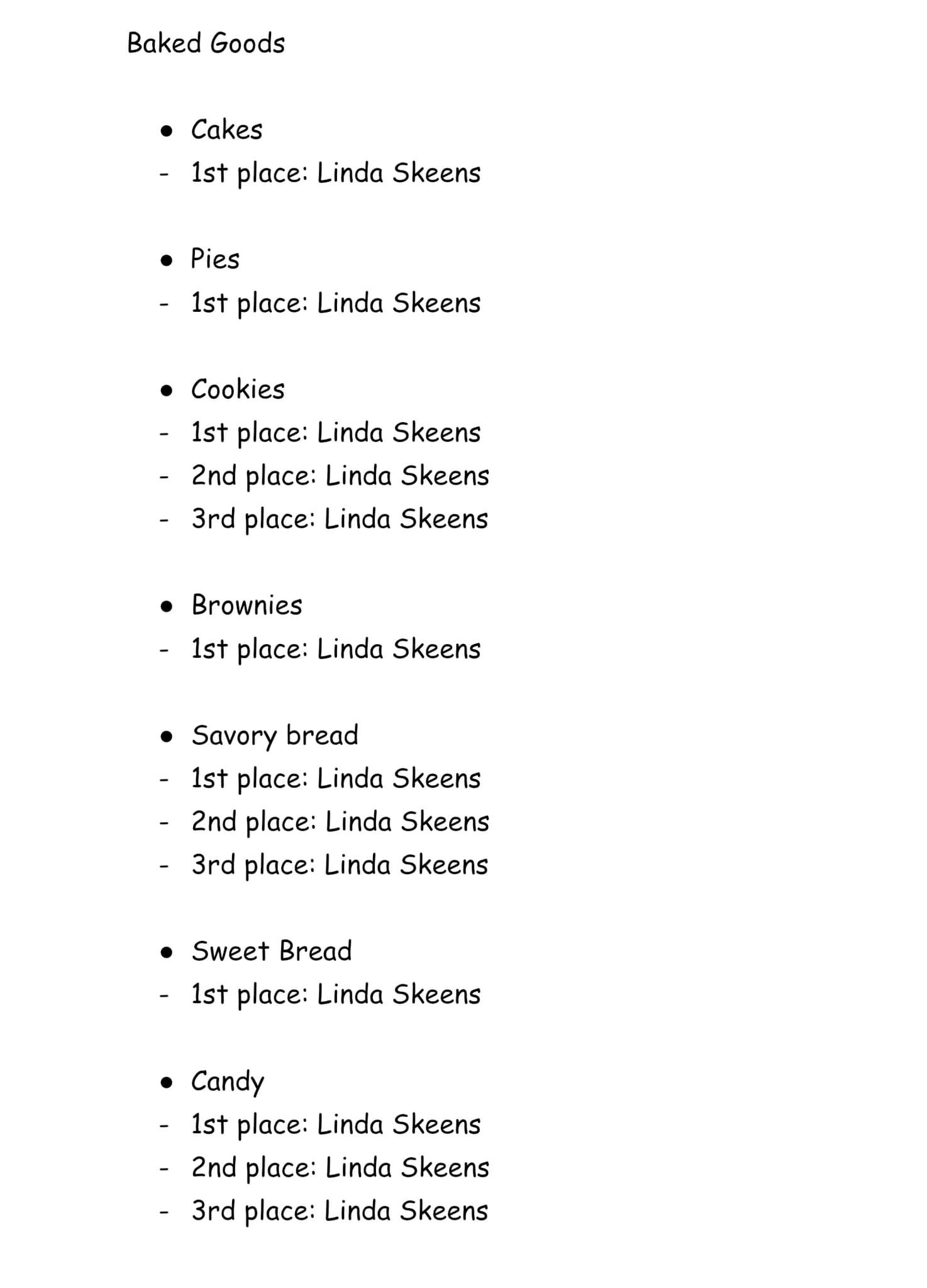 Clearly, Linda is one hell of a baker. Not to mention a definite overachiever.
But not only is Linda a prize-winning baker, but apparently, she embroiders too. She also won 1st, 2nd, AND 3rd place in "embroidered pieces."
Add to that "Best Overall" ribbons for the following categories:
canned vegetable (corn),
best canned tomato,
best non-cucumber pickled item,
best relish
best jelly (grape)
best jam (peach raspberry)
best baked good (strawberry fudge)
And this woman is UNSTOPPABLE. Daaaaamn Linda.

(Also, she's gonna need a bigger house for all her ribbons.)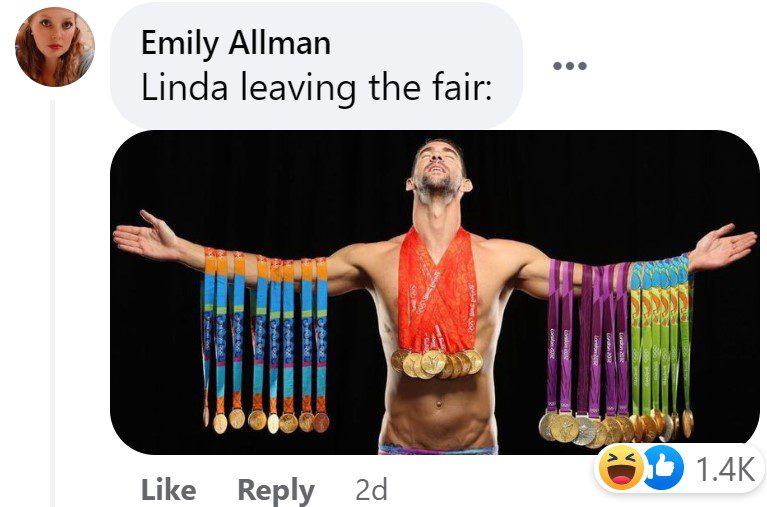 The only thing this woman can't do?
Is quilting, apparently. Oh, and Christmas decor. She was unable to snag the top spot in either category, losing out to fellow competitor, Louella Perry. (Louella better watch herself, just sayin')
The Virginia Kentucky County Fair shared the results of the contests on their Facebook page and it didn't take long for people to rise up and take notice of Linda.
And while Linda is a true champion, it's the hilariously funny comments that really take the cake.
People are showing Linda ALL THE LOVE. Which, let's face it, is a rare thing these days. And we're gonna need her to forget about ruling the county fair and start running the world, STAT. Thankyouverymuch.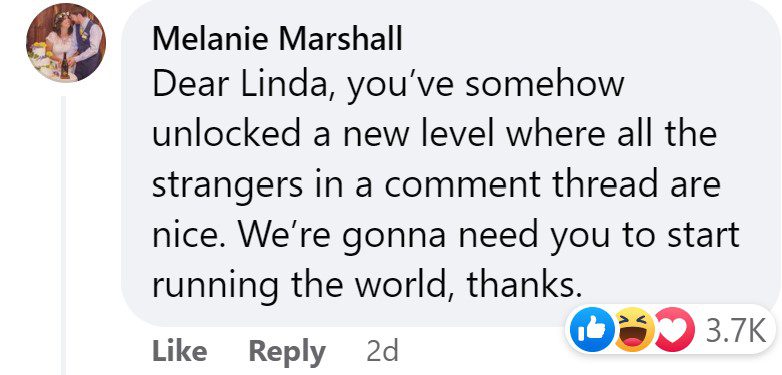 I mean, sure, some people questioned her methods, suggesting she may have added a little "extra" secret ingredient to sway the judges.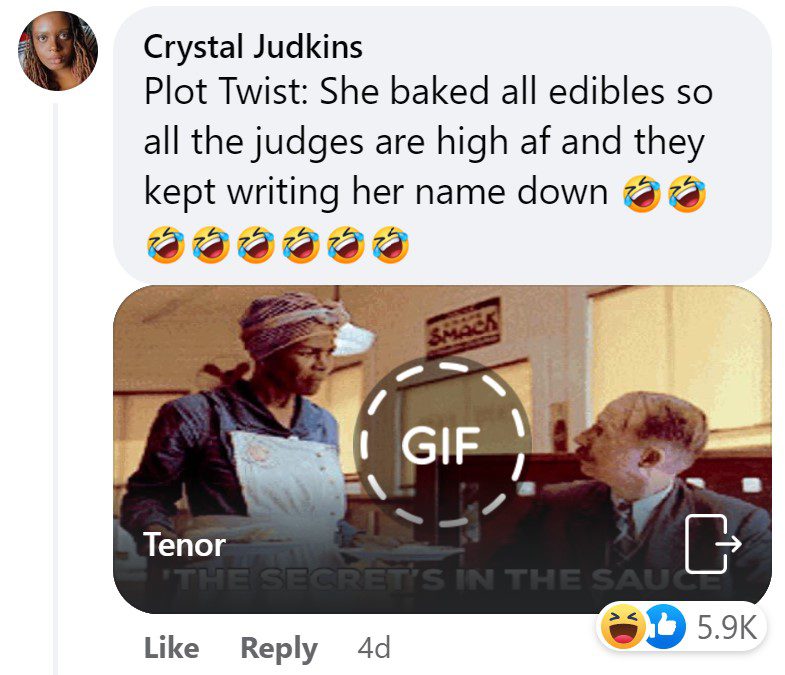 And there were the inevitable conspiracy theories, including that her husband, "Larry" was a judge. Someone even went so far as accusing Linda of doing the judging *GASP*

And then there was this commenter, who clearly listens to waaaaay too many true crime podcasts (Danielle, you are my people. Also she's not wrong):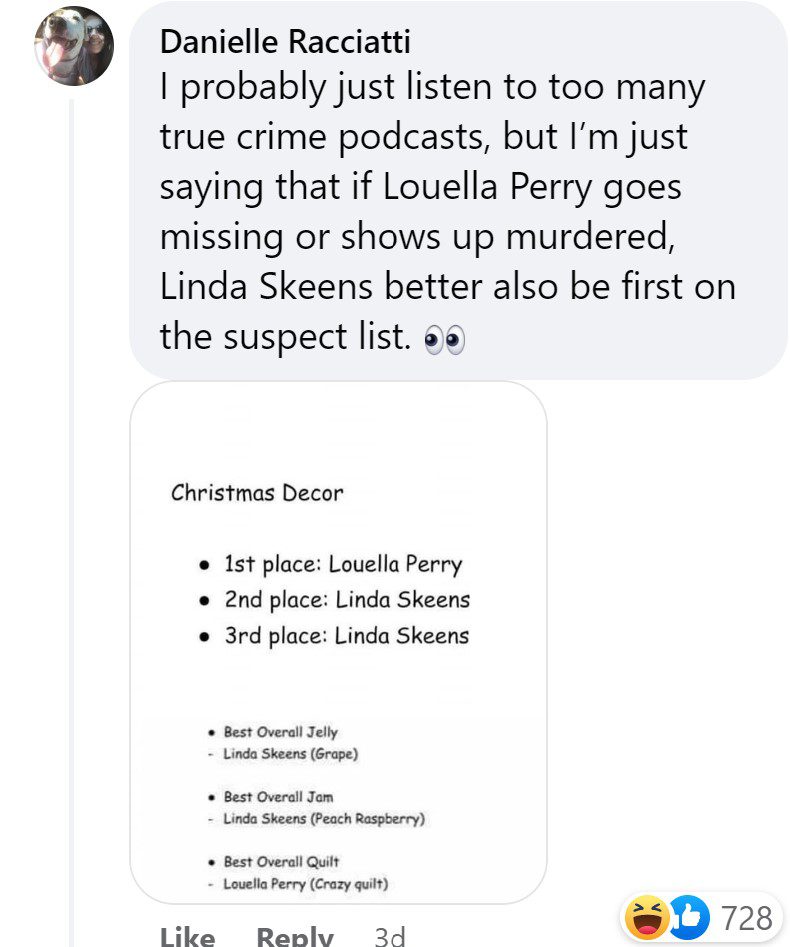 But for the most part? People are HERE FOR HER. In fact, Linda has even reached legendary status. LINDA, YOU ARE LEGEND.

All hail Linda!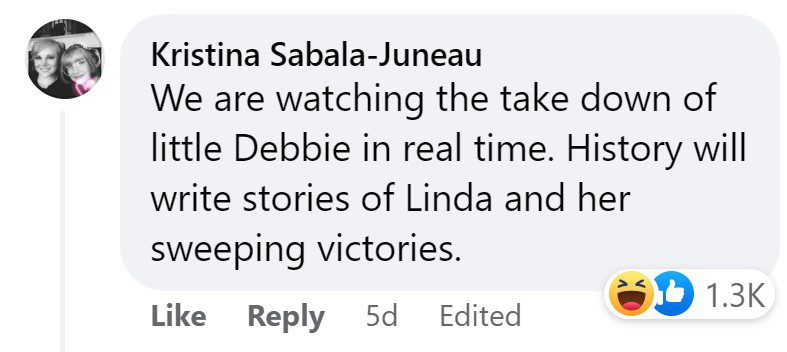 Little Debbie? HA. She's got nothing on Linda. And don't even get us started on Marie Callender…
Speaking of which, someone needs to call Sharon.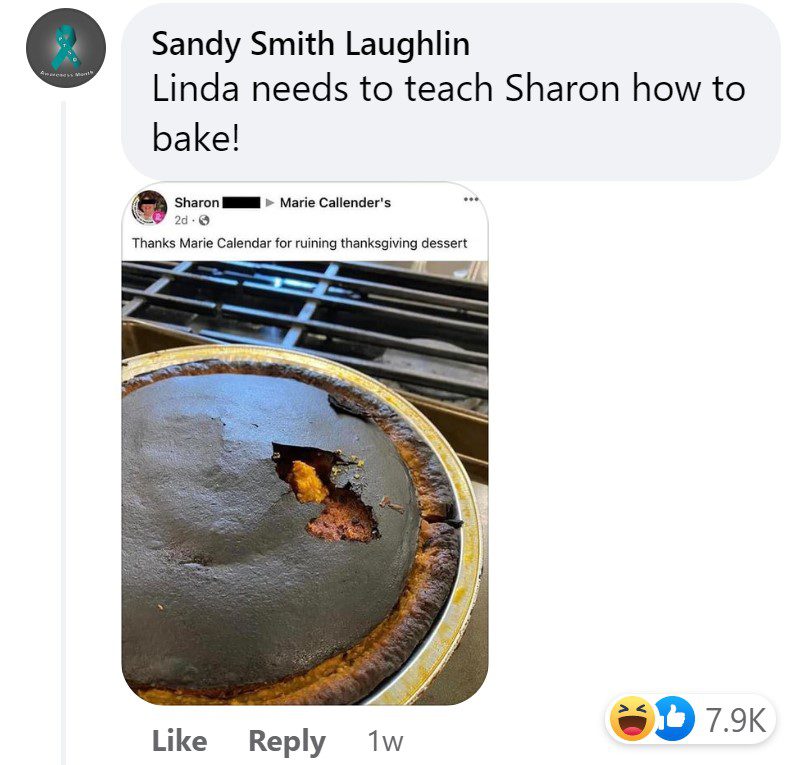 Not only is Linda an absolute legend, but she's also the stuff of urban legends.
One commenter said:
"I heard one time Linda catered a wedding last minute with vegetables, fruits and meats that she grew and raised herself! When they tried to pay her she refused and floated away leaving behind the scent of fresh baked apple pie… Truly a local hero. God bless Linda."
Another said:
"I heard Linda also saved a child from a burning building while her bakery treats cooled on the window sill. She's the hero we all need."
And while she may be the hero we all need, she's also the sister-wife we all want.

Unfortunately for us, however, Linda remains elusive.
One poor woman spent 20 minutes of her life that she can never get back scrolling through the hundreds of comments trying to find her.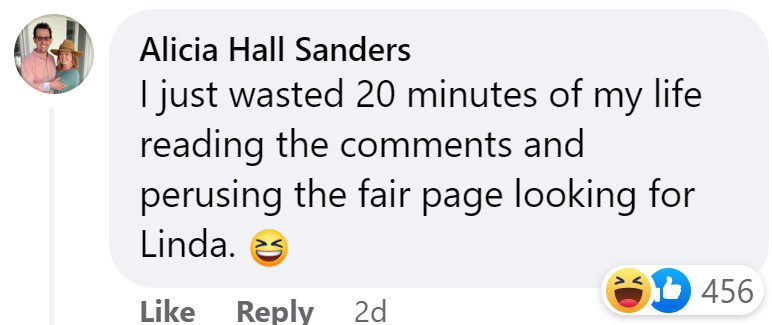 Sorry Alicia, Linda's got no time for social media. She's too busy plotting out her world fair domination.
Seriously tho, it does seem as though Linda is nowhere to be found (has anyone checked her kitchen??) but we're not giving up hope that someone from the Food Network can track her down and hook her up with her own baking show.
You can check out more of the hilarious comments here.