Yesterday I talked to one of my friends whose 9-year-old son is struggling with social anxiety. She is the fourth friend to mention being worried about the mental health of her child.
Our kids are not okay.
It's been a hard two years. And while we seem to finally be crawling our way out from under the crushing weight of a global pandemic, the scars it has ravaged on the mental health and emotional well-being of our kids run deep.
With endless months of lockdowns, isolation, fear, instability, and a "new normal" that was anything but, is it really any wonder that our kids are not alright?
Even without the added craziness of a pandemic, our children have increasingly struggled with anxiety & depression over the past few years.
To deal with the worsening state of kids' mental health, a U.S. Task Force is recommending early intervention to screen ALL kids as young as 8 years old for anxiety.
This is a first and speaks volumes to the soaring mental health crisis our kids are facing.
The U.S. Preventive Services Task Force is made up of a leading panel of experts appointed by a federal government agency.
Included on the panel are experts in the fields of behavioral health, family medicine, geriatrics, internal medicine, pediatrics, obstetrics and gynecology, and nursing.
It will be open to public comment until May 9. It is expected to be finalized later this year.
The guidelines apply to ALL children, regardless of whether or not they are showing any behavioral signs or symptoms. This ensures that kids who struggle silently with anxiety don't fall through the cracks.
Dr. Martha Kubik, a member of the task force and a professor in the School of Nursing at George Mason University said in a statement:
"It's critical to be able to intervene before a life is disrupted."
Childhood anxiety can be debilitating. It affects relationships, school, interpersonal activities, and physical health.
It has also been linked to anxiety, depression, and substance abuse later in life.
It's estimated as many as 30% of teens could suffer from some form of anxiety.
Additionally, 37% of youth have experienced poor mental health since March 2020 according to a survey published by the CDC.
In addition to screening kids ages 8 – 18 for anxiety, the task force also doubled down on its prior recommendation to screen for depression in kids ages 12 – 18.
As for screening kids before age 12 for depression, the jury is still out. Same with screening for suicide risk for kids of any age.
(Although the A.A.P. does recommend regular screening for suicide risk in children 12 and older.)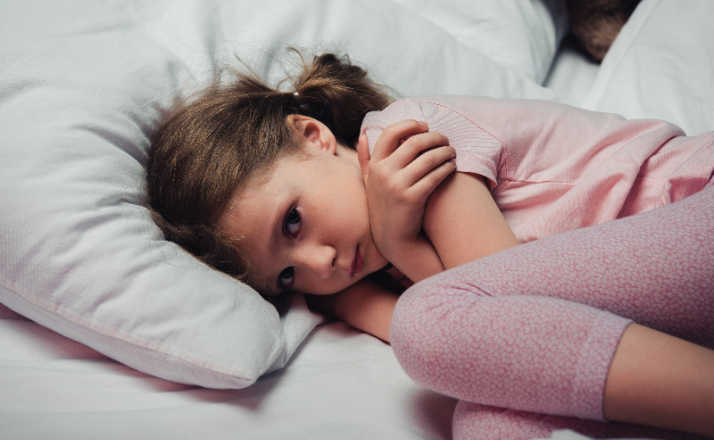 Taskforce member Lori Pbert of the University of Massachusetts Medical School said more research is needed in the areas of suicide risk, and depression in younger kids:
"More research on these important conditions is critical. In the meantime, healthcare professionals should use their clinical judgment based on individual patient circumstances when deciding whether or not to screen."
According to the CDC, suicide is the second leading cause of death among children ages 10 to 14.
So what will the anxiety screening look like?
Kids will ideally be screened during their yearly well-child checkups. Both the parents and the child would provide input.
According to Dr. Kubik:
"There are several different surveys and questionnaires that can be used to screen anxiety in primary care.

What our review found is that these screening tools are effective in picking up anxiety in young people before they can present with overt signs and symptoms."
The purpose of the screening is to help healthcare providers identify children who may be at risk. If there is cause for concern, a follow-up referral with a mental health provider will be provided.
This is good news.
These screenings could potentially save a life. Or, at the very least, put our children on the path to better mental health. And I don't know of any parent who doesn't want this for their child.
Early intervention and treatment could go a long way in ensuring our kids live the best life possible.
Of course, this doesn't come without challenges. Once a child is flagged there is still the challenge of finding a mental health provider or program.
Waitlists are long.
Not to mention the expense. And if you're fortunate enough to have coverage, insurance companies will typically only cover part of the cost of treatment.
However, this should not be a barrier to screening.
Hopefully, the more light that is shone on the mental health crisis of our children, the more resources will be put in place to help. Greater awareness is the first step in gaining better access.
Frankly, I think everybody could benefit from being screened for anxiety. The sooner, the better.