One of the biggest complaints when it comes to social media is that people are just sharing their "highlight reels."
We've all seen them; the perfectly curated and filtered images that prove everyone but us is living their best life.
The ones that make you wonder if she's ever had a bad hair day, or walked around in three-day-old sweats covered in spit-up, or spent the day scrubbing the toilet because aiming is hard, apparently.
The ones that make you start googling things like botox, bungee jumping, and moving to Hawaii.
But now, one company is hoping to change all that.
BeReal is a photo-sharing app that allows users to share a snapshot of their day at a randomly specified time IRL and it's taking the world by storm.
The premise behind it is simple: forget the highlight reel and just show the REAL. And all the cool kids are doing it.
According to BeReal:
"Everyday at a different time, everyone is notified simultaneously to capture and share a Photo in 2 Minutes.

A new and unique way to discover who your friends really are in their daily life."
So how does it work?
Once a notification is sent, users have two minutes to take a photo of whatever they're doing. The special BeReal camera is designed to take both a selfie and a frontal photo simultaneously.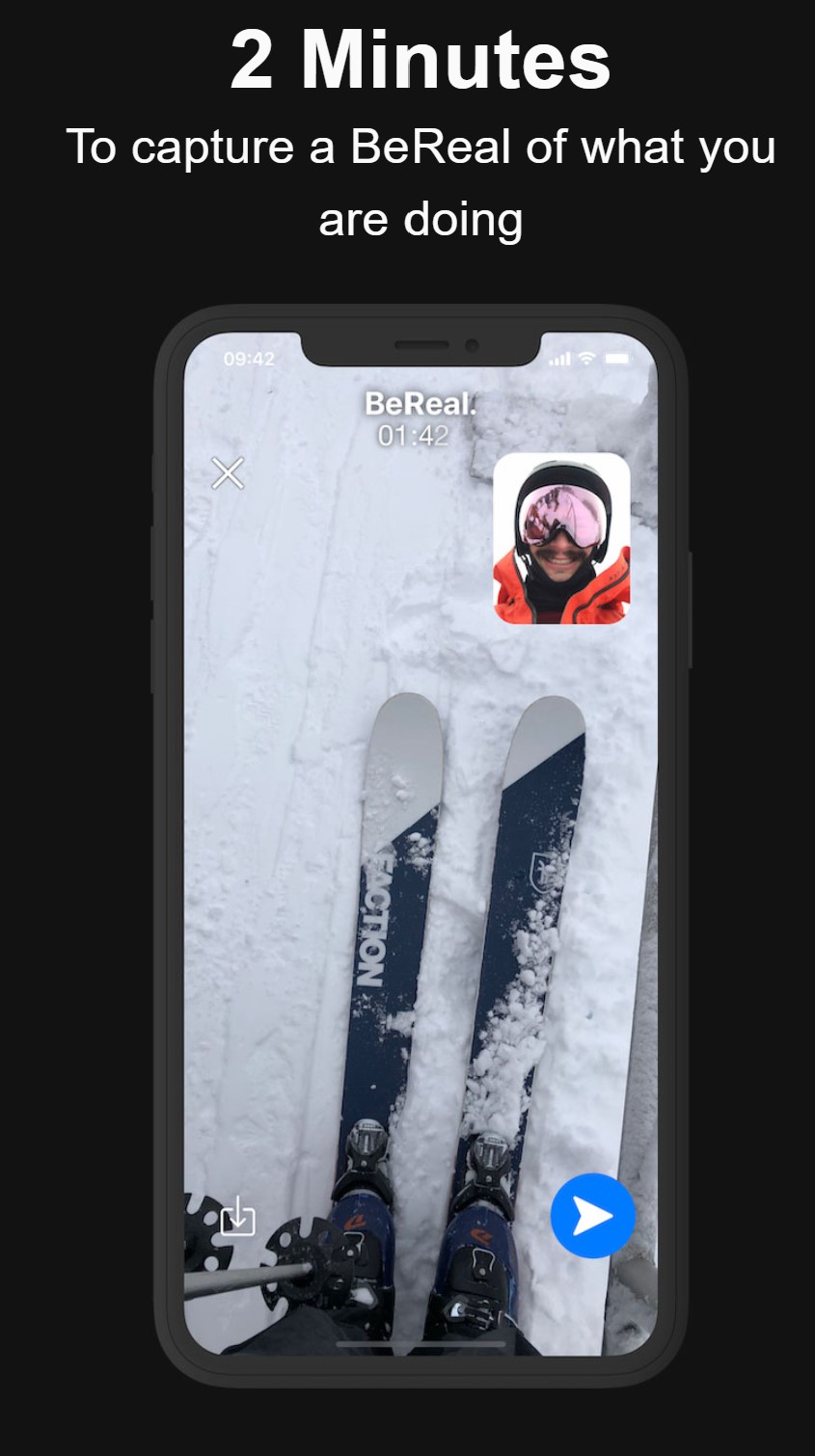 While retakes are allowed, it has to be within the 2-minute time frame and friends will know that it's a retake.
Users also have the option to post outside of the specified time window in case they miss it but this info is also relayed to their friends. So no trying to sneak anything past them. No cheating allowed.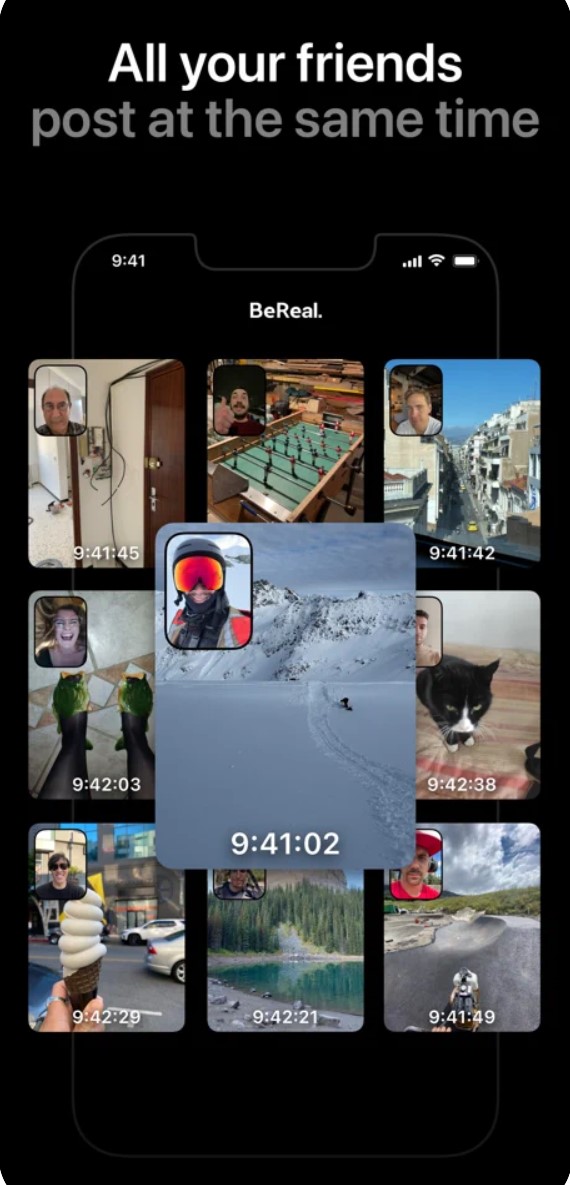 Their digital marketing campaign sums it up by saying:
"Once a day. At a random time. You have two minutes. To capture and share. Your real life. No filters. No likes. No followers. No bullshit."
That's right. Now you can see exactly what your friends are up to, filter-free.
And we're pretty sure it's not basking on the beach sipping Mai-Tais or sitting front-row at your favorite rock band's concert.
The only caveat is that you'll have to upload your own BeReal of the day first before you're allowed to view your friends.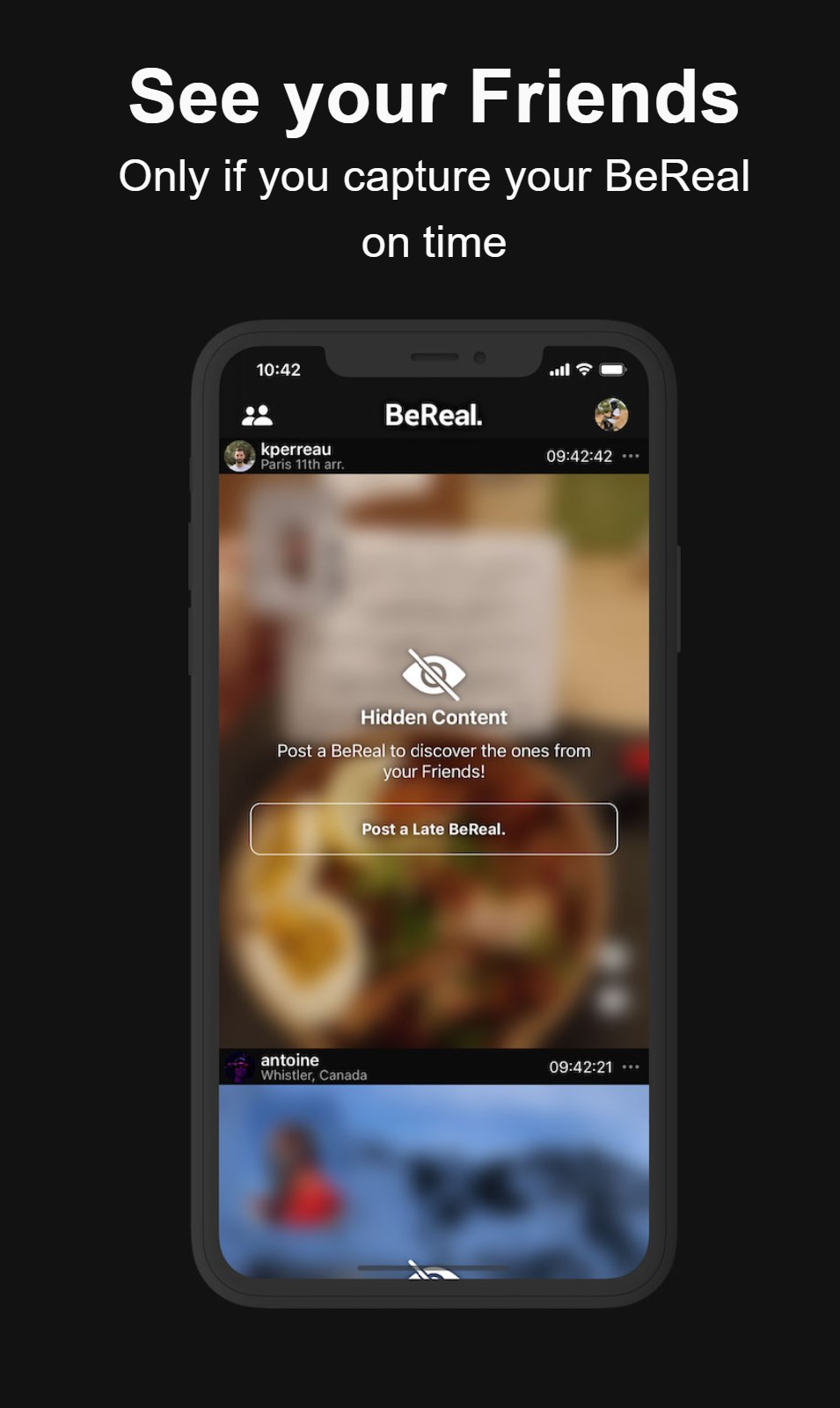 Add friends using their usernames or by sending them a link. Once added, you can view their whereabouts using the map. You can also view any public content under the discovery tab.
So far the app only allows users to post photos. Developers are hoping to expand it to include videos as well. However, you can post captions, comments, and "realmojis" (which are real-time snaps of you doing your best emoji impression.)
The purpose of the app is to get an authentic glimpse into people's normal, everyday existence and vice versa.
In other words, it's all about keeping it real. In real-time. "It's your chance to show your friends who you really are, for once."
So smile! You're on candid camera!
when the bereal notification comes through pic.twitter.com/Zq40T3N70y

— stan? (@stxn_h) April 6, 2022
But be warned, according to the description on the App Store, BeReal doesn't come without risks.
It cites the following:
BeReal can be addictive.
BeReal might piss you off.
BeReal won't make you famous, if you want to become an influencer you can stay on TikTok and Instagram.
BeReal may cause accidents, especially if you are riding a bike.
However, people don't seem too concerned.
Created by French developer, Alexis Barreyat, the app has been around since 2020 and it is definitely having a moment.
According to Apptopia, BeReal saw 315 percent growth in roughly the first quarter of the year.
It is currently ranked #2 in social networking on the App store. It has a 4.9-star rating with nearly 20,0000 reviews.
BeReal targets Generation Z and is gaining popularity on college campuses. The company even created a "BeReal Ambassador Program" to spread the word.
According to the website:
"BeReal college ambassadors host parties, manage a marketing budget, identify key moments on campus for us to get involved, represent BeReal's mission and execute creative activations.

Our ambassadors get to be part of the next unicorn start-up, receive mentorship from our global team of experienced entrepreneurs, and enjoy great pay!"
If your teens haven't heard about it yet, it's just a matter of time. It's clearly growing fast and is on course to becoming one of the major players in the social media world.
Which, frankly, is good news.
It's no secret that social media is wreaking havoc on our kids' mental health.
Apps like Instagram and Facebook bombard them with heavily filtered and photoshopped images they can never measure up to. Not to mention the fact that they are constantly comparing themselves and obsessing over likes & followers.
If our teens are going to be on social media, which, let's face it, most of them will be at one time or another, it's nice to know that there is an alternative that does away with all the bullshit and just focuses on what real people, living real lives, looks like.