In this post, I'm going to share with you the number one way to save your sanity as a stay at home mom.
Stay at home mom sounds all too warm and cozy, doesn't it? You're at home. It's so homey. Home is where the heart is. But, Home is also where the kids are. Thus the need to save your sanity.
I could go on and on with tips for you. I could write a blog post so long it can be seen from space. But, why do that when there is only ONE true sanity-saving tip you'll ever need.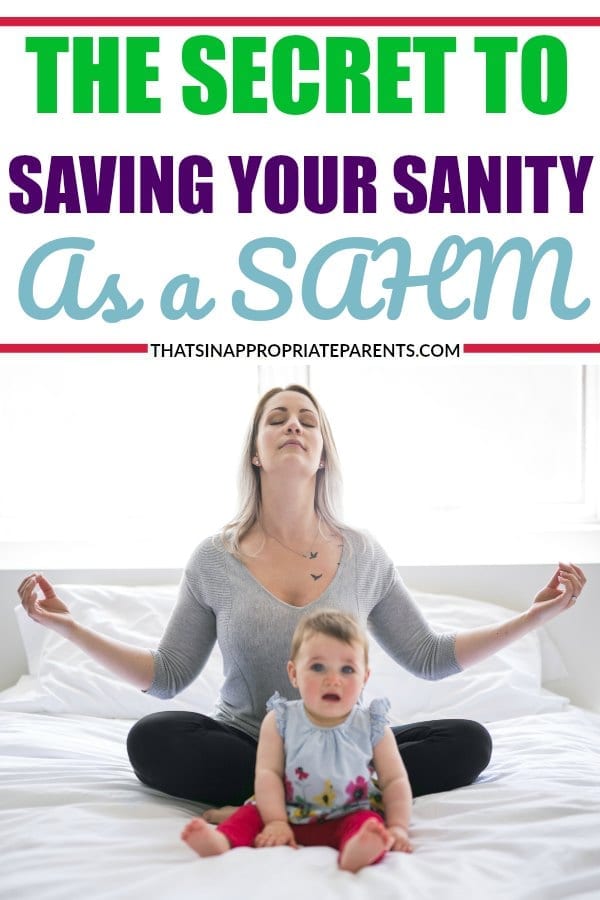 Save Your Sanity As a Stay At Home Mom
Be good to yourself.
Seriously. You be good to YOU.
I'm not about to go all kinds of Oprah on you. (Sweet baby Jesus, I miss her.) You need to hear this, and I'm not saying that because I'm a mom and that's what we say.
Your sanity may depend on it.
You are the CEO of your family. You are the Queen. You are the glue that holds everything together. You control the weather in your house.
Regardless of what the good people of the world tell you, YOU come first.
If you let kids and/or partners suck every last bit of life out of you, and they will, you have nothing left to give them. You know what happens when you have nothing left to give them?
No one is okay. Not you. Not them.
Not the old lady in front of you at the grocery store because you will eventually snap and throat punch her when she writes a check for a can of navy beans.
Fact: Old people and check-writers love navy beans.
Find one way, find ten ways, to do nice things for yourself.
You don't have to crawl your exhausted body underneath the dining room table and eat chocolate frosting from the container with your fingers.
Unless you like that. And you should. Because it's awesome.
There are things you can do, no matter how busy you are.
Buy yourself something small and inexpensive whenever you get the chance. Blast your music and take the long way home from an errand.
Close the bathroom door, lock it, put a rolled up towel at the bottom, pop in your earbuds and imagine yourself skinny and single and childless.
If you need to load up a mouse trap with a juice box outside the door to keep little people away, I won't judge.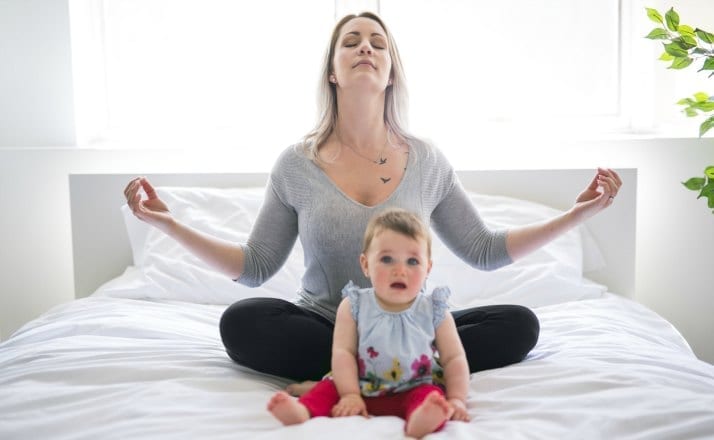 Make time to wash the frump off your face.
If a shark bit off my arm and I dragged myself to the shore in hopes of being saved, my Mother would have looked down at me, tears in her eyes, and told me what I'm about to tell you.
Go put on some makeup. You'll feel better.
She believed makeup will fix everything from shark bites to children-induced, stay at home mom psychosis.
She wasn't wrong. Sort of.
I know that mascara isn't trying to pull that (cooked) piece of macaroni out of your son's nose. That would be ridiculous.
(Unless the mascara wand can be fashioned as a noodle nose hook.)
It doesn't matter whether makeup is your thing or whether it's a smart pair of freshly washed yoga pants. Whatever makes you feel like it's a new day and you're up and ready to face it is a thing you should try to do.
You deserve to face what is sure to be a crazy day feeling fresh and good about yourself.
Forgiveness is the new black.
Why is being a sane stay at home mom the dream, anyway? What's wrong with being a slightly insane stay at home mom?
You don't need to cut your kids' sandwiches into the shape of an 18th-century Swedish floral wreath. Your kids don't have to know how to recite the alphabet by the time they are three. They'll be fine.
You're doing your best, right?
Then let go and forgive yourself for being the mom who brought Flintstone Vitamins and K-cups for the soccer players last week.
Think about who you are, because you are kind of a big deal
You turned something disgusting (looking at you sperm) into a creation so spectacularly unique that no one else before or after you will ever create again.
Yes, sometimes life hands you an old pair of your husband's college swim trunks for underwear and that's the best you can manage. Been there.
But sometimes, you have to be your own mom. Know what I mean?
Treat yourself with dignity and love and respect and if you remember nothing else I've said in this post, buy yourself some new underwear.
There you go. That's my advice to save your sanity as a stay at home mom. Now, you tell me. What's the last nice thing you did for yourself? Seriously. That's what comments are made for.