Welcome to Take It or Leave It, an advice-ish podcast for parents brought to you by Grove Collaborative.
Take it or Leave it is brought to you by Grove Collaborative. Visit http://grove.co/takeit and grab your "Free" gift with order.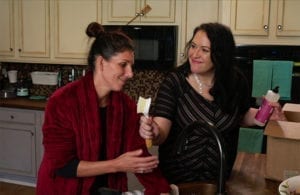 Do you Grove Collaborative? I do, and so does Tiffany...I mean Sharon ? Try Grove's new fall scents and when ...
Checkout Our Recommendation
In Trending News – The FDA Just Approved the First-Ever Drug For Postpartum Depression
Section Intro
For new moms who are suffering with postpartum depression — a condition which affects one in seven women in the US every year — relief might be on the horizon. On March 19, the FDA officially approved the first-ever drug that specifically treats postpartum depression. The new drug called, brexanolone — or Zulresso — gives women another option beyond antidepressants, which can take weeks to fully take hold.
Brexanolone is the first drug of its kind because it contains a synthetic form of allopregnanolone, a hormone that's levels tend to increase during pregnancy and rapidly decrease once a woman gives birth. Although experts can't pinpoint an exact cause for postpartum depression, they think the change in hormone levels may contribute.
Section Notes
"This can potentially transform women's lives and that of their families," said Dr. Steve Kanes — chief medical officer of Sage Therapeutics — the biopharmaceutical company that developed brexanolone, told NBC. "It's not just the mother who suffers when there's postpartum depression. It's the newborn. It's the other people in their family."
"It's not just the mother who suffers when there's postpartum depression. It's the newborn. It's the other people in their family."
The media could not be loaded, either because the server or network failed or because the format is not supported.
And brexanolone isn't a pill, it's an intravenous treatment that's administered over a 60-hour timeframe in a medically supervised setting, like a hospital. But the biggest perk? Women can see effects in as little as 24 hours, according to clinical trial results. In "double-blind, placebo-controlled trials" women with moderate to severe postpartum depression symptoms saw improvements within 24 hours that were still present 30 days after the infusion.
Dr. Samantha Meltzer-Brody — director of the perinatal psychiatry program at the University of North Carolina Chapel Hill and the academic principal investigator in the brexanolone trials — said that this is a major step in the right direction.
"This is for postpartum depression, but it is a step in understanding how we treat depression more broadly," said Dr. Meltzer-Brody. "We have had the same treatments for depression for 30 years. There's an enormous need for new, novel ways to treat depression, and to treat it quickly."
Dr. Kimberly Yonkers, professor of psychiatry, epidemiology and obstetrics, gynecology, and reproductive sciences at the Yale School of Medicine, agreed that getting mothers to open up about their struggles will have an even larger effect on postpartum depression research. "It does women a service because it really brings attention to a major medical problem and provides legitimacy, and hopefully will encourage people, whether they use this medication or not, to seek and obtain treatment," she said. "We're all thrilled about that."
Although the new drug reportedly has no long-term negative side effects, it's not approved for women who are breastfeeding and is a sucker punch to the wallet. One intravenous session will cost families anywhere between $20,000 to $35,000, though it's unclear what insurance companies will cover. Still, it's hard to put a price tag on long-term relief.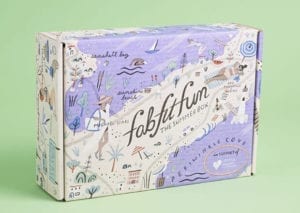 Use coupon code "TAKEIT" for $10 off your first box at FabFitFun.com. FabFitFun is a seasonal subscription box with full-­size ...
Checkout Our Recommendation
Parenting Crap – Kentucky governor says he deliberately exposed his kids to chickenpox
Section Intro:
While many 90s trends are making a comeback there is one that doctors want to stay in the past: Chickenpox parties. Doctors say it's a bad idea to expose an unvaccinated child to the Varicella-zoster virus.
Kentucky governor Matt Bevin recently revealed that when a neighbor developed chickenpox, he intentionally exposed his nine unvaccinated children to his neighbor, so his children would develop it, too.
"They were miserable for a few days, and they all turned out fine," Bevin told WKCT, a talk radio station in Bowling Green, Kentucky. He added that he isn't sure if the government should require children to receive the chickenpox vaccine, but said parents worried about their children getting the virus should seek out the vaccine.
Section Notes
Bevin's admission is the most recent case of someone acknowledging attendance at pox parties, which were popular before the introduction of the chickenpox vaccine, Varicella, more than 20 years ago. In October, Denver station KUSA 9News reported that a few private Facebook parenting groups in Colorado have been sharing information about parties. The NBC station received screenshots of anonymous social media posts where parents explained how to spread the virus intentionally to unvaccinated children by exposing them to infected kids.
In one post a mother said she has been "swamped with requests to have my daughter 'share chicken pox.'" Another post provides detailed instructions to help parents make sure their children catch chickenpox, such as sharing snack bowls.
Many parents experienced chickenpox and remember them as an annoyance. This might cause them to think that it's OK if their children aren't vaccinated and develop them naturally. But the experts say that it's too risky.
"There is no reason to get sick," Bhowmick said.
And, getting vaccinated prevents people from spreading to people with weakened immune systems or children to young to be vaccinated.
"If you get the vaccine you are not passing it on to anyone else," Bhowmick said.
Being vaccinated against chickenpox also protects many people from developing shingles, a painful flare-up of Varicella-zoster virus. When people have chickenpox it remains dormant in the nerve-endings and can be activated in adulthood. Instead of being a full-body rash, shingles normally cluster in one area and cause a great deal of pain and other complications.
"Because it is reactivating through the nerve it creates that nerve-based pain," Shah explained. And not only can shingles be excruciatingly painful, it can raise the risk of heart attack and stroke.
The bottom line? "There is no doubt in my mind that the vaccine is better than getting the actual infection," Bhowmick said.
In Love and Marriage –Parenting in the age of social media and A.I.
Section Intro
Whether you are married or single and co-parenting, it is a team effort to raise tiny humans. It has become increasingly difficult to do this in a world entrenched in social media. How can we parent as a team? Here are 6 tips
Section Notes
You Keep a United Front
The golden rule in coparenting is to maintain a consistently united front with your kids, whether that comes to disciplining, nutrition, or bedtimes. If one parent, even on the rare occasion, undermines the other by allowing an extra hour on the computer with a hushed "don't tell your father," it can curtail any collective strides you've made.
You Provide Backup
Both parents agreeing on a decision is the most important part, yes, but it doesn't end there. If your partner is always the one instituting your shared plan, it can appear one-sided to your kids. Both should share in the role of enforcer, either by doing it together or alternating.
You Agree to Try Things Another Way
You won't always see eye to eye on how to proceed with your child's care. However you decide to compromise, just make sure that you both arrive at a solution you can live with. For some, it's going with who feels most strongly about the course of action (for instance, your partner might say, "I don't know if it's right, but my gut tells me it is — can you give me a chance to do it this way?"). For others, it's simply recounting who got their way last time and switching it up.
You Don't Force Resolution
Sometimes no amount of discussion will get you both to agree on something. Unless it's time sensitive, put a pin in it. Plenty of parenting decisions don't need to be made overnight. Take the time to research your options, consult with your child's teacher or pediatrician when relevant, and process your partner's feelings on the matter before bringing it up again.
You Never Say "I Told You So"
Those four little words can do a lot of damage when it comes to any argument, but it can be especially hurtful when it involves a parenting decision. You are both learning as you go, so even if you were right, bite your tongue. Eventually, you'll be wrong, and you'll appreciate the same understanding from your partner.
You Celebrate Every Success
Disciplining your child can be emotionally exhausting. Even if the situation isn't a happy one (you didn't let him go to a sleepover because he didn't clean his room), quietly applaud your shared ability to tackle it as a team. When you can toast to a small victory over a glass of wine, it will make the next problem, when it inevitably arises, feel less daunting.