"Ali Spagnola on TikTok makes outrageous." That's what her bio reads and after watching her hilariously brilliant videos including her latest art project, I can see exactly what she means.
In a viral TikTok video that has been viewed 6.4 million times, liked 970.3K times, and has attracted more than 6,000 comments, we watch as she reveals a project that took plenty of elbow grease, talent, and patience.
But wait until you see what it is.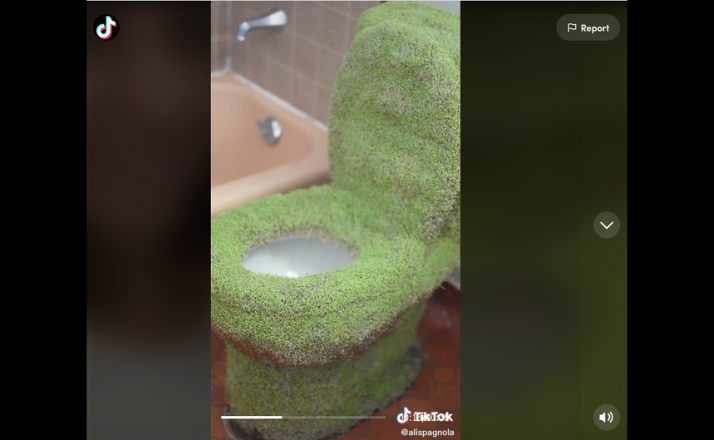 Yup. It's a chia toilet.
"I'm the proud owner of the world's weirdest Chia pet," she says smiling into the camera.
"I covered my 'Chia pot' in seeds and watered it three times a day for seven days. And now it is an overgrown throne. My 'Sprout House,"
she explains as the camera goes through images of the beginning stages of growth.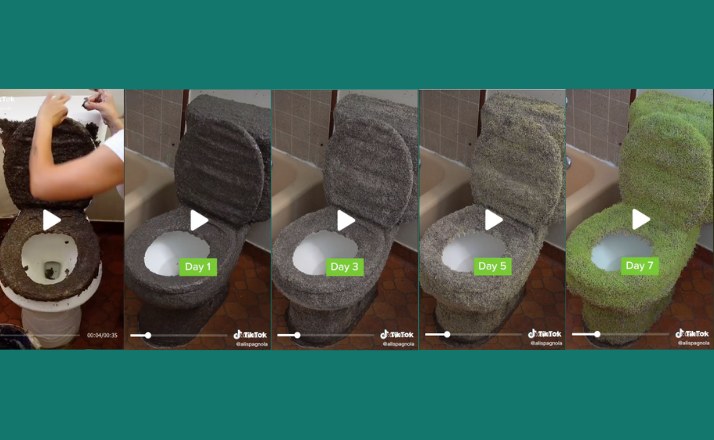 But possibly the best part is when Spagnola drops trou to test drive her new Sprout House.
"And it's time to see what it feels like!" she says as she pulls her pants down and takes a seat. We watch as she smiles and laughs before she begins to describe her experience.
"Wow! This is so odd and pleasing," she says. "It's just a little moist but in a satisfying way. It is so comfortably mushy and delightful!"
At this point in the video, I am dying laughing at her response as I imagine millions of others have too.
"It smells so fresh!" She stands up and the camera pans down as she says, "notice how it held up to my sitting," womp womp. It got squished.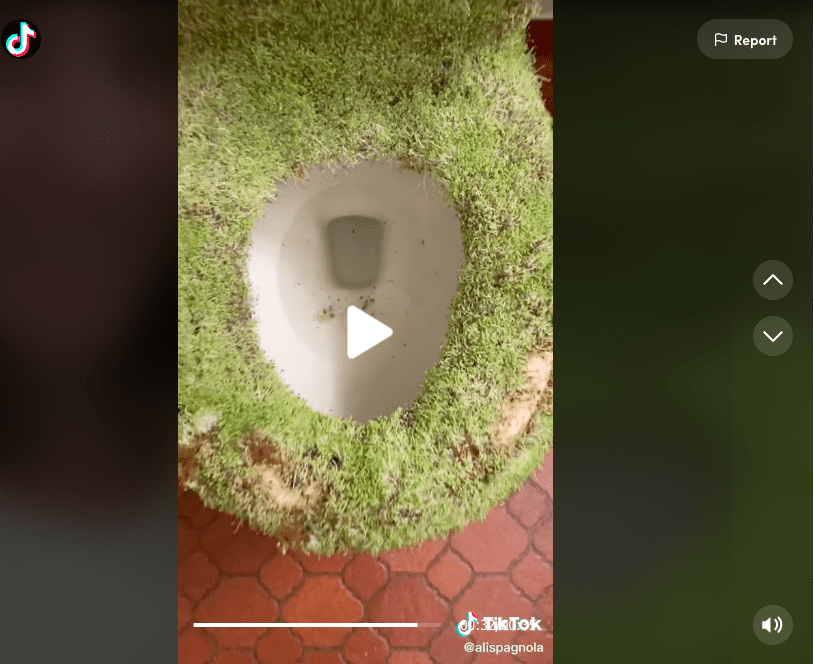 As you can imagine, the comments section had a chia pet field day with this video.
The Ruby Piano observed that the Chia toilet kind of looks like everyone's grandmother's carpeted toilet seat cover. And honestly? I thought the same thing.

Some folks wanted to know about how to make, clean, and maintain it.
Obviously, they missed key elements of this video — including the several videos posted before it that show the project in detail including the seven days of growth.
Norina wanted to know "how are you going to clean it? Please, these are serious questions." But she might have missed the part where once the artist sat on the seat, the seeds appeared to be cleanly wipesd away.

A user called Big Bird wanted to know if Ali Spagnola could "please show it growing with the 'chi chi chi chia' commercial sound."
I also would like to see this happen and when I flipped through her TikTok account, I wasn't able to find a version like that. Missed opportunity!

There were puns. ~Pourri wrote, "A mASSterpiece."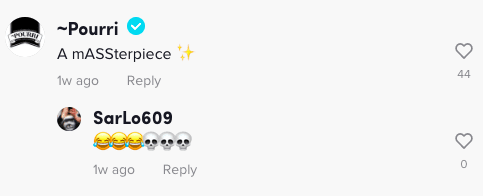 And there were analogies.
Like this hilariously spot-on comment by Reid Waterman who wrote, "So, in other words, it's like being able to take a dump on your lawn without the neighbors calling the cops on you." HAhahaha…yes, exactly like that.

Some folks had some helpful suggestions, that honestly, I want to see happen for a possible second version of this video.
A user called Josiah wrote, "get an old-fashioned wooden toilet seat, strip the varnish, and the chia seed roots could grab something."

But the comment that most adequately summed up how I feel about watching this video came from a user called Bianca Marvel who wrote, "Yes, but also NO. But yes?" to which the artist, Ali Spagnola replied, "Agreed."

If you want to lose some time scrolling through her genius TikTok account, I highly encourage it.
You'll find other hilarious projects including how she turned her car into a giant, interactive fidget toy, how she once covered her couch in Peeps (yes, those gross marshmallow holiday treats. Those Peeps,) and how one time she even made a Halloween costume of a wine barrel that actually dispensed wine.
But my favorite weird project thus far has definitely been the chia toilet.
My kids are begging to try this at our house and while I fully support the arts — and my kids' zany ideas — I'm going to hard pass on actually trying this one at home.