Let's face it being a STAY AT HOME MOM is no easy task.  It's like people think you just have it so great being able to stay home with your kids all day, right?! Then they cant understand why it is you lose your shit.
So, next time your aunt Tina wants to tell you how great your life is, tag her in this post.
Here are 20 reasons why Stay at home moms Lose Their Shit Daily.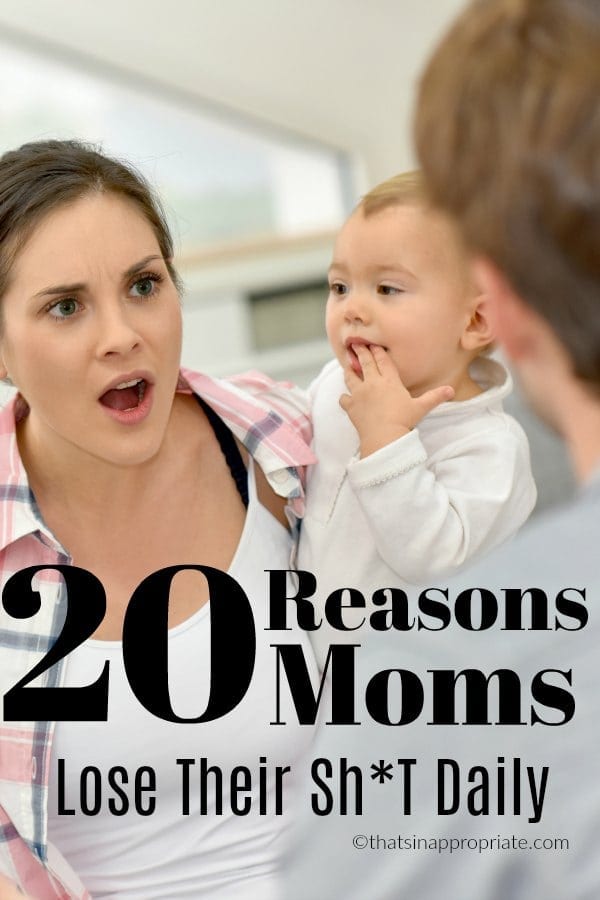 We lose our shit because we literally deal with shit all day. When you clean shit off asses; off the walls and out of grubby little fingernails all day then we can talk.
We lose our shit because we can't can't use the bathroom in peace. Seriously, not only do the kids bombard you every time you sit on the toilet, but God forbid your husband could handle his shit for two minutes so you can poop in peace!
We never get away from the constant shrieking of a child who didn't get her way. Today, that child didn't get her way 1,678 times. That is enough to make anyone go insane. 
We lose our shit because we spend 90% of our day trying to prevent the kids from killing themselves. You know…one kid thinks he is a superman who can fly off his dresser while the other thinks it looks fun to put a play fork in the electrical socket.
We lose our shit because when we ask for 5-minutes to breathe, we get asked for what. For what?! Are you f*cking kidding me?! Do you ask a daycare worker why she needs a 5-minute break or even her 30-minute lunch to eat in peace?
We lose our shit because we are SLEEP DEPRIVED. While you are getting your 8 hours of sleep, stay at home moms are up every hour to the cry of the baby, scaring away monsters at 3 AM, and praying the kids just go to sleep without 50 drinks.
We lose our shit because our blood sugar has hit rock bottom. We don't get a 30-minute lunch or even 5-minutes to grab something to eat. When the kids are eating, we are catching up on laundry, dishes, or frantically soothing a crying baby.
We lose our shit because we have no adult interaction. There is only so much you can say to a two year old and the interaction usually consists of begging them to stop their tantrum.
We lose our shit because as we are running around like a chicken with our head cut off. And someone thinks we need more on our plate. Yes, since I stay home all day doing nothing, I will gladly pick up your dry cleaning, make the church bulletin, or pick up your 7 kids from school.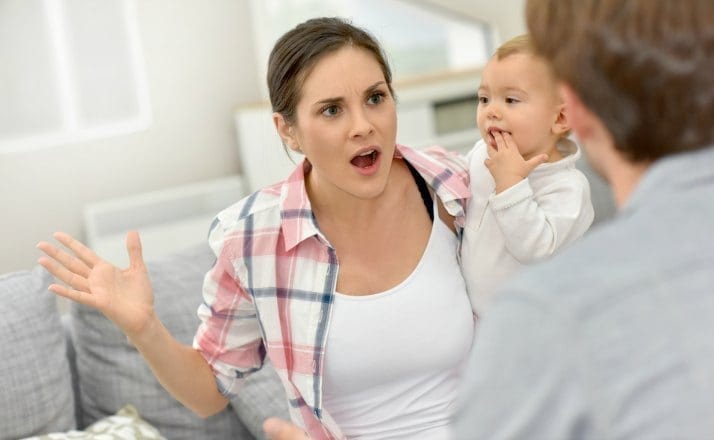 We lose our shit because we never leave our job. Being a stay at home mom is a FULL-TIME JOB that we never leave. We don't get to stop wiping asses and faces; picking up toys, folding fifty loads of laundry, or even get 5 hours of sleep a night.
We lose our shit because no one offers to help. Why help someone who gets to stay home all day?! Maybe because we aren't superhumans that can live on air alone.
We are living in a war zone all the time. You never know when the next boom will happen; if you will be holding half your child's finger in your hand calling 911; or if the bang is going to cause a shriek that pierces your skull like a knife.
When Aunt Flo comes to visit we have to hide in the closet to feed our cravings. Why? Because, if we try to eat one thing, every kid in the house suddenly wants what we have. In fact, we won't get it at all if they know.
Just as we get every kid to sleep, someone decides to cut down trees or destroy a building. Like do they just wait until exactly nap time and decide to wake every sleeping child in the neighborhood up. Guess I won't be eating for the 3rd day in a row.
We lose our shit when our significant other comes home and says, "What did you do all day?" If I say one damn word to you, I might be in prison for murder. I kept your f*cking kids alive; how was your day sweetie?
We lose our shit when others say, "It's not that hard just make time for yourself." Seriously?! And how would you like me to do that? Are you going to come to watch my kids? Will you take care of them as they are literally climbing the walls, and screaming so much you can't think? 
People without kids don't understand why you can't be there to support them through every broken fingernail like you used to. Yes, since I've had kids, I have changed. I can't be a very GOOD FRIEND because I'm too busy trying to be a good mom.
We lose our shit because our kids' taste buds are continuously changing. One day they love Mac and Cheese; the next day they hate it. Oh, you want PB&J, but now that I've made it you want Mac and Cheese. Now, I've made Mac and Cheese and you just want to eat the peanut butter out of the jar. It blows our minds every freaking day. 
We lose our shit because half the time we can't even drink a cup of coffee. It's a daily occurrence that my coffee gets knocked out of my hand because I became the human jungle gym, or the burst of a tantrum was so violent my cup went flying across the room.
People think this life we live is so easy. Trust me, this stay at home mom gig is like a demanding boss who never knows what he wants and bitches when you do it wrong. 
If you're a stay at home mom, and losing your shit today, you are not alone. We get you, and we know being a stay at home mom is full-time job in and of itself. It's OK. You'll survive another day, because we always do.
Why do you lose your shit?! Share your pet peeves in the comments below!