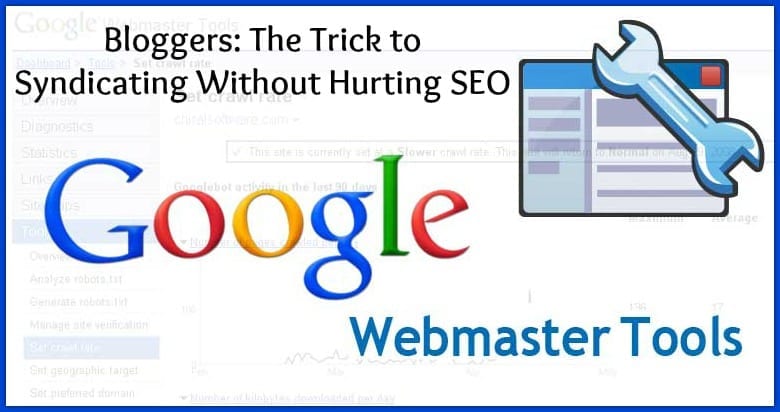 At the end of last year, I heavily syndicated some of my blog content across a number of larger sites and platforms. I enjoyed interacting with the new audiences and appreciated the exposure, but it never occurred to me that I was literally shooting myself in the foot. For months my blog traffic and page views had been on the rise, which naturally gave me a better Alexa ranking. Then things went south–fast.
I first noticed a problem when my traffic and page views began to decline in mid-December. At first, I chalked it up to seasonality and the holidays. People were busy shopping, cooking, and partying. They were not spending as much time online. I'd soon find out this was not the case.
In January, I got the shock of my blogger lifetime when my Alexa ranking tanked (significantly). It dropped by thousands over a number of days. My gut immediately told me to check my Google Webmaster Tools to see if I had been penalized for something. There were no messages, no alerts, everything was fine. What was going on?
I sat down and made a list of all the changes I had recently made to my blog, plug-ins that I had added, and so on. Again, nothing raised a red flag. Until…a friend who specializes in SEO asked me why I was syndicating so often. He explained the negative traffic hits which occur from drops in SEO to original articles and posts, and asked if I had seen a drop with my blog. The light bulb went off!
Even though I was receiving attribution and, in most cases, a link back to my blog, all of the sites I had syndicated with were five to ten times the size of my little corner of the Interuniverse. Because they were larger and had authority, Google viewed the syndicated versions as the original articles and mine as copies. This penalized my SEO and caused all the syndicated versions of my posts to appear in searches. The big guys were now the ones receiving the referral traffic to some of my most popular posts. Mine were subsequently dropped. I stopped syndicating, as the return on investment was a huge hit to the blogging platform I had spent countless months building.
In late February, through some book outreach, I happened to meet another SEO guru. We chatted about syndication and the detrimental effects it can have on blogging. Then he asked if I new the secret to syndicating safely. The secret? Like a magic wand? He basically said, "YES!"
Within your Google Webmaster Tools, there is a feature that allows you syndicate without hurting SEO. I've been testing it since early March, with great results.
The feature is called Fetch as Google. Bloggers often publish new posts and wait for them to show up in Google search results. Fetch as Google is a convenient way to speed things up considerably if you have new content that you'd like to be discovered and found in the SERPs. It also allows Google to know who is the originator of posts, which is critical when syndicating content.You can use this tool to fetch up to 500 URLs a week per Webmaster Tools account. Submitting your link to the index using the Fetch as Google tool really is like waving a magic wand. 
Here's how to use this handy feature:
Note: If you haven't verified your blog with Google Webmaster Tools yet, see Google Webmaster Tools: An Overview for step-by-step instructions.
At the 

Google Webmaster Tools

 home screen, select your blog (domain name), expand the 

Crawl menu, and then click the  Fetch as Google menu link. This will take you to the "Fetch as Google" page.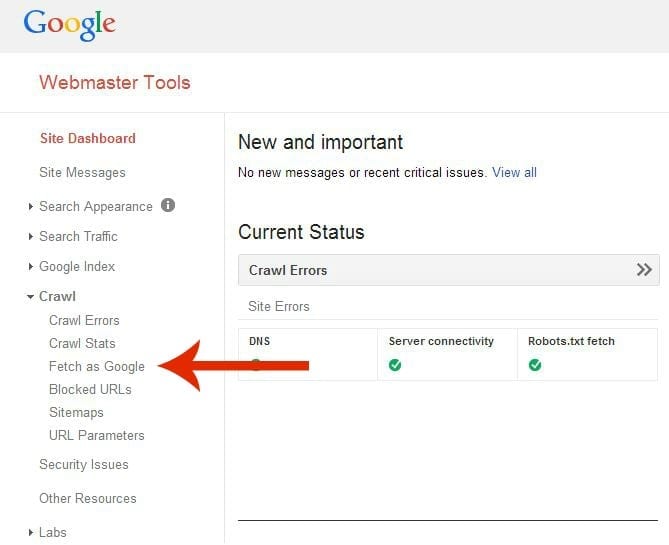 Copy and paste the URL of the page (leaving off the domain name) in the field and click the Fetch button.

If your page/post was fetched successfully, it will appear in a list. When it does, click on "Submit to index."

Make sure only "URL" is selected (this will keep the index process to just the one page) and click the OK button.
To confirm that your page/post has been indexed by Google, check to make sure it reads "Success" under Fetch Status.

Every time you publish a new blog post, it should be Fetched right away. This will get your content indexed faster and allow you to syndicate without hurting SEO.