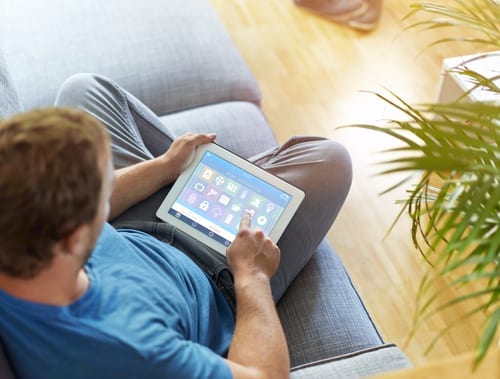 We've seen examples of home automation in movies for decades, but an industry geared toward the masses is only now taking off. From a smart digital thermostat that can make your home a more comfortable place, to an automatic lock that doesn't require keys, home automation is here.
Unlike the clunky thermostats of the past, the stainless-steel learning thermostat by Nest is easy to use and includes an iPod-like interface, Wi-Fi connectivity and software meant to read usage patterns and make adjustments according to your lifestyle. Another benefit of a smart digital thermostat is its affordability at only $250.
Home automation technologies, like these smart thermostats, cut energy usage by about 20 percent and save the average U.S. homeowner approximately $170 annually.
The Future
Home automation means convenience, safety, energy savings and even fun. Over the next few years, here are some parts of your home most likely to be automated.
Home security will become more dependent on home automation, as you'll be able to connect your security system to multiple cameras and monitor all activity from an internet browser. If you choose to, you can install face recognition and be alerted when a familiar face (or an unfamiliar one) approaches your door. Security technology works with pets now, too. Anything under a certain weight limit — usually about 40 pounds — won't trigger the detector, minimizing false alarms.
When you connect your energy sources to your smartphone, tablet or computer, you can control and view the analytics for your HVAC system, household appliances and light fixtures. Forgot to turn off the light when you leave home? Or accidentally left the coffee maker on? No problem. Simply turn it off through your device even when you're away. While home automation can make life easier, it is still essential to maintain your systems so they keep running properly. If you neglect to get regular checkups and cleaning, they can break down. Keep your HVAC system running smoothly by learning how to maintain it.
Your sprinkler system is a prime target for automation. The HydroFLASH is an automated sprinkler system that is connected to the weather forecast. This means it won't water your lawn if it's raining, and it will give your garden more water when it's particularly dry or hot out. Access the system via mobile phone and analyze the annual (or monthly data) to better understand your water usage.
Make Your Home Comfortable
While products like Google Chromecast and Amazon Fire TV Stick aren't necessarily "automated," they are smart products that can make entertainment consumption more streamlined. When you use these products, you can bring together family and friends to watch your favorite programs with ease.
Make the air in your home easier to breathe by investing in an automatic air purifier that removes odor, bacteria and allergens. Once you've experienced the positive effects of an air purifier, you'll be glad you invested in it, especially during allergy season.
When you gain more centralized control over all aspects of your home, the whole family is more comfortable and relaxed. Home automation is the future of homes everywhere. Keep your family safe and comfortable by investing in these new systems as they emerge on the market.