Fashion trends come and go. What's old eventually comes full circle and becomes new again. And the latest "What's New?"
Merkins.
That's right. Merkins. As in wigs. For your genitals. Because…I don't even know why.
According to the Urban Dictionary, the official definition of a merkin is:
A pubic hair piece.

A toupee for the pubic area/genitals.
The Urban Dictionary goes on to explain that merkins were used in the 1700s to disguise the loss of pubic hair from using mercury as a treatment for sexually transmitted diseases like Gonorrhea or Syphilis.
They have also had starring roles in various Hollywood films, including The Girl With The Dragon Tattoo and Mildred Pierce. Even Kate Winslet had a near-merkin experience for her film The Reader.
Most recently, merkins made their crowning comeback on the catwalk during New York Fashion Week in the spring of 2018.
Because what is fashion without accessories?
According to the BBC, merkins were on full display as part of South Korean designer Kaimin's "Oriental Garden" collection. Which is apt, considering they're wigs for your lady garden.
And nothing screams high fashion like a wig for your whisker biscuit, amirite? (Please let this be wrong).
The wigs came in a range of colors and styles from glued-on natural-looking triangles to a minimalist Mohawk stuck onto skin-color underwear. Because when it comes to fashion for your fou-fou, anything goes.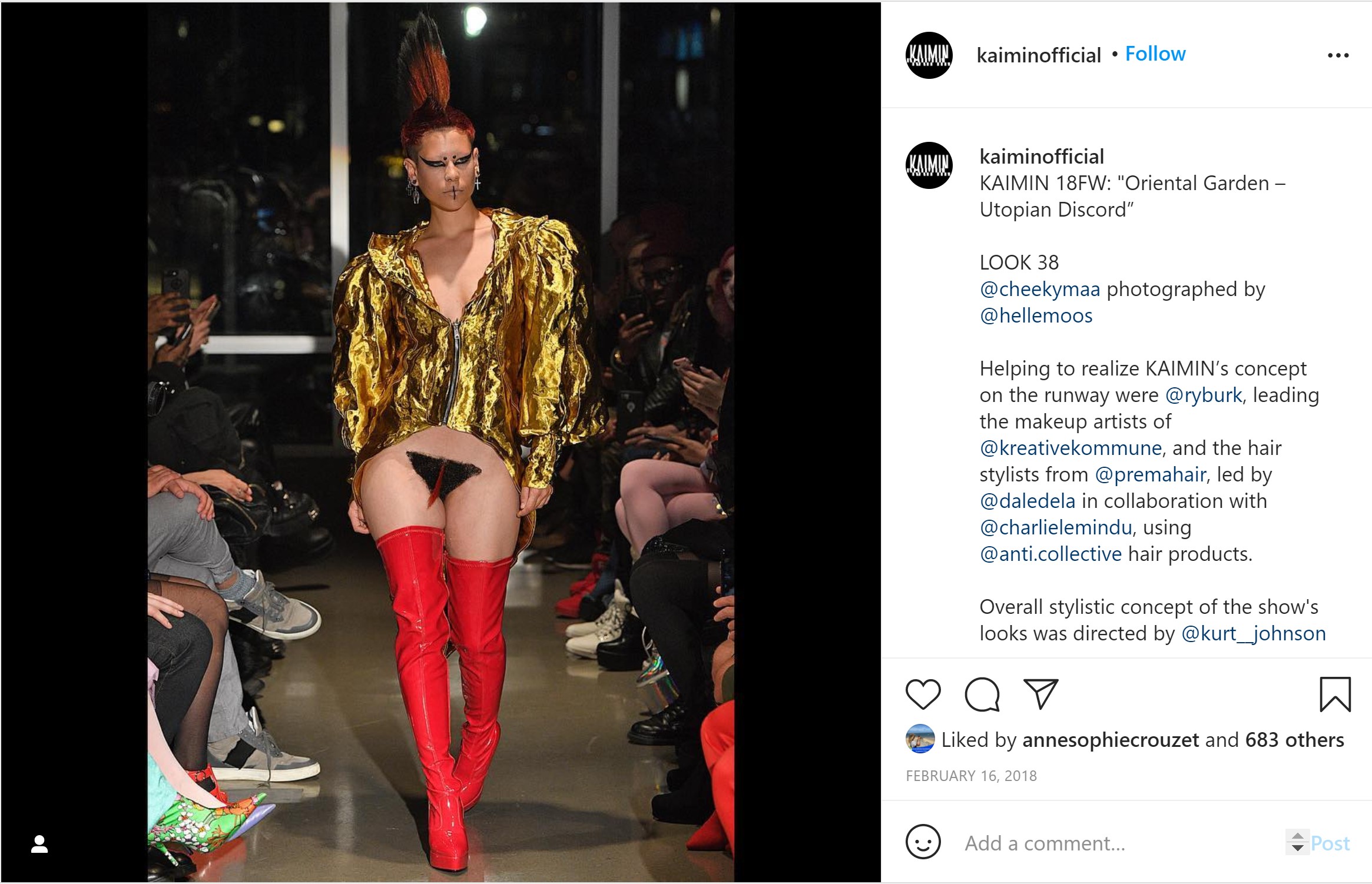 Unfortunately for the vajajay toupee-loving consumers out there it doesn't seem as though the trend was long-lasting. According to the website, Kaimin is no longer selling its coochie covers. But lucky for you, there's an alternative.
Because bush is BACK, apparently.
At least, it is in Jacksonville, IL (not to be confused with Jacksonville, Fl.)
A recent post to the Jacksonville Swap Shop Facebook group advertising custom-made vagina wigs is making its rounds on social media.
And while the original post in the Facebook group seems to have been deleted, thanks to the power of the internet, it lives on. Lucky us.
The post reads in part:
"I sell custom made vagina wigs, all colors, can do custom shapes and sizes!"
But wait, there's more. It gets SO much better, or worse. Really, it's worse.
"All my wigs are 100% Natural Feminine Feline Hair!"
Feline hair…I mean, who doesn't want a little genuine pussy to cover their pussy, I guess?
But these aren't just any feminine felines. Oh no. It's only the best for these merkins.
The fur comes from free-range cats. None of that domesticated, house-bound, coddled cats' fur here.
And they're Peta Approved! So no need to worry about cats being harmed in the making of these merkins. Whew, what a relief. I was worried there for a minute.
"Made from Free Range Cats! Peta approved!"
As if this wasn't enough, custom fittings are available (although by appointment only.)
These furry fuvva warmers are available for the not so bargain price of $40 each.
But if you buy 3? You receive a Limited Edition "Calico Shag" Wig!
I knoooooow.
The post ends with:
"DM no weirdos…"
Obviously.
Take a look, although I'm warning you, once you see these, you can never unsee them: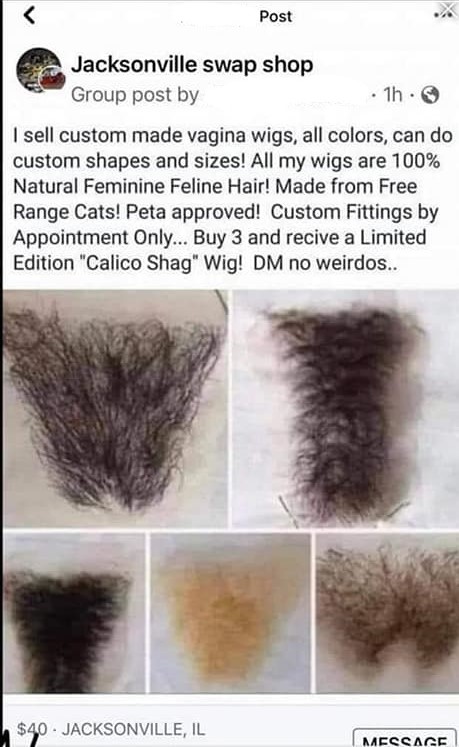 The post has been shared to the Mouthy Moms Club Facebook page where one commenter begged the question, "are we bringing merkins back?"
So far, there's been no reply.
If you are considering a merkin, bear in mind that they do come with certain health risks.
Merkins are meant to be applied to a pube-free zone, so waxing (or shaving) is not optional.
That's right, you rip off your pubes so you can replace them with fake pubes.
Once you're hair-free, you then attach your wig using specially formulated glue or double-sided tape.
In an interview with The Sun Online, Dr. Vanessa Mackay, spokeswoman for the Royal College of Obstetricians and Gynaecologists warned against the use of merkins.
"The use of glue or double-sided tape around the vulva can affect the healthy balance of good bacteria and pH levels inside the vagina which are there to protect it.
She went on to say:
"If these bacteria are disturbed it can lead to infection, such as vaginosis or vaginal thrush, and inflammation."
So there's that.
At the end of the day, whether you want to mow your lawn, weave your basket, wax off the whole kit n' caboodle of your canoodle, or wig-out your whisker biscuit, it's totally up to you.
Do whatever keeps you and your merkin, smirkin'.