Every once in a while we all need someone to pick us up when we're down. Someone who believes in us, even though we don't believe in ourselves.
Someone who is there for us, cheering us on, when we need them the most.
Someone who, when we are overcome with failure and self-doubt, gives us the strength and conviction to get up and keep going.
For one young boy named Bob, that someone was Jack.
In an utterly gutwrenching video, a young rugby player gives his struggling teammate a powerful motivational speech that'll melt your heart.
Grab the tissues, you're gonna need them.
The video was filmed back in April over the Easter weekend but is making the rounds again because it is SO damn good.
A bystander captured the sweet moment while players were attending a rugby training camp at Sedbergh School in Cumbria, U.K.
The boarding school, for students aged 13 – 18, shared the inspirational scene on its official social media sites where it has been viewed over 500K times.
They captioned it:
"We recently captured this amazing moment, which happened last month on our Easter Rugby Camp.

The incredible connection and heart-warming friendship between these boys is the perfect demonstration of the ethos of our Sedbergh Courses, and we could not be prouder.

Growth. Originality. Leadership. Determination. #GOLD"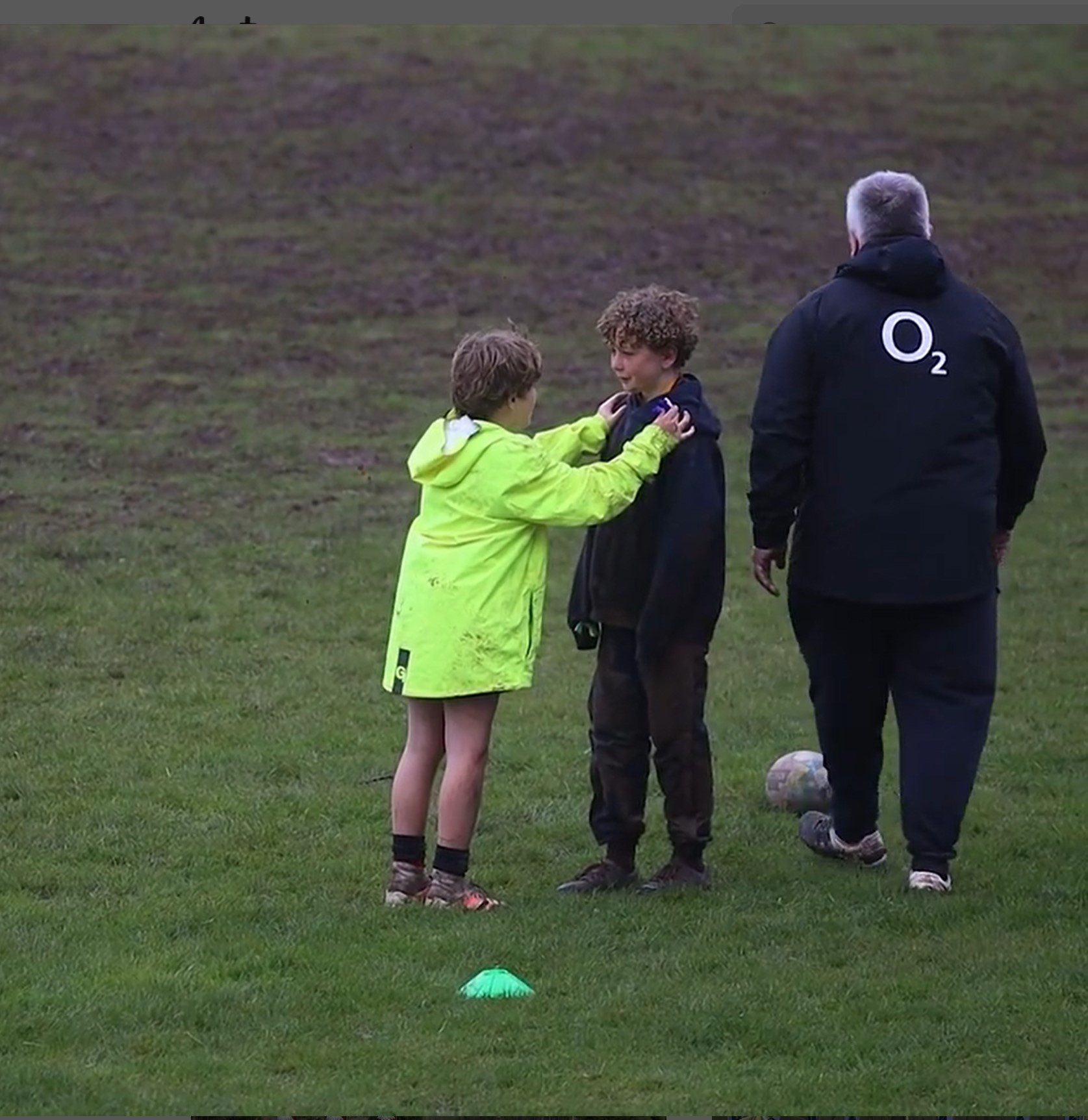 The 32-second clip opens with Bob tearfully telling his coach,
"Everyone's older than me; everyone's bigger than me."
His coach, Graham Higginbotham, responds, saying,
"It's Okay, You don't have to tackle."
And in walks our hero, Jack, sporting a neon raincoat instead of a cape.
He grabs Bob by the shoulders and launches into one of the most inspiring pep talks you'll ever hear.
"Bob, Listen to me. Trust me. Look at me. Look at me Bob.

I am the shortest kid here. Listen, it doesn't matter Who you are. it doesn't matter if you're short, You're young.

It doesn't matter if you're taller, or if you're fat. It does not matter at all.

Bob, You are a brilliant rugby player."
Heck, after listening to this, I feel like even I could be a brilliant rugby player.
However, Jack's not quite done. He wants to make sure that Bob is really hearing him.
He continues:
"you understand that? You are insane! You are actually insane for your age.

come on, give me a hug."
Jack brings Bob in for a hug and they walk back toward the other players, Jack's arm around Bob, encouraging him the entire time.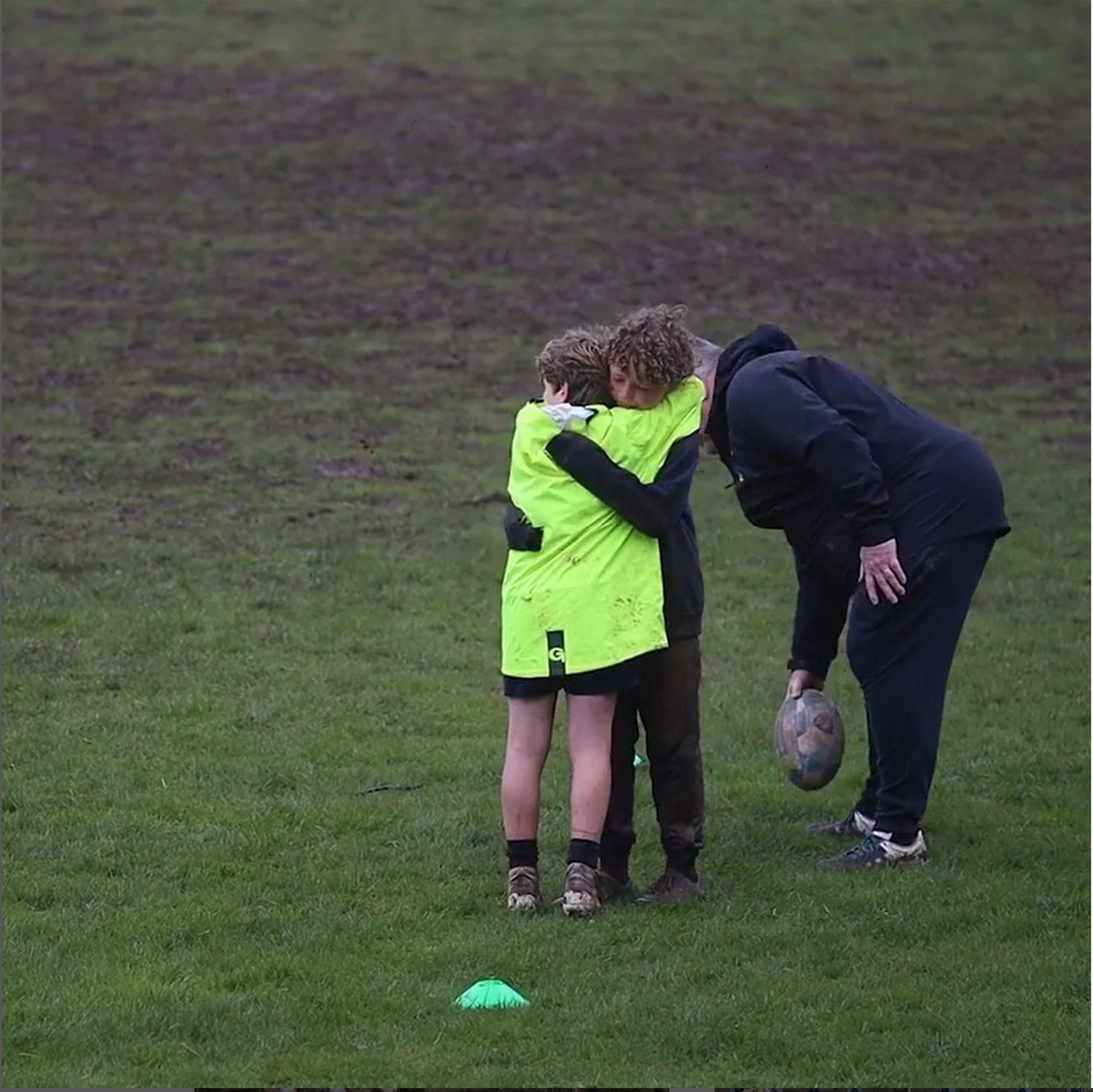 BEST.TEAMMATE.EVER.
Also, someone needs to give this kid his own Ted Talk.
Check out the clip here:
? VOLUME ?

? This heart-warming moment was captured recently at our Easter Courses

? This short but emotional clip captures the true spirit of @SedberghCourses and shows the power of the friendships that are made here

Growth | Originality | Leadership | Determination #GOLD pic.twitter.com/Ew1fsgXusY

— Sedbergh School (@SedberghSchool) April 22, 2022
Coach Higginbotham told The U.K. Times that it was a "magic moment" that left him "really emotional."
(No doubt, we're ALL emotional.)
He told reporters:
"Bob was being stretched in the session from a rugby point of view, which you need, and Jack recognized that and went and supported him so well."
He went on to explain that the boys had only met two days earlier.
"It's phenomenal really, such a young person who came to help his team-mate and bear in mind they had only met two days before. They weren't friends before the course."
I think it's safe to say they're definitely friends now.
People absolutely love the video, us included. And it's easy to see why.
In a world where we are so often inundated with stories of bullying and kids gone wrong, sometimes we can lose track of the good.
And there is so much good.
The kids these days? They're alright. MORE than alright. And they'll get by, with a little help from their friends.