A cemetery in Polk County, Iowa is stirring up debate about what is considered appropriate when it comes to laying one to rest after it was discovered that a headstone cleverly used an acrostic poem to spell out 'f–k off.'
The family says it is a final nod of respect to the dearly departed.
The headstone, located in the Warren-Powers Cemetery in Polk County, Iowa reads,
"Forever in our hearts, until we meet again, cherished memories, known as our brother, father, papa, uncle, friend, and cousin."
It doesn't sound terribly offensive until the poem is lined up as an acrostic poem is. The first letter of each line spell a word or phrase when you read down.
In this case, the headstone reads:
Forever in our hearts
Until we meet again
Cherished memories
Known as
Our brother
Father, paper, uncle,
Friend and cousin
Do you see it now? In the images shared across the internet, the vertical letters that spell out 'f–k off' has been blurred out.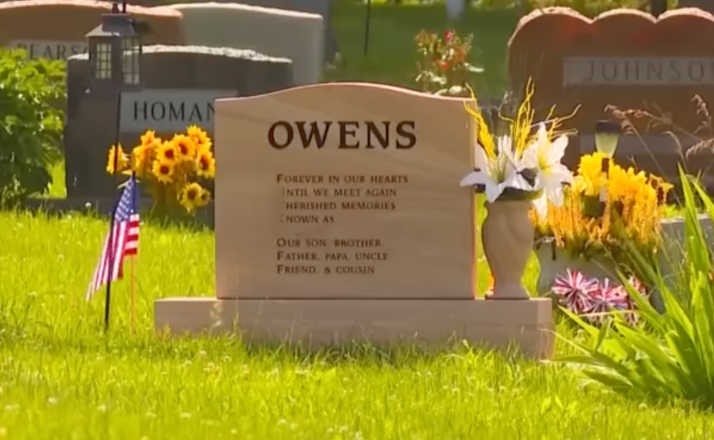 So, who would inspire such a headstone?
Steven "Stevie" Paul Owens. According to his obituary, he passed away in September 2021, "to go play Yahtzee in Heaven with his mom." He sounded like a regular guy with fun interests including flag football, slow-pitch softball, fishing, vacationing in the Ozarks, and spending time with his family.
According to his family, though, not only was Owens a wonderful person, but he was also an honest one and didn't hold back when it came to speaking his mind.
He apparently loved the phrase, "f–k off," and by all accounts, it sounds as if he used it regularly.
"It was definitely his term of endearment. If he didn't like you, he didn't speak to you. It's just who he was," Owen's daughter, Lindsay Owens told KCCI Des Moines.
"He's easily riled up. It was always a goal of some sort to have him tell you to do this," Owen's son, Zachary Owens added.
But while the family may be having a bit of a chuckle over the profanity that they say was a final, loving act for their dad, the cemetery is taking a different view.
According to the family, the cemetery has been against the headstone since it was first placed and noted that profanity has no place in a final resting ground.
But the Owens family says that it's just humor and wasn't intended to offend anyone.
"No one's forcing anyone to come out and look at it. That's a choice that you make, We didn't do it to offend anyone or hurt anyone's feelings. We did it because it was our father and we love him and that's the way we remember him," Zachary Owens told KCCI.
In an email statement from the cemetery's board of directors to a local Iowa media source, the board says that they intended to seek out legal resources to have the headstone removed.
In the statement, the board said that they don't allow profanity on monuments such as headstones.
Their reasoning states:
"those others who have a place in the cemetery have the right of decency afforded to them", according to an emailed statement.
The board also stated the members of the community are organizing to seek legal action to have the offensive headstone removed.
"They do not want nor do they appreciate the stone being in the cemetery," the board's statement reads in the email, "This community will not stop until they have the headstone removed."
The headstone has not been removed yet and the family has said that they hope that all sides can come together to find a solution that allows them to keep their headstone as is. You can learn more about the news story here: