As if shortages hadn't already been a giant pain in the derriere, now menstruating people are having to pay gauged prices online to find basic needs like tampons.
If you haven't heard, there is actually a tampon shortage happening right now. As frustrating as the situation is, we've got a few ideas for alternatives that may help you get through this new phase of the apocalypse.
If you've tried to buy certain brands of tampons (or in some places literally any tampons) then you know that shelves are running empty and prices are running high.
And just like baby food shortages, food recalls, and other hits to the supply chain, it helps to understand what is happening in order to suss out when it may possibly resolve.
Here is what we know about the current tampon shortage:
Raw materials are in short supply.
Part of the reason why tampons are suddenly impossible to find, and disposable pads are on average 8% more expensive is because inflation is forcing the cost of raw materials to go up.
Tampons are highly regulated products that are categorized as medical devices because they must meet strict health standards before they can be sold and used by the general public.
That makes sense; you don't want to insert a product into your body and later find out it was contaminated with allergens or toxins.
Andre Schulten, the chief financial officer for Proctor & Gamble told the New York Times that acquiring those raw materials had become "costly and volatile."
But they also asserted that the situation is temporary.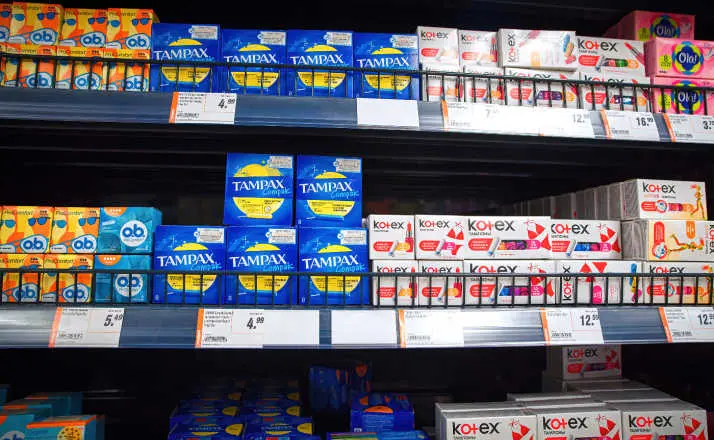 Covid is impacting the workforce and thus the tampon shortage.
One frustrating aspect of the shortages is that it is happening because of spikes in Covid around the world. Those spikes in the latest Omicron wave are hitting factories and laying waste to entire swaths of workers.
"The Tampax team is producing tampons 24/7 to meet the increased demand for our products," Procter & Gamble told Al Jazeera news.

"We are working with our US retail partners to maximize availability, which has significantly increased over the last several months."
In another communication with Al Jazeera, a spokesperson who works with Playtex, o.b. tampons, Carefree, and Stayfree pads said that Omicron impacted the US manufacturing facility in late 2021 and then the suppliers in Canada in 2022, leaving quite a problem for getting tampons and pads to the American public.
"We have been operating our manufacturing facilities around the clock to build back inventory and anticipate returning to normal levels in the coming weeks," the spokesperson told Al Jazeera in an email.
So, what can we do?
We've rounded up a few options for folks to get period products as quickly as possible. Not all menstruating people can wear pads. For some folks that could be due to infections or simply not wanting to feel a pad. We get it.
So the options we outline below are intended to help reach as many different preferences as possible.
Reusable Pads
For those who don't mind pads, reusable pads have come a long way from those bulky, weird diaper-like contraptions of yesteryear.
You can now buy adorable patterns on quality fabric that are discreet, easy to clean, and easy to store in a waterproof bag. There are tons to choose from on Amazon, including this brand from Teamoy that includes 10 reusable, washable cloth menstrual pads and a waterproof bag.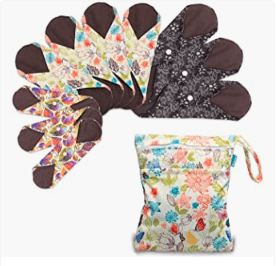 Menstrual Cups
Menstrual cups have grown in popularity over the last decade. The most famous brand, the Diva Cup, has paved the way for an eco-friendly way to manage a period.
You can find tons of other companies with different shapes and sizes to accommodate your physical needs. Here, we offer a few finds.
Diva Cup
$32.99 on Amazon
The Diva Cup is made of 100% medical-grade silicone, BPA-free period cup. This can be used repeatedly and easily stored in a small cloth bag. Some people like to invest in a few cups to have an extra on hand, it may be pricey up front, but they last seemingly forever and are far less expensive over time.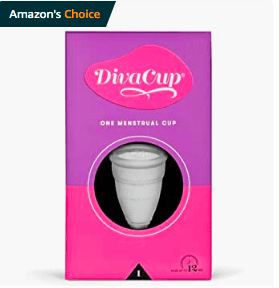 Pixie Cup
$23.95 on Amazon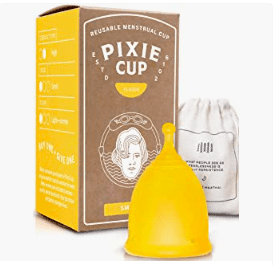 The Pixie Cup is a less expensive version of the Diva Cup, but no less impressive. They offer an easy-to-read chart to figure out what size will best fit your body and for every purchase, they donate a Pixie Cup to a person in need.
Saalt
$28.99 on Amazon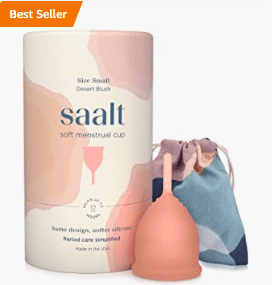 Saalt is a best-selling, reusable menstruation cup on Amazon. With nearly 13,000 reviews, people really love this product. It is priced right between the Diva Cup and the Pixie Cup, and comes with plenty of information on how to get the proper size and fit.
Period Underwear
Period underwear may sound totally wild, but they're actually pretty high-tech and convenient. They can also be very expensive depending on the brand and how many you want to purchase.
Period underwear do not leak, smell, or leave you feeling wet. They wick the fluids away from the body but without staining clothes, it's pure sciencey magic, to be honest.
Bambody Absorbent Briefs
$12.90 on Amazon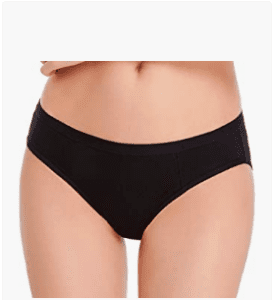 Bambody is one of the most popular and affordable brands of period underwear that we could find.
These are roughly $12 a pair and come in a variety of sizes and colors to choose from. It also features absorbency from the front all the way up the back, making sleeping far less stressful.
INNERSY Period Underwear
$23.99 for a 3-pack on Amazon
Innersy comes in multi-packs that feature plenty of colors and designs. They are also very affordable and include absorbent wicking power up the front and back, making movement, sleep, and daily life feel comfortable.
Thinx Modal Cotton Boy Short
$38 per pair on Amazon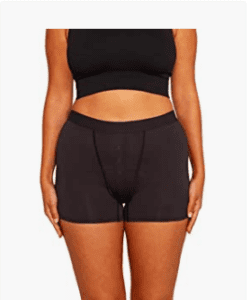 Thinx is one of the most well-known brands with a loyal following. But they are also a bit on the pricey side.
If you're looking to invest in reusable period underwear, Thinx is a reliable brand with a product that works very well.
They offer plenty of cuts, colors, and designs too so definitely shop around for the best fit and style for you.
If none of these alternatives is a great fit for your budget, style, or comfort level, just know that the tampon shortage is likely to be temporary.
If you look online, you can find tampons right now but they are slightly higher (or sometimes exorbitantly higher) depending on the seller. Stay safe and healthy, friends.