Do you ever read about some wild antics in the news and think to yourself, what the hell was that person thinking? I do, almost on the daily lately, but sometimes there's a story that stands out in the WTF category a little extra hard.
A Jacksonville, Florida mother punched out a child at her daughter's middle school in the ultimate WTF moment.
I mean, I get that tweens are challenging, but this is pretty extreme.
Edith Riddle, 34, was arrested last Tuesday and charged with child abuse after allegedly showing up to Dupont Middle School wearing a boxing glove that she later told police was super-glued to her wrist.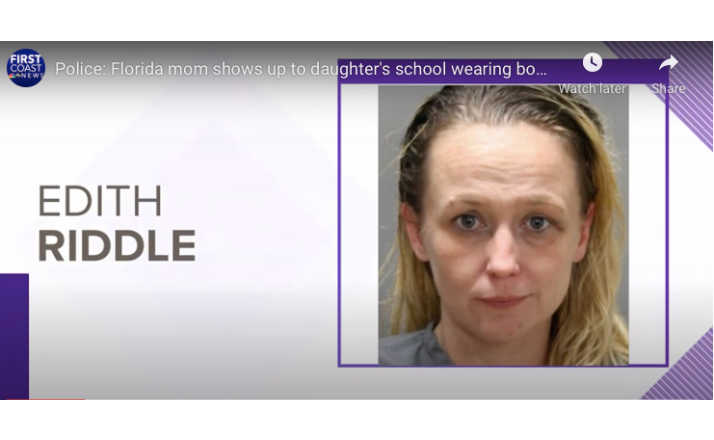 Ok – so, quick question, what did this lady think was going to happen that made her choose to superglue a boxing glove to her wrist? But wait – there's more to this twisted story.
According to First Coast News, Riddle had been at the school for a meeting with her daughter and the school's vice principal, presumably over a feud between the daughter and another student.
We do not know what the meeting was about as that is private information, but given what happens next, it might not take much mental gymnastics to guess that the school was perhaps trying to address some behavioral issues with the family.
According to First Coast News, Riddle and her daughter were leaving school grounds after the meeting, which took place during the lunch hour.
But before they left, the daughter took a detour, making her way to the campus cafeteria. Once in the cafeteria, the daughter encountered the other student with whom she apparently has an ongoing dispute (hence the meeting with the vice principal) because a physical fight ensued.
The daughter shoved the other child to the ground and threw a few punches.
Now, I'm not sure how I would react if my child pulled a stunt like this, but I can tell you with 100% certainty that what I wouldn't do is jump in and punch the other kid. But hey, what do I know?
Riddle, however, parents differently – obviously.
According to police reports, the 34-year-old-mother "forced" herself in the middle of the altercation and punched the child that her daughter had just knocked to the ground.
No one was seriously injured, however, the child who was allegedly attacked by Riddle and her daughter is said to have sustained scrapes on her knees and forearms.
When asked about the brawl, the other student's mother, Crystal Wiltsee told Action News Jax,
"I put the school at blame just as much as her because had they escorted the lady off the property when they showed up to the school in boxing gloves–that's not normal."
At the time of this story, the school has not commented publicly. Riddle bonded out of jail over the weekend. Let's hope she doesn't make her way back up to the school anytime soon.