With prom season fast approaching, it's easy to get caught up in the madness, especially if you have a daughter. You want her to look and feel like a princess and she likely has ideas on how to do that. Search for "prom" on Pinterest, and you will see a seemingly endless list of boards. But the cost of prom is outrageous, so I've got some ideas to reduce the cost of prom and save some money.
There are dresses, shoes, makeup, flowers, jewelry, photo tips, and promposal ideas, all telling you that this is the way it needs to be done. It is overwhelming. You want your children to have good memories of one of the most hyped nights of their high school years, but you don't want to take out a second mortgage to pay for it. Yes, prom is a special occasion, but it should not rival a wedding. Take a breath. With planning, it is possible to help teens have a memorable night without breaking the bank.
According to a Yahoo study, last year, families spent an average of $600+, for high school kids To. Go. To.  A. Dance. Many reportedly spend over $1,000. Promposals, elaborate ways to ask someone to the prom, have been getting much attention in recent years, and have become a significant portion (up to a third) of this cost.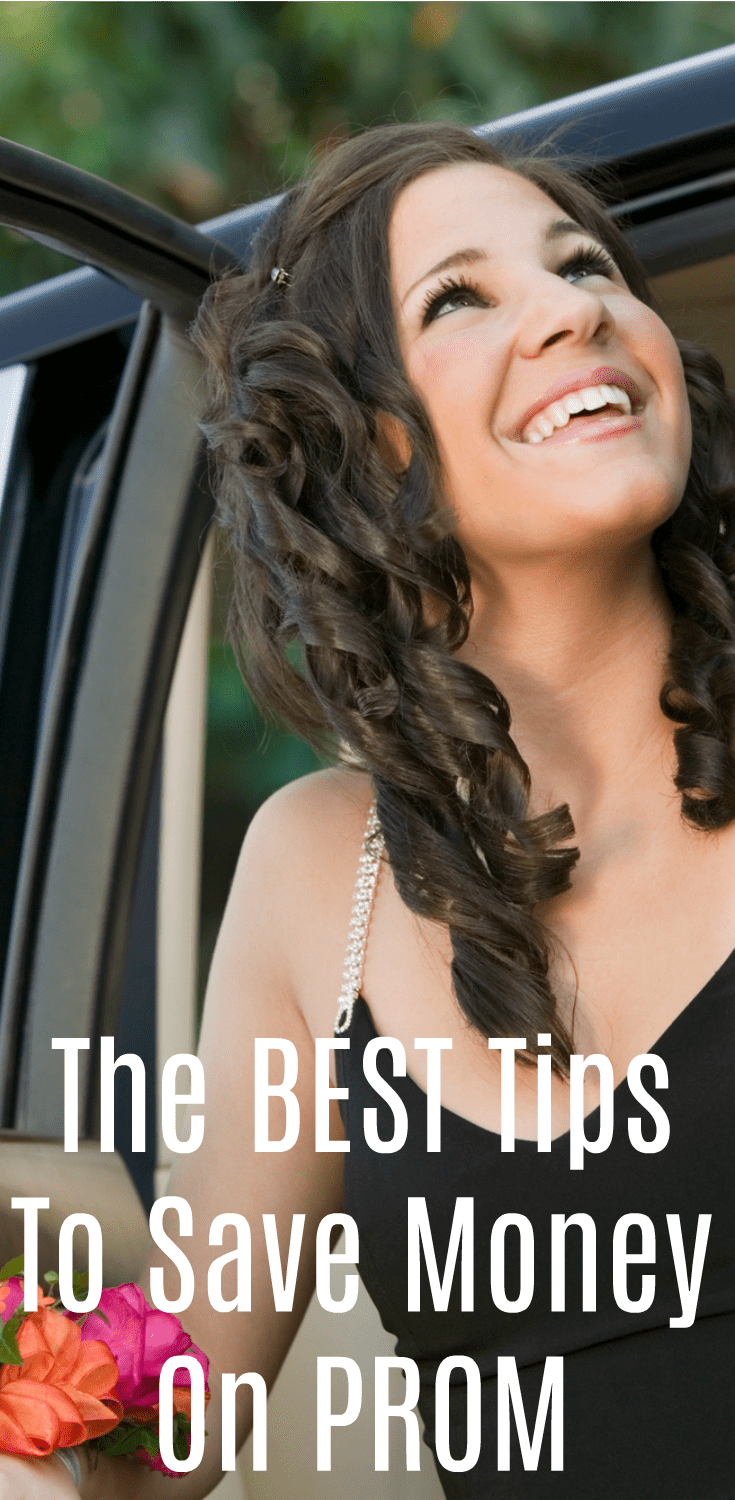 Plan things in advance
I have three daughters, so I am no stranger to the flurry of activity seen each spring in high schools around the country. With my first, I noted that things had certainly gotten more elaborate than when I was in high school. There was the expected fuss and expense of formal attire, but the peer pressure to rent transportation was higher and it was expected that girls would go to a salon rather than doing their hair themselves. Having never gotten an "up-do" myself, I was shocked at the price, especially since she went to a walk-in salon, there being no appointments available in our area.
By the time my third was in high school, the Promposal had become a thing. While I remember some public displays while I was young, these were simple, like a note tramped in the snow: "Will you go to prom with me?" or a sign held up in the hallway. Nowadays, there is much more pressure on the one doing the asking, often including a gift, which can be as simple as a few flowers or a stuffed animal or even concert tickets or jewelry. These invitations are typically very public and may involve significant planning.
Make sure the dress isn't going to fall apart
While I expected an increase in cost due to inflation, I was caught off guard by the new numbers. While I admit I live in an affluent area, I was shocked at the prices of dresses, which is typically the single largest outlay of cash.  Many girls purchase theirs at high-end department stores or bridal shops, spending $500 or more. While the prices are more reasonable at the lower end department stores, the complaint is that the quality is not always there (sometimes true), and the odds are greater that one will be seen in the same dress as another girl at the dance.
Some local bridal shops have solved this dilemma by keeping track of which prom their dresses are purchased for. If another girl comes into the shop from the same school, she will not be permitted to purchase that dress. As additional insurance, Facebook Prom Dress pages are created at high schools each year for girls to post pictures of their dress, effectively claiming that dress as their own.
While it requires time and patience (or just plain luck), it is possible to save on the dress. Personally, I am reluctant to purchase a dress of inferior quality just to save a few bucks, especially after my daughter's junior prom. As the night wore on, many dresses started to fall apart. The stitches holding spaghetti straps loosened and beads and sequins fell off. My daughter fortunately had a stash of safety pins in her bag, so several crises were averted. So, make sure to check all seams, zippers and straps before purchasing.
Shop around for dresses
While it is natural to expect you can simply make one trip to the prom section of your favorite department store at the mall, it usually pays to shop around. Outlet stores and discount department stores are a good place to find designer name brands at much lower prices. They may be last year's dresses, but this also reduces the likelihood that someone else will be wearing the same dress. You might also want to take a look at local thrift shops. We recently found a brand new dress marked $12 that was further discounted when we got to the register.  (Of course the selection here is unpredictable, but it's worth a look.)
Search for dresses online
We purchased a designer gown my daughter loved (and truly made her look like a princess) on eBay for less than half the retail price. A caveat: unless they have a good return policy and you have plenty of time, ordering a dress online that you haven't already tried on is risky as the sizing for formalwear is much different from that of everyday clothes. For the same reason, it makes sense to avoid companies outside the country. (Lesson 3: start shopping early.)
Rent the dress and the tux
If you don't want to have dresses taking up real estate in your closet, other options are to rent a dress or have a dress swap. Recognizing that many of these dresses are never worn again, a few dress rental companies have popped up online. For a fee, you can have the dress of your dreams for the night and then return it to them. With many girls going to both a junior and a senior prom, another option is to cut out the middleman and swap with another girl senior year so you each have a "new" dress to wear.
While boys have it a little easier when it comes to clothing choices, renting a tuxedo has also become a considerable expense. Here it may pay to buy rather than rent. While the prices are reasonable at some department stores, many tuxedo companies sell tuxedos that were used as rentals, which while the same quality, are often at prices lower than the cost for a rental. (These are also available online and are more true to size than formal dresses are.) You will need to purchase a tuxedo shirt and dress shoes, but I found the total cost to still be lower, with the benefit that my son is ready for other formal occasions should they arise.
Think outside the box
While there is little that can be done about transportation costs, besides shopping around or forcing your teen to have the embarrassment of mom or dad as a chauffeur (which  I have done), there are ways to cut other costs. Hair, makeup and nails can cost over $100 in some areas.
Besides completely forgoing this luxury, girls can get together beforehand and help each other or if "expert" help is required, local beauty schools often provide these services at lower-than-average rates. Flowers also can be a considerable expense. It is generally expected that dates buy each other's flowers (either a boutonniere or corsage). Many grocery store floral departments can provide these and are often just as nice as and considerably less expensive than those from a florist.
Let a parent take the photos
Probably the easiest place to save is on photos. Although many proms still have a professional photographer on-site, it seems that the popularity of the posed prom formals seems to be waning. Instead teens seem to opt for photo booth photos and photos with groups of friends in advance. In our area, groups gather beforehand at someone's home or a local park for pictures. Most often it is parents taking the pictures with cameras and smartphones. Sometimes at these gatherings, you see someone who is obviously a professional, but even these are often family members.
For seven proms, I have played photographer, and at each I took a moment to step back and watch the parents. I'm not sure the kids see it, but there is pride on these faces as well as a realization that we are in the end stage, that these adult-like beings will soon move on. There is an urgency, to capture each moment, to get the perfect picture, to make a record of the fact that we have been allowed into our children's lives, even if it is only for a brief moment. The sacrifices made to make this night happen seem to melt away.
It's funny that the longest-lasting tangible piece of the night is one that is low cost, or even free.
***
Kimberly Yavorski is a freelance writer with a passion for learning, especially about history and natural science. She writes frequently on the topics of parenting, the outdoors, education and current events. You can find her on Facebook and Twitter.