Ah, your wedding day. The day you have spent months, possibly even YEARS planning. The day you betroth your undying love to each other and promise to love, honor, and cherish 'til death do you part in front of all of your family and friends.
Your wedding is arguably, one of the most important days of your life.
And the most expensive.
According to The Knot, the average cost of a wedding (ceremony and reception only) in the United States is $28,000.
You know, merely the cost of a car, or a tiny house, or a small private island in Nova Scotia.
So when you're shelling out that kind of dough, you want it to be PERFECT.
You spend hours pouring over flower selections, menu options, and potential venues. You look for the perfect dress, the perfect photographer, the perfect entertainment.
And then there's the guest list. You go back and forth over who makes the cut.
You argue with your parents over whether or not your second cousin once removed that you've never actually met should be included because they were invited to her wedding. It's possible you cry. You add and cull.
Finally, the big day arrives. But know who doesn't arrive? Eight of your carefully curated guests who RSVP'd "yes." At least, such is the case for one recently betrothed couple.
Doug and Dedra Simmons of Chicago got married on August 18 at their destination wedding at the Royalton Negril Resort & Spa in Jamaica. They were expecting 109 guests. 101 showed up.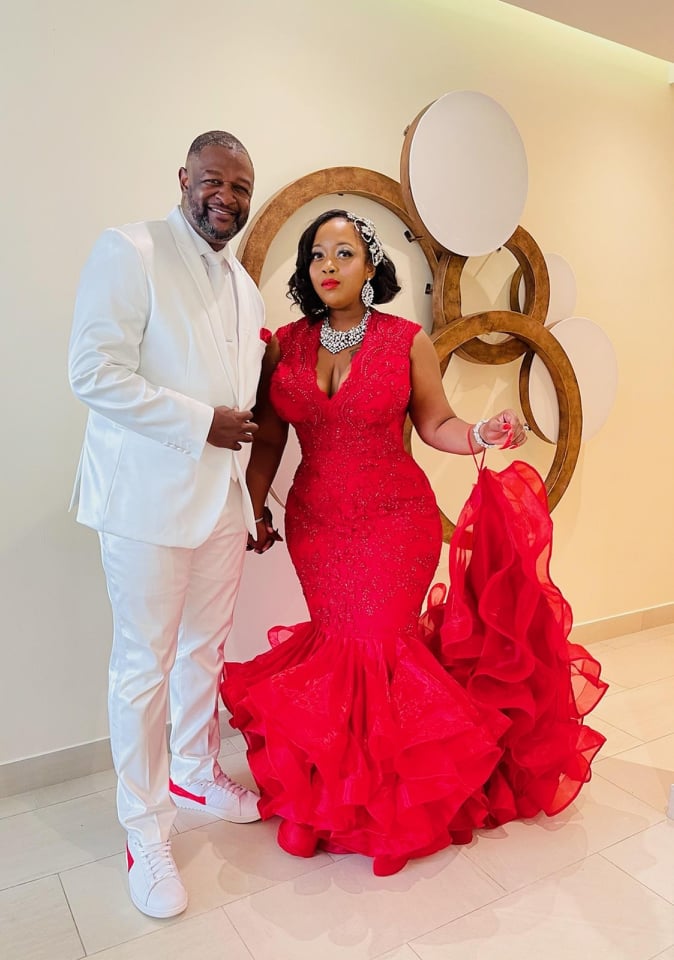 In an interview with Filter Free Parents, Doug Simmons says:
"We asked four times from November to August if they would be in attendance, and every time they said yes."
When the four couples were no-shows, Doug was understandably disappointed.
I understand that life happens. All I wanted ANd All We were asking for was Just A Simple, "Hey, something came up and we can't make it."

If at any time they had told us they were unable to attend, we would have truly understood, but to 'no call no show' was disappointing."
So disappointing in fact, that Doug decided to create an invoice for the 4 missing couples for their missed dinners – to the tune of $240/couple.
The amount that Doug and Dedra had to prepay for the meals.
He also shared the mock invoice, along with his wedding wrath, on his Facebook page, Septimbur Petty.
He captioned it with:
DON'T BE OFFENDED WHEN I SEND THIS #INVOICE TO YOU. IT'S GONNA LOOK SOMETHING LIKE THIS. I'LL BE SENDING IT VIA EMAIL AND CERTIFIED MAIL… JUST IN CASE YOU SAY YOU AIN'T GET THE EMAIL. #PETTYPOST
The invoice is addressed to "No Call, No Show Guest" and its description reads "Wedding Reception Dinner (No Show)".
It is dated August 18, 2021. The due date is one month later, September 18, 2021. The unit price is listed as $120.00 x 2.
It also contains the following note:
"This invoice is being sent to you because you confirmed seat(s) at the wedding reception during the Final Headcount.

Because you didn't call or give us proper notice that you wouldn't be in attendance, this amount is what you owe us for paying for your seat(s) in advance.

You can pay via Zelle or PayPal. Please reach out to us and let us know which method of payment works for you. Thank you!"
Nice that he gave the option of either Zelle or Paypal, no?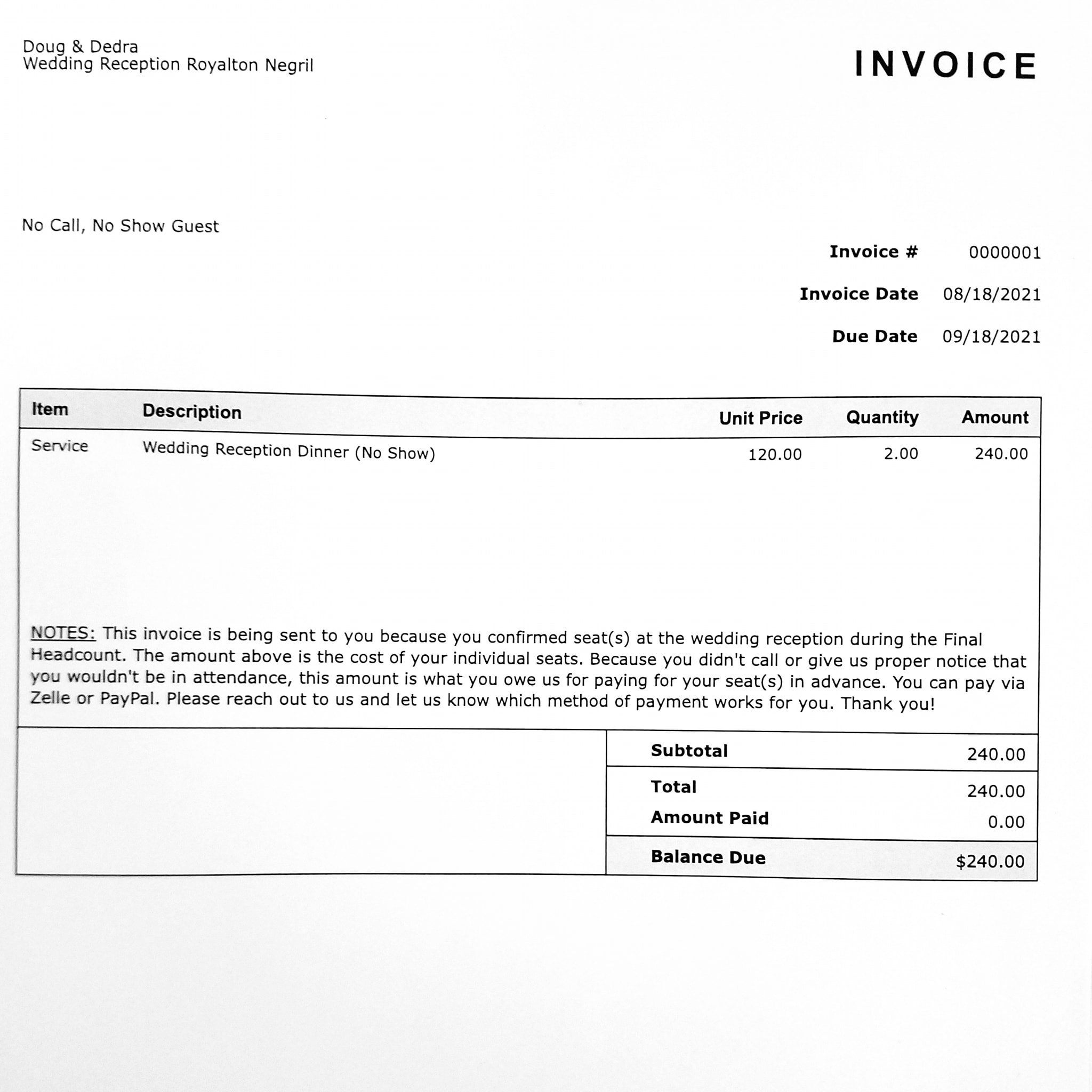 While Simmons had no intention of actually sending the invoice, the fact that he shared it on his Facebook page, where presumably the offending parties would see it, makes you think that these friend-ships may have just sailed.
The invoice quickly made the social media rounds and sparked a heated debate on wedding etiquette.
Some Tweeters squarely hitched their wagons to team Simmons, saying "I do!" when it came to whether or not they agreed with the bold and brass bill.
You know what, barring a hospital worthy emergency you have an obligation to show up. People pay per plate & they can reduce the number of dinners with a reasonable notice; so honestly I'm here for it.

— Lia Marie (@Liamarie_life) August 25, 2021
I think they did the right thing. Show respect if you didn't want to come say that. Don't cost me $240.00. Friendship over you couldn't call me and tell me. Pay me or don't talk to me.

— Karen Martin-Hill (@KLovely1218) August 28, 2021
It tacky to pull a no show. Have you ever paid for a wedding ?

— Kathia Woods (@kathia_woods) August 25, 2021
Others were quick to say, "I don't."
You are so special to us that we invited you to our wedding. However, we are going to severe that relationship for $240 because you didn't let us show off to you in person. But we will send an invite to our baby shower at some point, so show up with a gift or face collections

— ray_g (@ray_giron) August 24, 2021
I'd send it back right away pic.twitter.com/LHa7EAC1ng

— Hedgehog no. 1 (@hedgehogkibble) August 24, 2021
Nah, this is petty. You create a budget for any event in advance. Either you can afford it if everyone shows up or not. No shows at a wedding might be personally hurtful but guests don't owe you shit.

— Leona's Love Quest ? (@LeonasLoveQuest) August 24, 2021
And still others? Just wish they had thought of it first.
I wish I'd thought of this. A third of the people who RSVP'd for our wedding didn't show up. We paid for a LOT of food that went to waste (though it was a LOT LESS than than $120 a plate).

— Jackie Barbosa (A BIT OF ROUGH is out now!) (@jackiebarbosa) August 24, 2021
Idc what people say, I WISH we would've done this!! You know how much money we wasted on no-shows? It's pure disrespect.

— ?? Moderna Madame ?? (@KayReneeESQ) August 24, 2021
What do you think? Do you think billing nuptial no-shows is petty or justified?
Weddings cost a lot of money. The reality is this all could have been avoided if the absentee invitees had just taken the mere moments necessary to let the Simmons know they had changed their minds.
By sharing their story, Doug hopes that people can see it as a teachable moment.
Doug tells Filter Free Parents:
"It's a teachable moment for people. It's time that we hold our friends accountable and stop allowing ourselves to keep taking losses for people who are supposed to be our friends and family.

It's a situation of integrity, being considerate and also, I feel like people should understand that your word should be your bond and if you can't do something, communicate that and say "I can't do it" or "I'm unavailable" or "something came up." Don't just tell somebody and then leave them hanging."
As for where the missing couples stand now? Some reached out to the newlyweds and were apologetic. Others took on the attitude of "it is what it is, take it as a loss."
According to CNN Business, one of the couples offered to pay the bill, to which the Simmons declined as it was never about the money.
In lieu of payment, they made the newlyweds t-shirts with the invoice on them.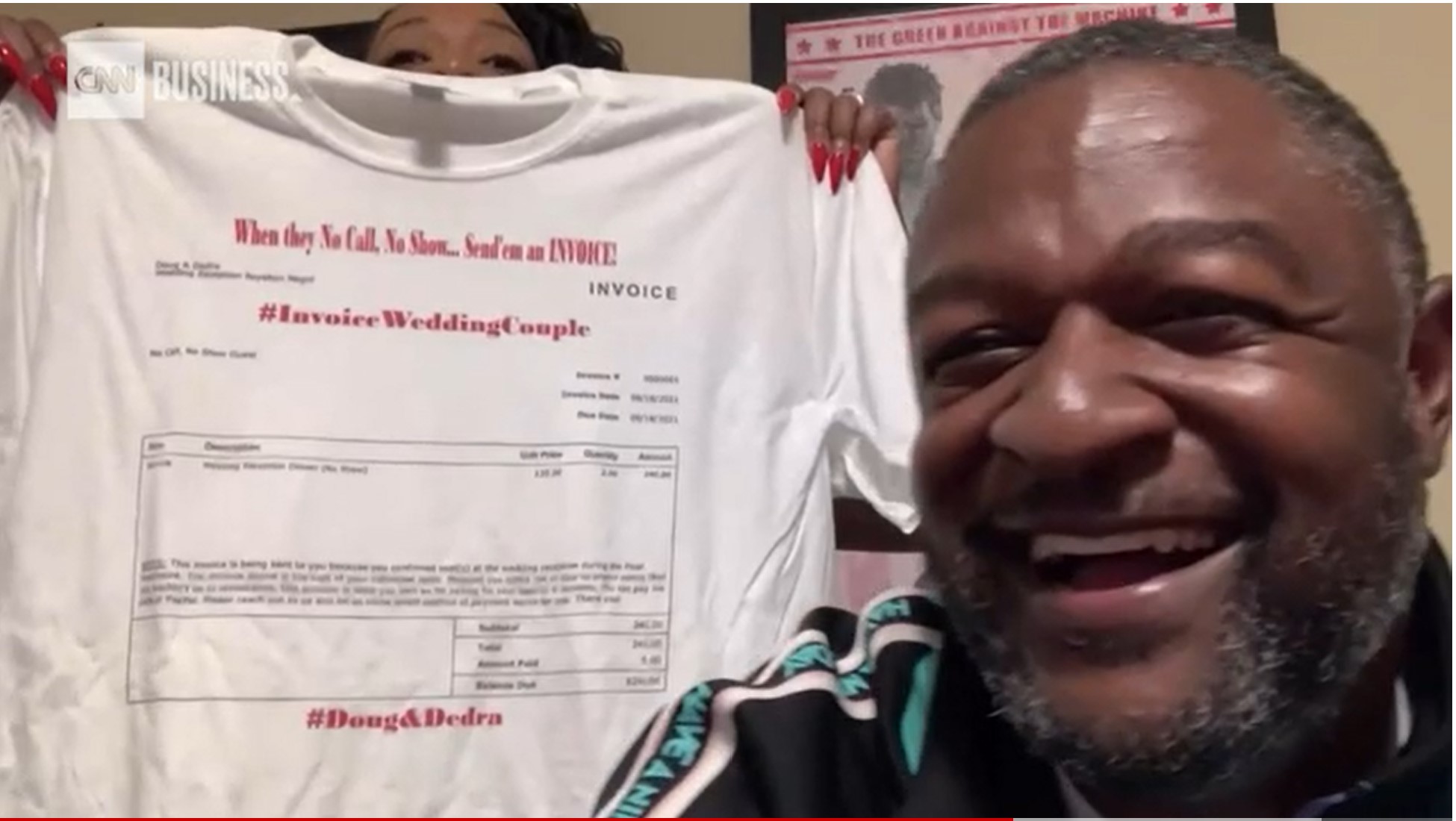 Doug is shocked by the worldwide attention and debate his invoice has sparked. But he loves it.
"I love it. I totally love it. And the reason why I love it is because I've been doing this for years, giving people something to talk about and to debate. I enjoy it.

So, I take the bitter with the sweet. I take the positive with the negative, and I don't worry about it.

I gave people the platform to have a conversation and I love that. That's the part that I love."
And people are definitely talking about it.
Doug says that he has received hundreds of messages from people telling the same story.
His inbox is overflowing with horror stories about 'no-call, no-shows' at weddings, birthday parties, and other important events. One woman shared that 25-35 people didn't show up to her wedding.
Doug tells FFP:
"I've got hundreds of inbox messages and emails from people just telling me their stories. And they're thanking me for putting this out there."
We thank you too Doug!
It's obvious that this is not an isolated event. Clearly others have fallen victim to the no-shows. So let this be a lesson to all of us. Next time you get an invite, RSVP. And if you say YES? Go. (Don't be a friend like Doug's.)
You can see the full "Petty post" here.