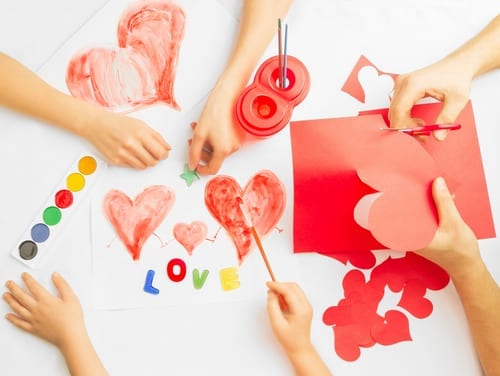 Before you had kids, you may have celebrated Valentine's Day with a romantic evening with your sweetie pie. While you can definitely still remember your significant other on February 14, now that you are parents, it's not as easy to get out for a lovely dinner for two.
Fortunately, you don't have to let motherhood stop you from celebrating a day devoted to love. Check out these kid-friendly suggestions that might become new Valentine's Day traditions:
Get Comfy on the Couch
Gather your kiddos and your hubby, and head to the couch for an evening of snuggling under comfy blankets and watching classic Valentine's Day shows. Great love-themed choices include "A Charlie Brown Valentine," "Beauty and the Beast," and "Shrek." Pop some corn, scoop some ice cream and enjoy a relaxing time together.
Hide the Hearts
A fun way to spend Valentine's Day with your kids is to cut out hearts from red and pink construction paper and hide them all over the house. Have your kids close their eyes or stay in another room while you tuck them behind cushions and under beds, and then let them try to find them. Reward the kiddo who finds the most hearts with a special small prize like a box of crayons or a new book, or you can hide the hearts over and over to let all of your kids win. Another option is to write the rewards on the hearts. For example, "Whoever finds this heart can trade it in for three Hershey's Kisses."
Take Them to See a Play
If your kids love singing, acting and live theater, take them to a show on or around Valentine's Day. Check out your local theaters to see what's on the schedule, or treat the family to a Broadway show. Have your kids help select which performance you are going to see on a ticketing site, such as Telecharge. There you can browse through the Broadway shows, choose seats and buy your tickets, all from the comfort of home.
Fix Sweet Meals for Your Sweeties
Most kids get a kick out of themed meals, so for Valentine's Day serve them some "sweet" foods. For example, use berry juice to color your pancake batter pink, and then use a heart-shaped cookie cutter to cut them out. Add some whipped cream and fresh strawberries on top for an extra tasty touch. For dinner, pick up some pre-made pizza dough balls from the grocery store and let everyone make their own pizza pie in the shape of a heart. For dessert you can make your own sundae bar with ice cream, heart shaped candies and strawberry sauce. Basic heart-shaped cookies are also a great choice.
Share Love With Others
Explain to your kids how Valentine's Day is devoted to love, and encourage them to show how much they care for others with some special projects. For example, they could make a few homemade Valentines and then drop them off with you at a local retirement home. Fill up a bag with non-perishable food and drop it off at a food bank. If they love animals, gather up some old towels and blankets and let them pick up a few new chew toys and head to a local animal shelter.