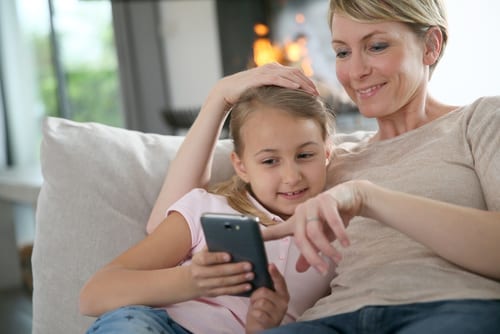 If you're a parent, you place great importance on your family's safety and wellbeing. You worry about your children's whereabouts in between home and school and any other time you are unable to supervise them. Technological tools are available to give parents peace of mind by providing information about your children's location, health status and behavior. Certain apps will remind your child to check in with you, and other technology will help you monitor their activities. Here are some of the best pieces of technology for keeping tabs on your children:
Google Calendar
Set up an online Google calendar that lists all of your family's activities and any scheduled check-in times. Through the Google calendar features, you can organize your children's after-school activities and expected location. They, in turn, will be alerted through the Google Calendar app on their smartphone about the day's plan.
The calendar can also schedule an alert for when they must check in with you via text or phone call as well as to alert them of curfew times. It is also useful as a reminder of chores and homework time. In addition to helping your children develop responsibility to stick with their schedule, the calendar provides regularity for their everyday lives.
MamaBear
The MamaBear app keeps you updated on family news, social media activity, text message activity and location. You can monitor your child's location and receive alerts when your child has reached a pre-determined destination. You can receive GPS-related alerts when your child needs to be picked up or needs help.
The MamaBear app also monitors your child's driving behavior. You will receive an alert when your child drives over the speed limit you've set, and you can view the location of where they surpassed the set speed limit as well as their speeding history.
Sygic Family
Sygic family locator app is similar to MamaBear, with a few modifications. The app lets you locate all members of your family and stay connected through instant messaging. You are able to create safe and unsafe zones and to receive notifications whenever your child arrives or leaves either of these areas. The app provides a seven-day history of your family members' whereabouts.
The Family Locator on Sygic is approved by the Parent Tested Parent Approved (PTPA) awards program and received positive reviews from over 70,000 families. The app helps you and your children establish trust with control so families can stay connected in all situations.
Security Camera
Keep an eye on your kids when they are at home with a security camera. The Lorex wireless home monitoring systems mount to interior or exterior locations throughout your house. You can remotely access your surveillance video through your phone or computer so you know what is going on in your home in real-time. The camera records video and audio onto an 8GB memory card, enabling you to monitor anything you did not initially see.
Inform your children of the security cameras so they don't feel that their privacy is being violated. Explain that the cameras are for their security, rather than for spying spy on them, and in the event of an emergency situation, the camera's presence will be beneficial.