I have a six-year-old kid who loves to put together really bizarre food combinations.
At first, I said no but when I realized that he would actually eat food (picky eater alert) I finally started saying yes to his culinary masterpieces like pickle and chocolate cake, pepperoni ice cream, and spaghetti sandwiches.
I'm not super sure, but I think KFC secretly hired my kid to invent their latest menu addition: the Kentucky Friend Chicken & Donuts. Yes, they put donuts together with chicken.
OMG. Where do I start? The glistening donuts wheel? The towering pile of fried meat?
According to KFC's official site,
"Kentucky Fried Chicken & Donuts brings two all American classics together, a delicious pairing of KFC's world-famous fried chicken, coupled with a warm, fresh-glazed donut. Beginning February 24, Kentucky Fried Chicken & Donuts will be available at participating restaurants in the U.S. for a limited time only."
It might seem like a weird idea to pair donuts with chicken but it's actually been a thing for a while in major cities.
KFC says that the latest trend of pairing donuts with fried chicken has gained so much popularity that "acclaimed chefs have started opening entire concepts around it. But people outside of major U.S. cities haven't been privy to this delicious combination, until now."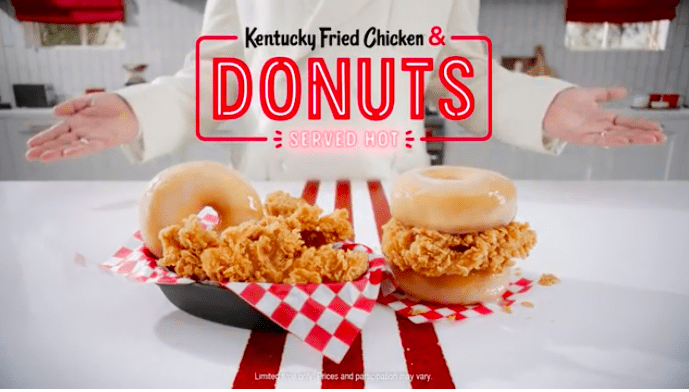 "Chicken & Donuts is the newest fried chicken trend we're bringing to all of America," said Andrea Zahumensky, chief marketing officer, KFC U.S.
"But not just any donut would do. Only a donut that's glazed-to-order and served piping hot every single time can stand next to our hand-breaded fried chicken. It's a finger lickin' good dish filled with glaze and glory."
The company had released a limited-time run of the calorie bomb in 2019 and it was apparently met with a frenzied zeal by KFC fans.
So, naturally, they are bringing this ultimate cheat day meal to the entire world.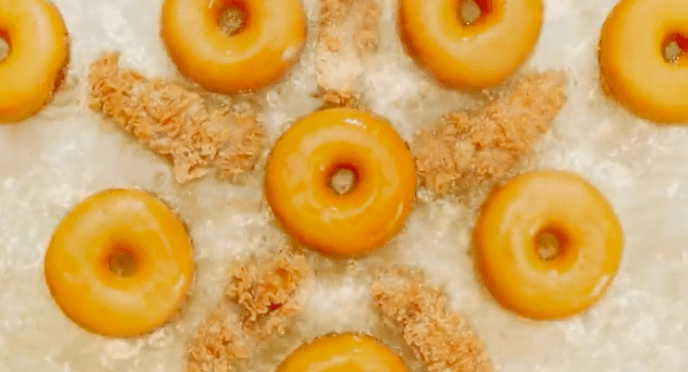 The new menu items will have options and a price range of $5.49 to $7.99. Customers can choose from the following:
Kentucky Fried Chicken & Donuts Basket meal: chicken on the bone or Extra Crispy™ chicken tenders, paired with one donut. Also available as a big basket meal, which includes two donuts.
Kentucky Fried Chicken & Donuts Sandwich: a juicy, hand-breaded Extra Crispy™ chicken filet sandwiched between two fully glazed donuts.
Guests can satisfy their sweet tooth by adding a donut to any meal for an additional cost.
But before you bite down on that hot glazed bucket of donut dreams, you should know how many calories you're biting into.
KFC doesn't offer up calorie information but Daily News took a stab at it and came up with these figures:
"Although KFC didn't offer a calorie count for the gut-busting meal, Dunkin' Donuts claims there are 260 calories in a single glazed doughnut. Double that total for a KFC sandwich for 520 calories and then add 340 calories for breaded sandwich chicken and that brings you up to 860 calories — about one-third of the recommended daily calorie allowance."
Trying to find nutrition information for any fast-food chain can be a bit of a pain but this site makes it super easy.
According to Fast Food Nutrition, the listing for KFC's new Hot Donuts and Fried Chicken has not yet been added to the site but we anticipate that once the meals have hit the market, those figures will appear and help you to make smart choices about what you're ordering.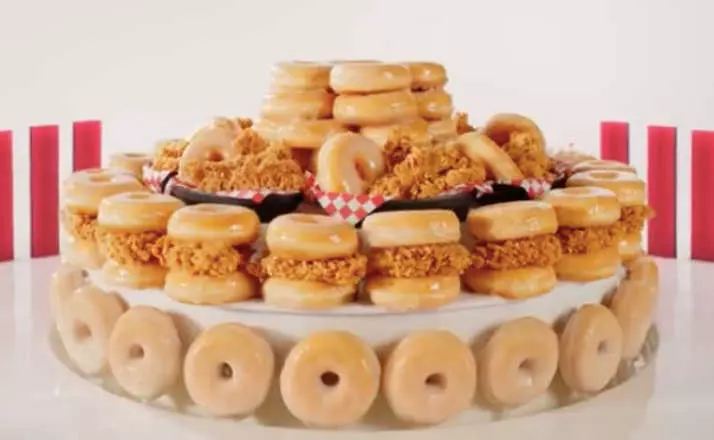 Or at least to have nightmares about your hardening arteries.
All joking aside, I'm definitely trying this diet disaster and I'm taking my mini master chef with me.