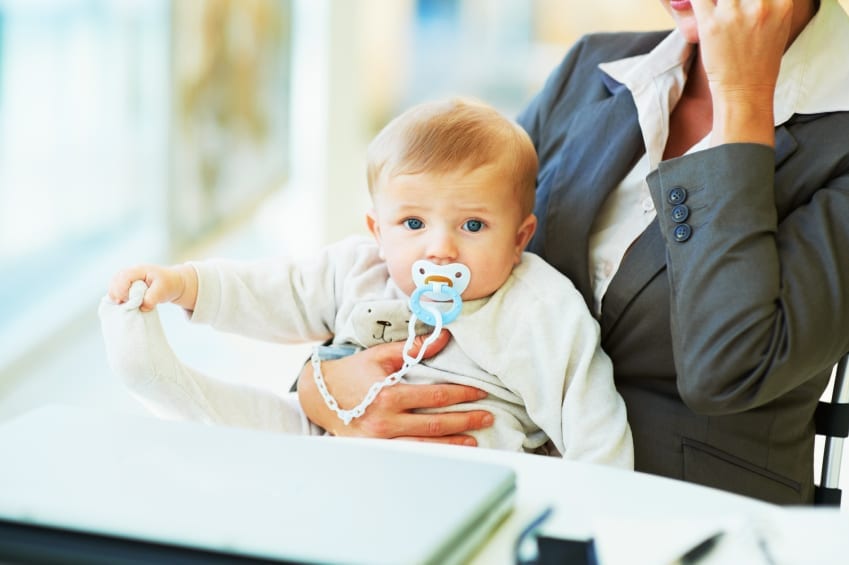 I've been very fortunate to have the opportunity to work-from-home since 1998, right before the birth of my third child. Working from home has offered incredible flexibility in terms of balancing my daily demands while still being able to spend quality time with my children. I cannot imagine stepping foot into a traditional office environment ever again. I would if it meant supporting my family, but I hope that working from home remains my norm.
It's taken a lot of trial and error, testing and refining, but I have come up with what I believe to be a solid routine for the work-from-home mom. With a little extra "oomph" (we'll call it that) and whole lot of patience, it is possible to work and take care of little ones at the same time.
Here's the routine that has worked well for me:
5:00 to 6:00
Yes, it's early. No, I'm not kidding. My grandmother used to say, "The early bird gets the worm!" It's true! Rise and shine!
My little one is already awake and going. Yours might sleep a bit later. Either way, this is the time to grab a hot, delicious cup of coffee. While it's brewing, scan new emails on your smartphone. Delete the junk before even turning on your laptop. Relax a bit and allow your brain to wake up while you sip your coffee and spend some time with your kiddos (or kiddo) if they're awake.
6:00 to 8:00
This is the chunk of time I refer to as "hyper mode." For me, it's the busiest two hours of the day. Often it can be a train wreck. During this time, I get one kid off to school (he's definitely not a morning person). I also get my little one fed, changed and happy. Most days I spend 20 minutes or so cleaning and sweeping, just to calm my OCD. The time that I have left is dedicated to checking my email (leave the tricky ones or those requiring a lengthy response for later, if possible), catching up on small projects and other less intense work-related activities.
8:00 to 10:00
This is typically naptime for my daughter, which allows me to focus and concentrate on work-related tasks that are more involved. If you write – blog posts, articles, reports, proposals and so on – this is a great time to do it. Also tackle those emails from earlier that require "hearty" responses. Get connected to a chat client such as Skype so that you are available throughout the day.
10:00 to 11:00
When naptime is over, I like to spend a little time with my daughter. We take a half hour or so to read a book, play on the floor together or just cuddle and laugh. I also grab some toys and other "activities" that will keep her busy for a bit. She plays while I work – within eyesight so that we can still interact and share special moments.
11:00 to 1:00
If you blog full-time or run your own business, this is the ideal time to do some marketing and/or networking. Visit other relevant blogs and leave thoughtful comments. Hop on over to LinkedIn and start making some new connections. Or, if you have a babysitter handy, attend a local brown bag lunch seminar or workshop. If you are working full-time as a remote employee, make some calls while your child is still busy playing. Alternatively, use this time to get some of your daily responsibilities knocked out.
1:00 to 2:00
LUNCHTIME! Whether you stay in or go out, make sure to eat well and savor this time with your child. Multi-task by running any errands you need to get done for the day.
2:00 to 3:00
This is often a shorter, second naptime for my daughter, which means I can focus 100 percent of my time on work while she sleeps. I like to schedule conference calls or make any other important calls during this time of the day. I also quickly check email and other messages that have been left for me online. Any extra time is spent on tasks requiring my undivided attention.
3:00 to 5:00
Crunch time for many of us! Make these two hours count by getting anything remaining on your daily to-do list done (if possible). After my daughter wakes up, she usually wants to play with mom for a bit before running off to do her own thing. When she is happily occupying her time, I plan for the following day, finish any outstanding tasks and check in with people via instant messaging or email.
5:00 to 7:30
Family time! We eat dinner, tackle any household chores like laundry and spend time together before lil' Miss drifts off for the night.
7:30 to 10:00
I blog and like to use this time to write upcoming posts. I also spend my evenings working on projects for my clients.
Keep in mind that this schedule is constantly being disrupted by the unexpected. It also matters what type of work you do from home. Not everyone uses a computer all day long. There are artisans and other types of work-from-home moms who will have to manage their time much differently and create work environments (safe ones especially) to meet their special needs.
This is just one of many schedules that demonstrate that working from home while taking care of little ones IS possible. Don't be afraid to try it!
Image Source: iStockPhoto