There are tons of childrens' books out there, but some stand out as being particularly memorable. Most of us remember Shel Silverstein's "The Giving Tree" (which DEFINITELY has a different message now that we're parents, no?? That selfish damn kid!), or Eric Carle's "The Very Hungry Caterpillar".
I'm not quite sure why "The Very Hungry Caterpillar" remains such a popular book; it's the tale of a caterpillar that binge-eats his way through a shit-ton of various foods in order to become a butterfly.
Sure he starts with bites of healthy fruits… and then straps on a feedbag of pastries & cheese before realizing leafy greens are the key to growing into a beautiful butterfly.
(Never has a childrens' book spoken to my life more than this moment. I too have always felt VERY HUNGRY during this weird phase of quarantine, little caterpillar. Only I seem firmly lodged at the cheese-sausage-pastry stage… still not a damn butterfly on a leafy green diet….)
A mom has written her own real-life parody of "The Very Hungry Caterpillar". It's called "Fucking Tired Lockdown Mommy" and it's definitely a childrens' book that all adults everywhere can relate to right now.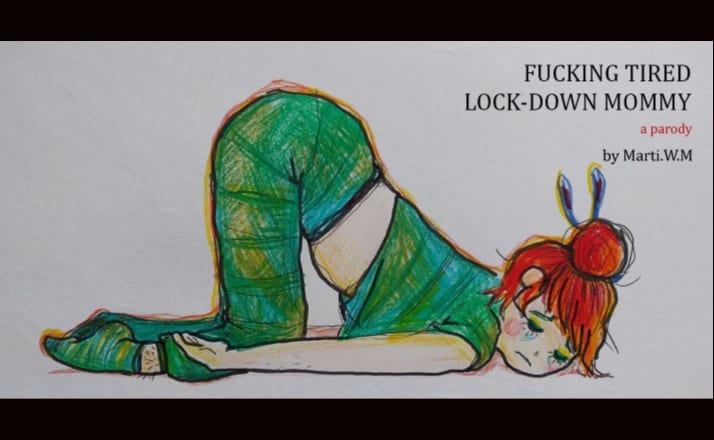 Mom Marti W.M. shared her amusing creation on her Facebook page, complete with her own unique illustrations.
The inspiration for the "childrens' book" was, of course, Eric Carle's "The Very Hungry Caterpillar". Like most kids, Marti's 4-year-old daughter is a fan:
Carle's work is one of my daughters favourite book, and we read it countless times.
Same, girl. SAME. I just read it to my 7-year-old son last week, & I'd be lying if I didn't say the caterpillar's cheese looked even MORE appealing than I'd remembered…
Like many of us weary, overwhelmed parents, Marti realized that she could relate quite closely to the very hungry caterpillar, because she, too, has been a very hungry mommy during lockdown.
(And tired. For the love of all things holy, so.damn.TIRED.)
Marti shared some of her sketched pages in her Facebook post that already has 16K shares- no doubt from fellow hungry, cranky parents on lockdown.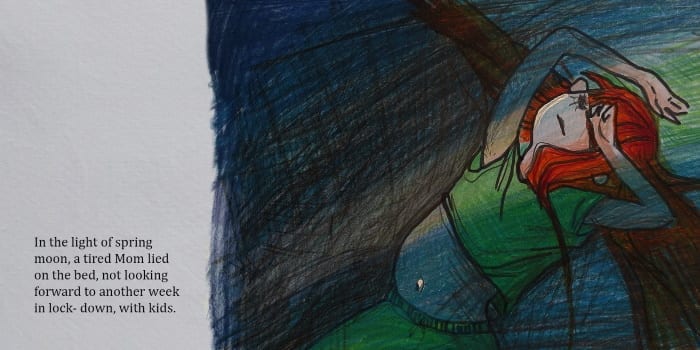 TRUTH!!! How many weeks has it been? Does time still mean anything??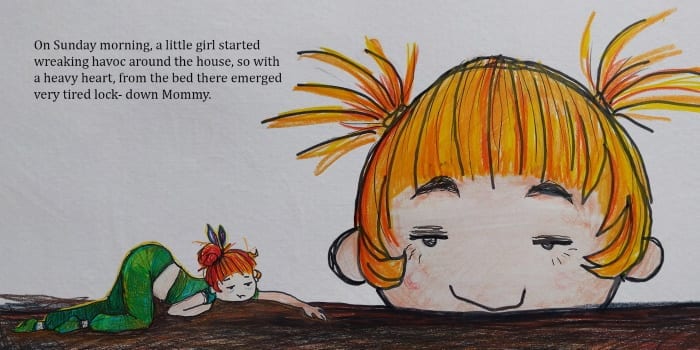 Such poetic phrasing! I feel this deep in my soul:
A little girl starting wreaking havoc around the house, so with a heavy heart, from the bed there emerged a very tired lock-down Mommy.
No, Lionel Richie- Sunday morning is NOT easy. Not when you've got kids & your morning starts too early, usually with a proclamation of, "The cat threw up & I stepped in it!' or "I flushed a spoon down the toilet- but it's stuck."
(Just my house?)
As the week progresses, the Very Hungry (and very tired) Lockdown Mommy grows hungrier and hungrier as the stress escalates.
Because, KIDS.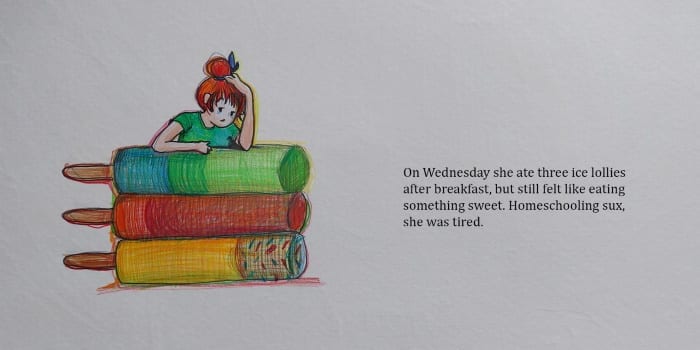 I'm willing to bet the lollies were kid leftovers, because that's the mainstay of most moms' diets. And she's absolutely right:
Homeschooling sux, she was tired.
By Thursday, the kids' shenanigans have escalated, & so has Mom's ability to not give a crap.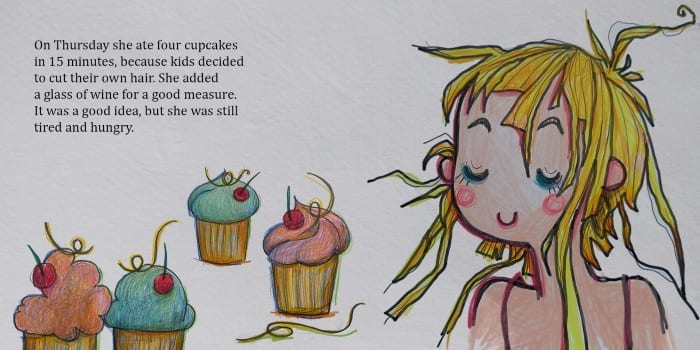 Just like the very hungry caterpillar, the very hungry mommy digs into the sweets… strapping them on like a feedbag & chowing down.
As for the kids cutting their own hair, once glass of wine might not cut it. But do you know what snack pairs well with wine?
Any damn snack. Anything & everything, because QUARANTINE.
By the end of the week, all bets are off- almost as quickly as the kids' pants.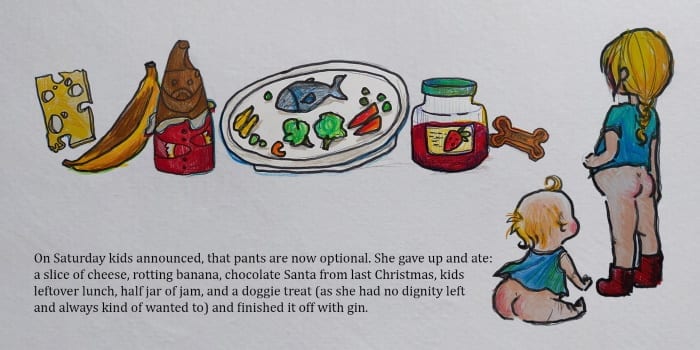 My favorite part:
A doggie treat (as she had no dignity left and always kind of wanted to) and finished it off with gin.
No shame, Fucking Tired Lockdown Mommy. Quarantine life is downright savage; pants are optional, and so are dog treats.
But the next day, Mom rallies… briefly.
The next day, she had some herbal tea and toast, cancelled the limits on screen time and felt much better.
Screen time: there are no limits. Time no longer has meaning, remember?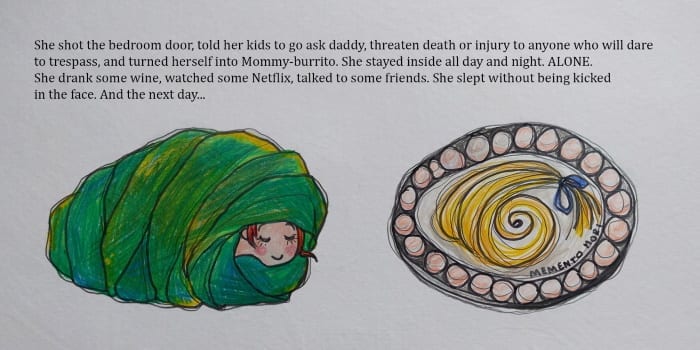 How good does a "Mommy-burrito" sound right about now? Hell, how good does ANY burrito sound to a very hungry mommy??
And yes, Netflix, we're still watching. Always.
Rough week, mama! But like "The Very Hungry Caterpillar", Marti's story ends on an uplifting, butterfly note as well: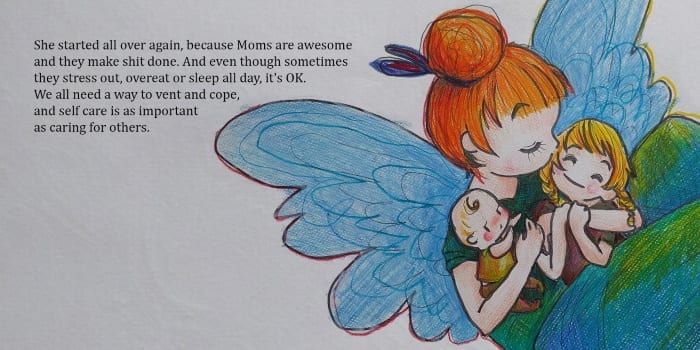 Tomorrow is another day. And if tomorrow isn't stellar -or a total trainwreck- that's ok too, because:
Moms are awesome and they make shit done.
Marti W.M.'s book is far more entertaining than the Eric Carle version- it's funny because it's TRUE.
Almost every parent is stressed-out, tired, overwhelmed, & anxious for life to feel "normal" again. And while some rare unicorns are transforming their lives/bodies in their own quarantine "glow-up", the vast majority of us are just trying to survive, & to love our kids while doing so.
Check out Marti W.M.s book in it's entirety in her post link below, and someone in the publishing industry get this talented woman a book deal STAT, because if it's up to America's parents, this is sure to be a best-seller!
"Fucking tired lock down mommy" is a parody of a famous children's book, "The very Hungry Caterpillar" by Eric Carle….

Posted by Marti WM on Saturday, June 6, 2020