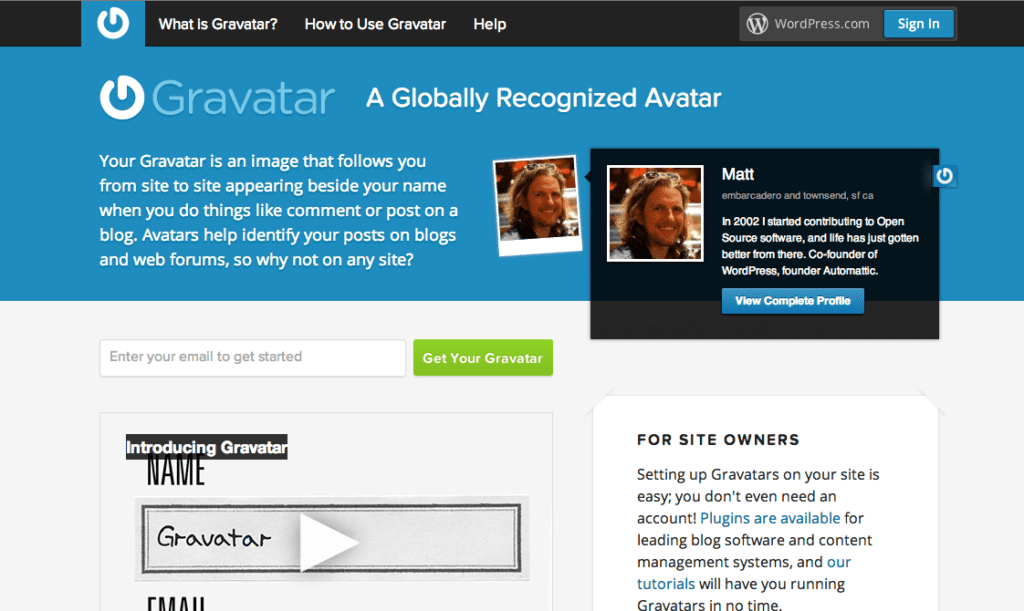 One of the awesome aspects of commenting on blog posts, is being able to see everyone's face or image next to their individual comments. It gives a sense of who someone is, what the brand is all about and really adds a personal touch to an already personal aspect of the blogging world – communicating with others. If you're still showing up as a blank avatar or other stock image, what are you waiting for? Here's how to get your photo to show next to blog comments:
The easiest way to go about this is to get a Gravatar, which stands for "Globally Recognized Avatar". This is an image that follows you from site to site and adds your image to your comments on pretty much all blogs. It's a rockin' social media tool!
Setting up an account on Gravatar is quick and easy. Really, it's a painless process. Just enter your email address where it says "Enter your email to get started" and click the green "Get Your Gravatar" button. From there, you'll be asked to signup for a WordPress Connect account. Again, easy. You are in no way obligated to use WordPress for your blog, nor do you have to switch anything over. According to Grvatar, "The beauty of WordPress.com Connect is that it means your account information is all managed in one, super-secure place (WordPress.com), and it avoids all sorts of complexity and potential for problems with password resets, account activations, and more." If you use WordPress for your blog, chances are you already have a WordPress.com Connect account. After signing up or signing in, you'll receive an email confirmation and have to fill out a few details, as well as upload an image of your choosing – but that's it.
Here's what it looks like in action (featuring two of my favorite blogs The Dose of Reality and Tamara Camera):