Anxiety and I battled it out today in a knock-down, drag-out fight.
It all started when I went out to a doctor's appointment for my one-year-old.
To be clear, I haven't been out of the house in almost two months. My husband has been doing the food shopping because he's an essential worker and out anyway, while I've been hunkering down with the kids.
So…
First time wearing a mask. Check.
First time wearing gloves. Check.
First time entering the unknown. Check.
I was already nervous on the way to the appointment because I haven't been out in social-distancing America.
Out, where a different kind of danger that we can't see looms.
Well, to add to my already heightened anxiety, my one-year-old cried the whole way to the appointment because she remembered she hates cars as soon as I put her in the car seat.
I followed protocol and called the office when I got there, met the nurse at the front door, and we went straight to our room. My one-year-old was still hysterically crying when we got into the room. She wasn't over the car seat. Plus, I think the mask frightened her.
Me too, bubba…was all I could think.
The nurse accidentally left the door open, so I went to close it and instantly realized I touched the doorknob, and FREAKED OUT.
Then, I went to get purell, realized the purell was actually soap, washed it off– and then in my panic, I BROKE THE MACHINE WITH THE PAPER TOWEL'S TO DRY MY HANDS. I TRIED PULLING IT OUT WITH ONE HAND BECAUSE THE BABY WAS IN THE OTHER, AND IT WAS STUCK.
I was tugging at it and tugging at it, when—
The nurse walked in, so I stopped and took a deep breath in—which is not so easy in masks.
"Undress her to her diaper," I heard in whispers through the deafening panic.
As I was taking off her shirt, my knee cracked (probably because my middle child has been making me sleep in her crib with her…don't ask…), and I felt so much pain that I started sweating, and I COULDN'T BREATHE UNDER THE MASK.
I WAS HAVING A PANIC ATTACK. NO, I WAS GOING TO PASS OUT.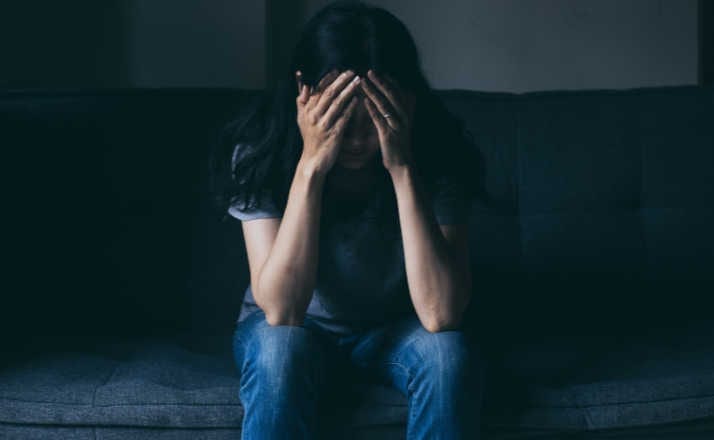 "I'm so sorry I need to sit down and take this off, or I'm going to faint," I muttered, grabbed the baby and sat down. And as I was forced to take it off, I felt the "COVID air" attack me, and I started panicking more.
After a minute or two, when the faint feeling passed, I put the mask back on with one hand, and I couldn't get the second string over my head. So, I was walking around with a string hanging from the front of my mask, that the baby found amusing to play with at least.
Every breath was still labored through the improperly placed mask.
Anxiety makes our bodies do crazy things.
Anxiety makes situations THAT much harder.
Anxiety is extremely real.
Anxiety is when our brain hijacks our body.
During anxiety attacks, some get physically ill. Some pass out. Some are tortured by thoughts.
Some experience all of the above.
Anxiety is the woman wearing her mask wrong and looking like she has been through it.
She's not defying the rules. She's just trying to survive at that moment.
Because she's battling her mind, and when there's a deadly disease out there too, it's harder for her to win.