Summer is here and so is bathing suit season. Yay. (Note the complete and utter lack of enthusiasm.) While I LOVE summer, I don't love bathing suits. Scratch that. I don't love MYSELF in a bathing suit.
Yes, I know. Wear the damn bathing suit! And I will. But I won't like it.
I will criticize and judge every last inch of my body. I will view myself through the lens of every magazine cover model I ever grew up with. And I will fall painfully short.
I have years and years of toxic body image issues to thank for this.
This is why, with my own teenage daughter, I am keenly aware of promoting a positive body image. Of teaching her to love her body for what is it. Rather than hating it for what it's not.
It's about teaching her that so many of the images she sees are unrealistic and the messages they're sending are powered by a billion-dollar industry profiting off of women trying to conform to impossible standards.
And it's just this kind of message that is at the heart of a fun and catchy tune making waves on TikTok.
TikToker and songwriter, @jaxwritessongs, shared her original song in a video that has quickly gone viral and it's the body positivity song of summer we ALL need to hear.
The video opens with Jax and Chelsea, the soon-to-be 13-year-old girl, that she babysits.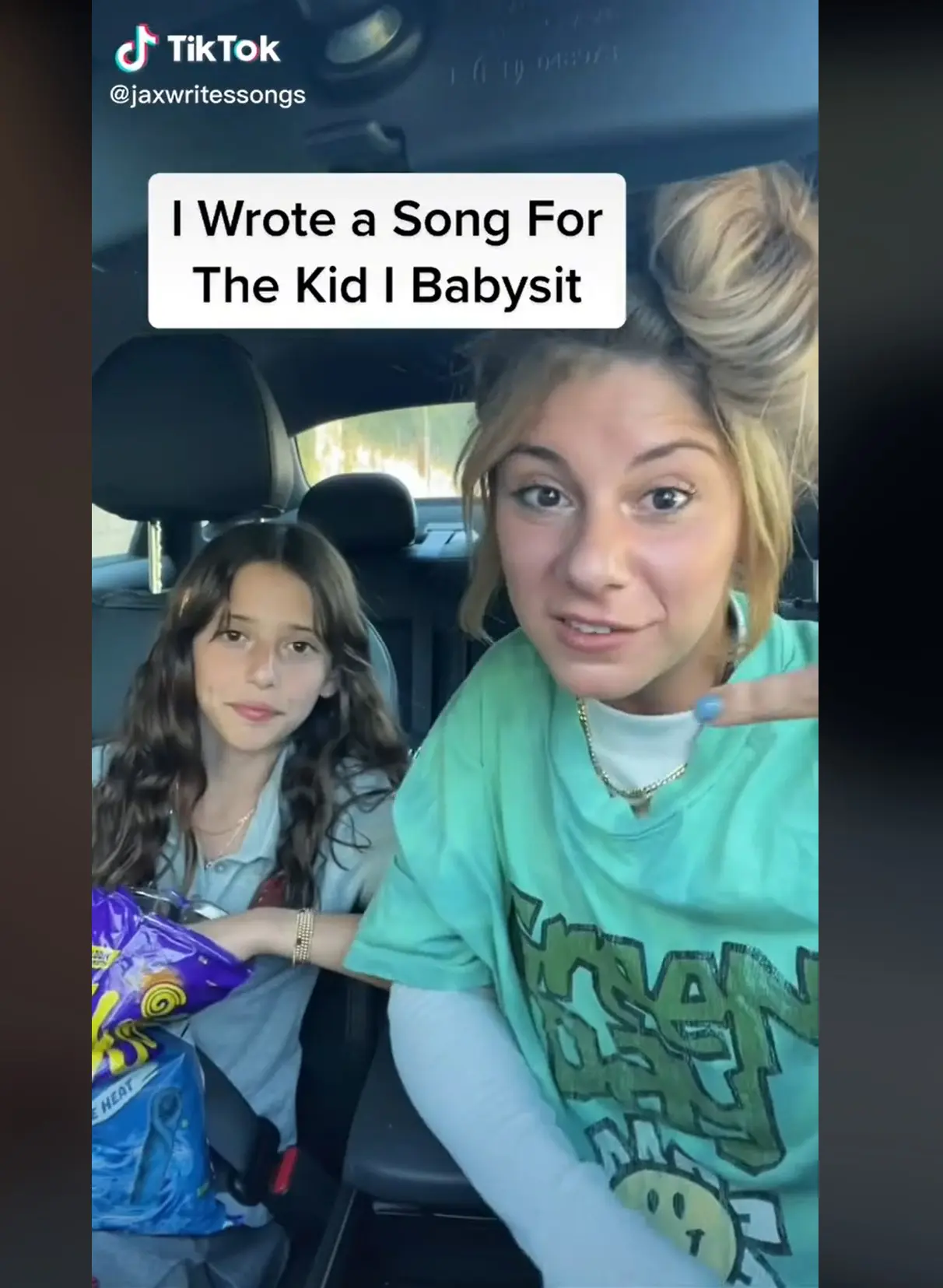 Jax starts off with a little background story. She explains that on the previous day, she picked Chelsea up from the mall where she had gone bikini shopping at Victoria's Secret with her friends.
Chelsea was "hysterically crying" because a "friend" told her that the bathing suit she tried on made her look
"too fat and too flat."
First of all, WTF. Second of all, WTAF. Who says this? A teen girl, that's who.
And I'm suddenly having horrible flashbacks of my own teenage years.
Jax, having struggled with eating problems when she was 12, decided to write a little ditty for Chelsea to make her feel better while poking fun at the store at the center of the crime scene.
Because the messages we hear about our bodies matter.
She tells Chelsea,
"I wrote a song for you because when I was your age I had a lot of eating problems and I wish somebody would've said this to me."
And honestly? I wish someone would have said this to me when I was 12.
The song, "Victoria's Secret," is so SO good. And not just because of its ridiculously catchy tune (it is) or Jax's great singing voice (it is). It's in the message where the true genius lies.
It starts off:
"God, I wish somebody would have told me when I was younger…all bodies aren't the same.

Photoshop, itty bitty models on magazine covers told me I was overweight."
Same, girl. Saaaaaaame.
Jax continues singing, explaining that she stopped eating ("what a bummer") because everyone knows you "can't have carbs AND a hot girl summer."
And then comes the BIG reveal – Victoria's dirty little Secret.
"I know Victoria's Secret. And girl you wouldn't believe…She's an old man who lives in Ohio, making money off of girls like me."

@jaxwritessongs
She's not wrong.
The old man in Ohio is Les Wexner. He acquired the lingerie business Victoria's Secret in 1982. He spent 28 years cashing in on his Angels, who fueled men's dreams and became women's nightmares as they desperately tried to fit their impossible mold, before stepping down as CEO.
Jax ends the song with:
"Cashing in on body issues. Selling skin and bones with big boobs.

I know Victoria's Secret…she was made up by a dude."
A dewwwwwd. Because of course she was.
The tiktok has gone insanely viral with over 17M views, nearly 3M likes, and 46K comments.
And based on all those comments? People are clearly LOVING it.
They're calling it an "anthem for all the girls."

And many are thanking her for putting it out there; for themselves, and their teenage daughters who are currently struggling with body issues and eating disorders.


Another commenter wrote it's "perfection" and should be turned into a commercial or PSA.
(Although we can't say Victoria's Secret would agree, lol).

Above all else, it has everyone asking, "when are you releasing this song??"
We're hoping it's one day VERY soon.
You can check out more of Jax's songs on her TikTok account @jaxwritessongs.