Just when you think the younger generation knows what's up, they have to go and do something like a new TikTok challenge that leaves us scratching our heads. Recently though, a group of 200 teens took things to a whole new level.
On June 20th, the Walton County Sheriff's Office in Florida posted a lengthy description of what began as a noise disturbance. However, it ended up being a wild party of more than 200 teens who broke into an $8 million dollar mansion and got more than a little out of hand.
The post about the 200 teens has understandably gone viral.
Several eyebrow-raising videos in the post highlight a raucous boxing match, underage drinking, and several images of teens posing.
One photo shows a teen wearing what appears to be diamond rings that are presumably from the house they illegally ransacked.
The Sheriff's Facebook post included quite a stern statement from authorities.
They clearly don't know who these kids are, why they chose that particular house, or why they would even think something like this is remotely ok.
"Apart from the damage caused and the items stolen, it's a complete violation of someone's home that you can't put a price on. The feeling when you know someone went into your closet, tried on your clothes, and used your bathroom doesn't have a dollar amount attached to it. Especially in a place where you're supposed to feel safe," the post reads.
The Facebook post goes on to point out that excuses like "kids being kids" or "they might not have known" are not good enough here.
And honestly, the police are right.
Can you imagine the level of violation you would feel if a wild throng of kids broke into your house and ransacked it?
Or the insulting feeling that they arrogantly posted their antics online as if to say that no one can catch them? That is disgusting behavior. They continue:
"Here's our ask; if you were there, know someone who was there, were invited, knows who circulated the flyer for the party (yes, we know about that too) you are asked to come forward. DO YOURSELF A FAVOR and let us know. Come clean and give us the information we need to hold those responsible," the post asks.
Of course, the comments section was lit, and people had a lot to say.
Lisa Veiga wrote, "I remember when we NEVER had these issues down here. Now there are sirens all the time and stuff like this happening. ENOUGH is ENOUGH!! Enforce and Prosecute to the fullest or it will only turn into one of those cities we all are glad we do not live in." Her comment received a few replies speculating on why some kids are so poorly behaved these days.

Another user, Janet Mills, wrote, "I'm beyond disgusted – the parents should be prosecuted and sitting in jail next to the children." And while I personally feel compelled to agree with her, particularly after watching the video clips of the wild party, I couldn't help but heed the point made in response to Mills.
Another user, Melonie Abate wrote, "I agree only if the parents are found to be negligent. But trust me when I say good people, good parents still have children who make really bad choices."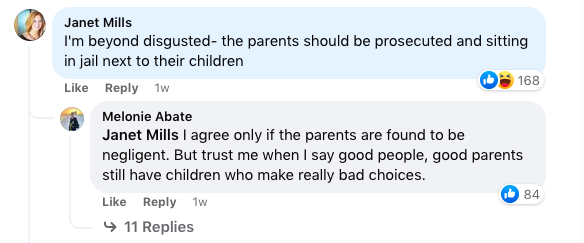 A popular view in the comments section seems to place at least some responsibility on the parents.
Just as Mills pointed out above that parents should be on the hook, this person, Beverley Maxwell adds that when she was younger, a stunt like this would not have been without severe punishment.
The undertone here is that parents aren't being strict enough with their kids.
"Never would have even thought of doing anything like that..knew it was wrong before 10 years of age. My parents would have helped the police incarcerate me. In fact, I would have been safer in police custody once Mom found out," Maxwell wrote.

And another thread of arguments in the comments section appears to lay at least some blame on the homeowners themselves.
One user called Lori Higgins wrote, "Why is everyone asking why the homeowner did not have better security? That should not matter. Their property was broken into and burglarized. A security system isn't the problem here. Entitled criminals are the problem!"

But what is mindblowing, is that apparently, this wasn't a crazy coincidence; there were flyers announcing the party.
So, people knew in advance that this was going to happen. Courtney Maddox pointed out,
"Am I the only one thinking a local who KNEW this property wasn't being rented was the one who instigated this? I mean..what kind of tourists looks for random houses and goes to a copy store to make flyers for a party? Yeeeaaaahhhhhh…it had to be a local who started it.
I cant tell you how many times I've heard of cleaners staying in the condos they clean without owners' approval because they knew the condo wasn't rented that night. I could be wrong for sure, but I'm just saying…"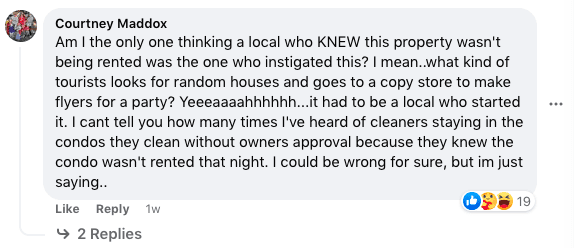 Meanwhile, speculation in a comment section aside, the local police are still trying to track down the teens who appeared in the Snapchat videos and pictures.
In the viral Facebook post, the Sheriff'soffice wrote, "So, what's 'the move?' If you have information regarding this incident, please contact the Walton County Sheriff's Office at (850)-892-8111 or you can remain anonymous by calling Emerald Coast Crime Stoppers at (850)863-TIPS."