When it comes to kid toys, there's no shortage of fun options on the market.
Back in the olden days when I was a kid, we couldn't WAIT until the holiday toy catalogs came in the mail so we could salivate over the hottest new toys (for you youngins, "catalogs" were books full of pictures of cool stuff you could buy. Think Amazon on paper).
Toy designers have had some major home runs -think Cabbage Patch Dolls. Furbies. Rubix Cube.
Every talking Elmo doll ever (though God knows why). There have also been, however, many major duds.
And by DUDS, we're talking about the kinds of toys that makes any sane adult scratch their head in astounded wonder thinking, "Who the HELL thought this was a good idea for kids??"
In an homage to the more warped toy designers out there, we've compiled a list of some of the most horrendously inappropriate toys for kids.
Let the visual carnage begin!
Hasbros Troll Doll
This talking troll doll has been making waves in the news within the past week, & for good reason. She's cute, & has the perkiest little voice… until you press the button located BETWEEN HER FRIGGING LEGS, which makes her giggle, laugh, & gasp.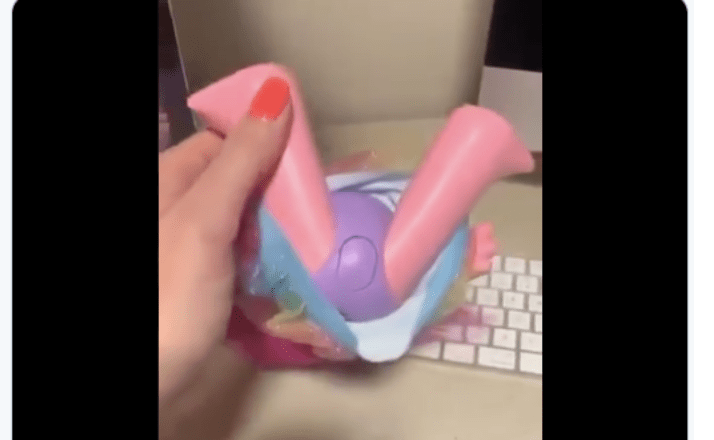 And many, many infuriated parents also gasped at the outrageous idea that ANY toy designer with a brain would approve this design.
2. Squishes, 30 pack (Amazon.com)
Remember when kids were obsessed with squishies?? One mom thought she got lucky in scoring a cheap 30-pack of the squeezable toys on Amazon. But one of the squishies represented getting lucky in a very 18+ way…
… were talking about a penis. Yep. A PEEN, people. While most of the toys were cute little farm animals & huggable kitty cats, there was a soft, squeezable schlong in the mix.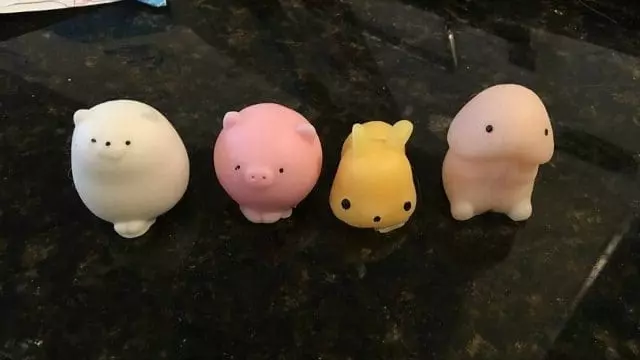 Clearly size doesn't matter, because although it's tiny, it's HUGELY inappropriate!
3. You Can Shave The Baby Doll
No really- you can, apparently. While there are tons of baby dolls out there, this one is "special" (translation: horrifying). Babies aren't typically known for having copious amounts of coarse body hair or a big 'ole beaver bush, but some toy designer out there decided this could, and should be a thing.
(And why, for the love of all things holy, is this a thing???)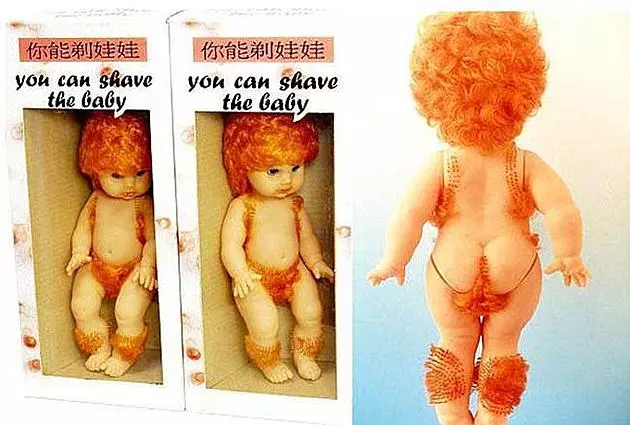 I know, I know- So.Many.QUESTIONS.
4. Baby's First Baby Doll
Speaking of babies… here's another WTF baby doll. While creating toys that teach kids about pregnancy isn't a bad thing, creating a doll baby that is having a baby is a very, very bad thing.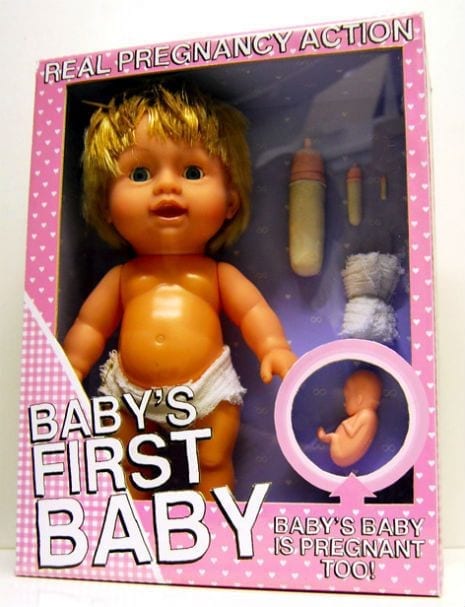 In case the idea of kids thinking babies can be pregnant isn't horrifying enough, the baby doll's fetus is pregnant, too. Talk about babies having babies….
Educational toys are important for kids, too, and puzzles are extremely fun AND educational. Or can be, anyway. If they're not featuring chunky roadkill animals, that is… skid-marks included, of course.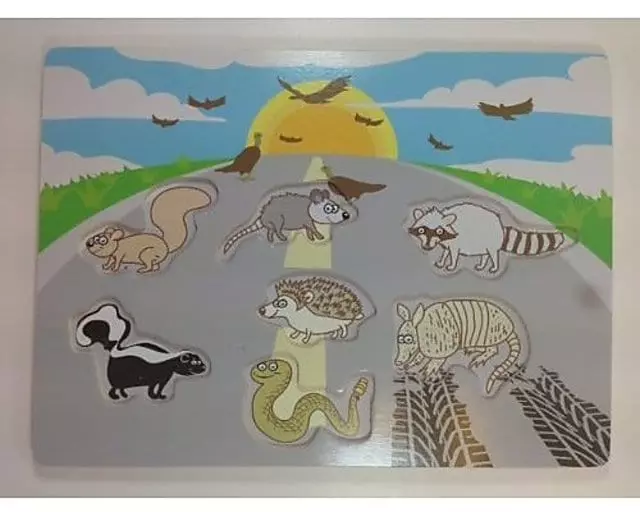 The buzzards patiently lurking in the background are a nice touch, no?
Action figures are always popular with kids, and this Punisher action figure is probably really popular due to his… girth.
This "unique" version of the Punisher is armed & ready for action. Apparently. His massive crotch-rocket is sure to punish all who dare tangle with him.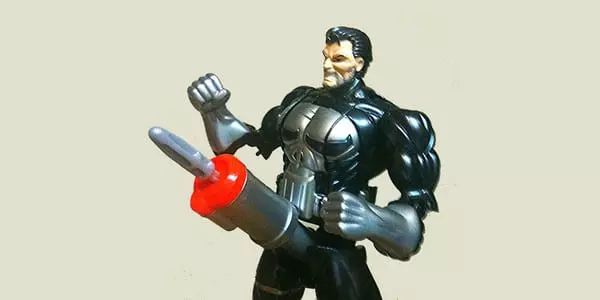 Look, Ma- no hands!! And speaking of HANDS, let's check out the next inappropriate toy supposedly marketed for kids:
Oh, Disney, what were you THINKING?? Sure Tarzan is scantily clad, but that's the least of jungle-boy's issues. Due to an incredibly bizarre design choice, Tarzan spends less time swinging on vines and more time… choking the chicken.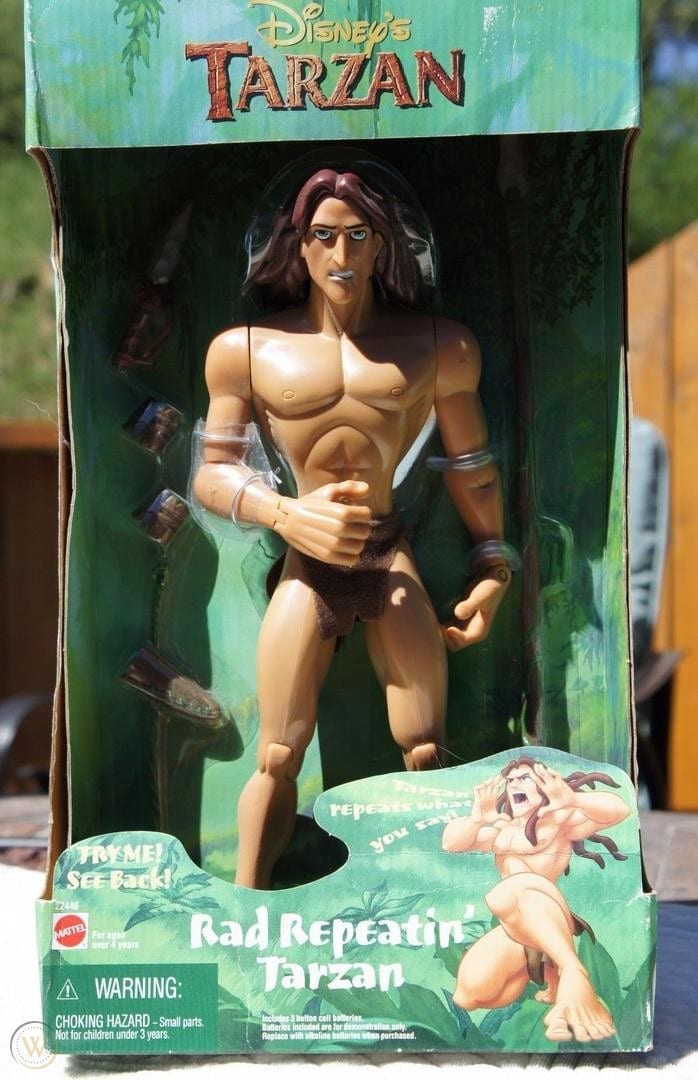 Note Tarzan's clenched right hand? When activated, this action figure enthusiastically gives himself some action, jerking that hand up & down in a masturbatory manner that would make nearby monkeys blush.
Honestly though, it seems like Tarzan isn't alone in his favorite past time – This batman seems to have a similar gesturing that is questionable.
Any toy given a name with the words "finger" and "squirter" in it is probably already off to a bad start. And it's finish is likely quite… wet *cringe*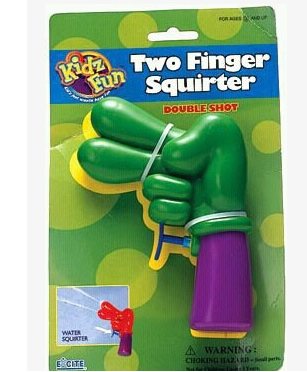 C'mON, toy makers! You know what you're doing, you dirty birds. Gross.
I mean, while the other toys in this list are more in the sexually explicit camp, this one is apparently in the I'm-going-to-have-nightmares-the-rest-of-my-adult-life camp.
There just are no words for this demon doll baby that probably wasn't even cute back in the day when she (it?) was made.
Creepy wind-up babydoll at an estate sale. She's obviously a demon, so I left her there.

Posted by Colleen Sharkey on Sunday, August 2, 2020
What boggles the average human mind here is the reality that each of these horrendously inappropriate toys was not only designed, but APPROVED of by at least one adult (likely several).
My advice to toy designers: let kids be kids. Stop making gross, sexually inappropriate toys that are supposedly geared towards kids.
While I'm no fan of road-kill, I'd rather my kid ponder smeared animal carcasses than a Jungle Boy jerking off any day.
Want to know more about the Hasbro toy controversy? Check out this post:
Hasbro Pulls New Trolls Doll After Complaints That It's Grooming Kids for Sexual Abuse