Susie and Tony Troxler always knew they wanted to have kids. They fell in love, got married, and life just…happened. But their dream of having kids? Did not.
That is, not until nearly 13 years later when they became first-time parents to "miracle baby" Lily Antonia Troxler.
On September 29, Susie Troxler's dream of becoming a mother finally came true at the age of 50, proving it's never too late to achieve your dreams.
Susie tells CBS affiliate WFMY:
"I am 50. I was born in 1971 and I have no shame in that whatsoever."
And she shouldn't. Love knows no boundaries, including age.
As for 61-year-old father, Tony Troxler, he never doubted this day would come.
He tells reporters:
"We knew eventually we would have kids. We wouldn't give up. We had that faith. We dreamed of her. We knew no matter how it was going to happen, that it was going to happen."
And happen it did. However, not without its fair share of challenges first.
The couple married "later in life." They did the "couple thing" and both pursued their careers; Susie as a psychologist, and Tony as a security team lead at Cone Health's Moses Cone Hospital and the Women & Children's Center.
And time? It does what time does and marched steadily on.
Susie tells CBS affiliate WFMY,
"We got married later in life, obviously, and we just assumed we would get pregnant like most people.

One year turned into two, then three, but when it got to be nine, 10, 11 years, we were like, something is up, and I'm not sure what it is."
Susie decided to find out.
At a routine doctor's appointment with Dr. Carolyn Harraway-Smith, Cone Health's chief medical officer for women's health, she got her chance.
"Near the end of my appointment, Dr. Harraway-Smith asked, 'Is there anything else?' If she hadn't asked that question, then this baby probably wouldn't be here."
Harraway-Smith referred the Troxlers to Carolinas Fertility Institute. Because of various health issues in addition to their ages, they knew the chances of having a healthy baby naturally was low. In fact, according to a 2014 study published in the US National Library of Medicine, the chances are nearly 0%.
So the couple turned to IVF and egg donation.
According to the Mayo Clinic, in-vitro fertilization is the complex process of collecting eggs from a woman's ovaries and fertilizing them with sperm to create embryos. These embryos can then be frozen or implanted into the uterus for the woman to carry.
At first, the couple tried to use Susie's eggs but after several failed attempts, they decided to use an egg donor.
"I had fibroid surgery January of 2019, went through the healing process, and then they collected egg after egg.

I went through several rounds of egg retrieval and the insemination of eggs and none of it took. Nothing, nothing, nothing."
That is, until their very last embryo.
That embryo is now Lily Troxler. And her parents couldn't be more thrilled.
"It was so surreal. Everything had come together for that moment to happen. It's hard to wrap our heads around – we're no longer just husband and wife, we're 'mommy' and 'daddy.'"
Lily was born via c-section, weighing 5 lbs, 12 oz. She was delivered by Harraway-Smith herself.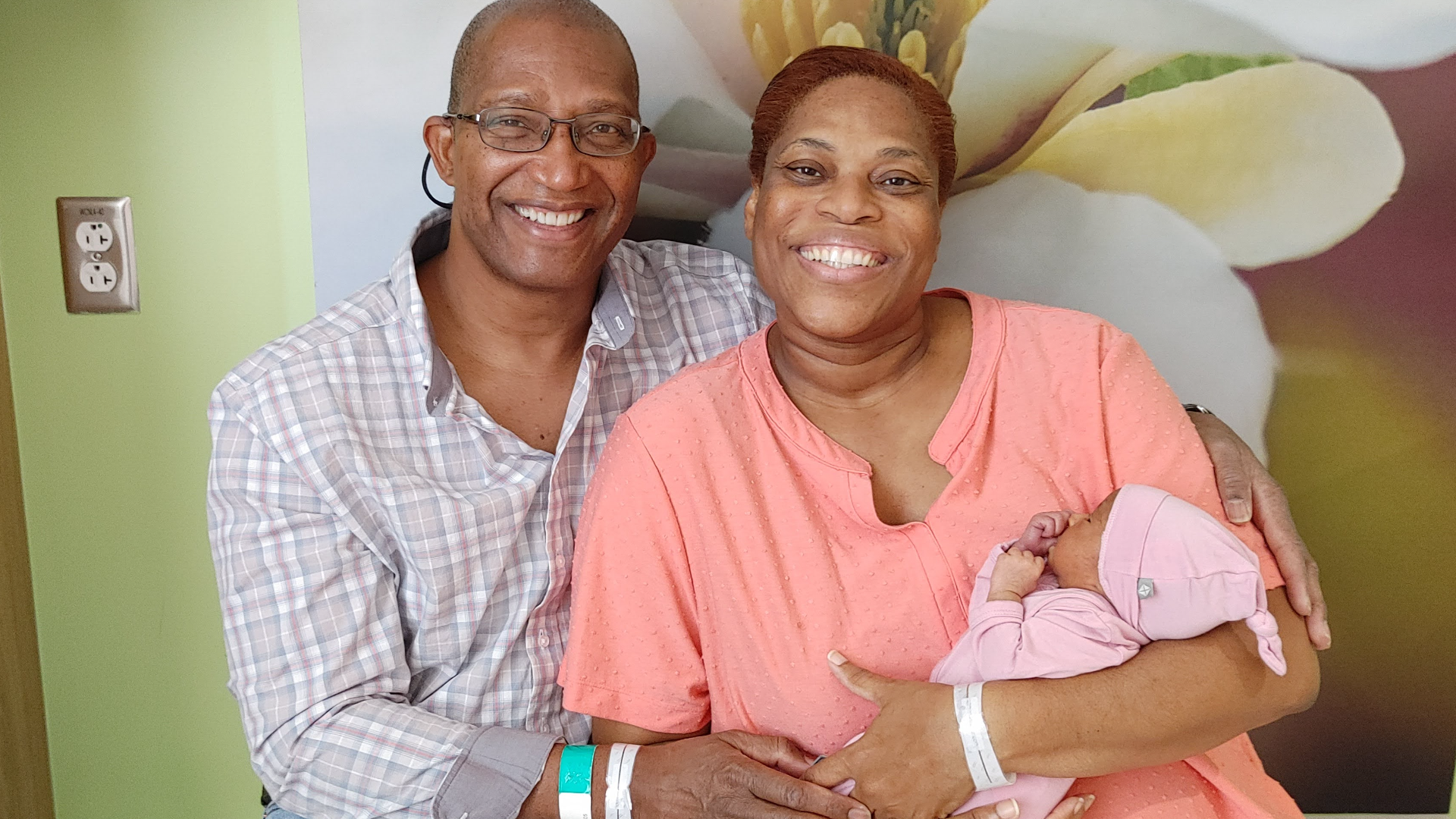 The Troxlers call her their "little warrior princess," and they hope their story can inspire others who may be struggling with infertility.
"After you do your homework, just go for it. You never know what life will unfold for you. The last thing you want is to say, 'I'm too old.' You don't want that to be the end of any dream. Follow your dreams all the way to the end."
Although their doctor does caution that having a baby at 50 is not for everyone. She warns that there are risks involved for both the mother and the baby, including miscarriage and diabetes.
For the Troxlers, their dream is now a reality, in the form of a gorgeous two-month-old baby girl who has stolen their hearts (not to mention their sleep).
The self-professed sleep-deprived parents are loving every second of their journey as parents.
"We are thrilled. Sleep-deprived, but totally beyond worth it. She is a miracle baby."
And we are absolutely thrilled for them. Congratulations Troxlers!