Car seat safety is obviously a critical issue for parents, but sometimes we overlook that booster seats require the same amount of scrutiny and safety measures as their tinier counterparts.
A lot of parents assume that once their child is old enough to sit in a "big kid" booster seat, they are relatively safe & secure- especially if you buy one from a reputable company.
Most car seat companies boast excellent safety features & extensive testing to satisfy parental concern.
But one company is allegedly not being accurate in their safety claims; their misrepresentation has already led severe child injury, & could cost other children their lives.
A recent video of side-impact tests performed on Evenflo's "Big Kid" booster seats reveals that children could be seriously injured or even killed- yet Evenflo continues to market them as "side-impact" tested.
Evenflo markets a series of "Big Kid" boosters that are designed for children in the 40-110lb range. They come in a variety of patterns & colors that are appealing to kids, complete with head rest and cup holders.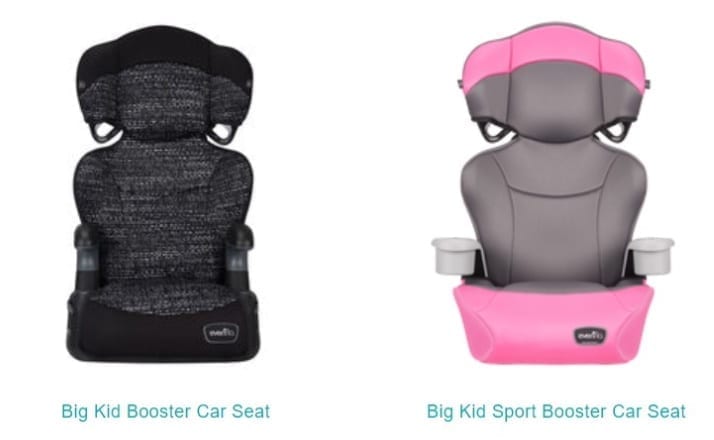 While they look great, most parents immediately concern themselves with the safety features. According to Evenflo's summary of the Big Kid Booster Car Seat:
this seat belt booster combines the peace of mind parents require, with colorful options your child will love.
And what parent wouldn't choose a booster that provides peace of mind, right?
Under the safety description, Evenflo assures consumers that along with numerous other fulfilled safety standards, the Big Kid booster is:
Side Impact Tested: Meets or exceeds all applicable federal safety standards and Evenflo's side impact standards.
Evenflo goes "above and beyond" to assure that your children will be perfectly safe in their car seats:
At Evenflo, we continue to go above and beyond government standards to provide car seats that are tested at 2X the Federal Crash Test Standard.
Despite their claims, however, Evenflo's own side-impact crash testing contradicts their safety claims- with devastating results.
Video footage of Evenflo's crash testing reveals that when crash dummies were exposed to side-impact crash simulation while seated in a Big Kid booster seat, they were thrown far out of their seat belts.
The result: Children that were thrown in a similar manner as the dummies were while seated in a Big Kid booster would likely suffer severe neck, head, and/or spinal injuries.
According to investigative journalism ProPublica's report on Evenflo's testing, the only Big Kid booster seats that failed were those that allowed the crash dummy to be ejected from the seat, or seats that broke into pieces.
Despite the results, Evenflo passed the seat anyway. Due to a governmental loophole that focused primarily on head-on collisions, Evenflo could basically make their own rules on what "passed" in terms of side-impact testing.
And their decision had dire consequences for at least one family.
In 2016, Lindsay Brown was driving her two daughters to daycare. Her car was hit from the side. Her five-year-old daughter, Jillian was on the side furthest from the impact, in her Big Kid booster car seat.
Jillian's body was thrown in the same manner that the crash test dummies were. Although she remained strapped in the seat, she was internally decapitated.
Permanently paralyzed from the neck down, Jillian will be on a respirator for the rest of her life. And her family will never be the same.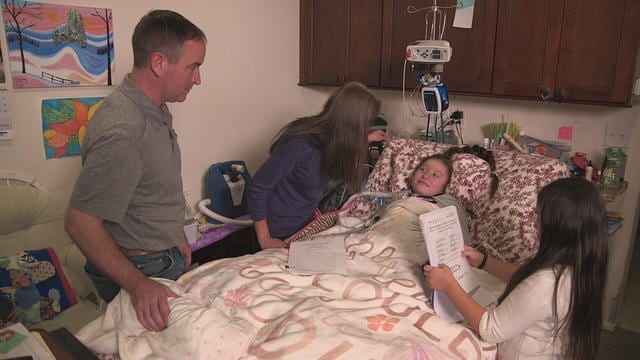 The tragedy is that Jillian's injuries could have been prevented, if Evenflo had heeded the suggestion of engineer Eric Dahle, who had recommended that the company stop selling booster seats for children under 40lbs due to precisely these sort of crash scenarios.
That was FOUR YEARS prior to Jillian's car accident.
Evenflo opted not to follow the recommendation to "up" the minimum weight limit to 40lbs until four months before Jillian's accident.
Despite the change in safety recommendations, Evenflo never notified consumers -like Jillian's parents, whose daughter weighed 37lbs- who owned Big Kid booster car seats of the new weight requirements.
And despite the potential for children to suffer horrific injuries like Jillian's, Evenflo has continued to market the booster seat as perfectly safe on their website, claiming that the seats "meet or exceed Evenflo's side-impact standards".
Here's what Evenflo's standards consider acceptable:
What if that was YOUR child in that car seat??
Based on the crash test dummy video, it's painfully apparent that Evenflo's standard for protecting children from side-impact accidents is certainly not what any parent would deem acceptably safe for their child.
The Brown family is suing Evenflo for Jillian's injuries, and the case is still pending. But it goes without saying that no other family should ever have to pay the price for Evenflo's decision to ignore such a potentially catastrophic issue.