A wedding is one of the biggest days in a person's life, so many women want the day to proceed flawlessly. Typically, a lot of time, money, and thought goes into ensuring that every last detail is carefully executed.
But some take it too far, and morph into the scariest type of brides- the infamous "Bridezilla". You've either known one personally or heard stories about this rare but deadly species: they are the women that go way, way, WAY overboard with dictating exactly how every moment of their wedding day will go, or else.
This, thankfully, is NOT one of those horror stories. In fact, this is a hilarious tale about one of the coolest brides ever, and her even cooler maid of honor sister. There's no Bridezilla involved…. but there is a T-rex.
One woman chose to wear an inflatable T-rex costume as her maid-of-honor "dress" for her sister's wedding, & the pictures have gone viral because it's outrageously funny.
Deanna Adams was a chill bride-to-be; instead of stressing over the details, she decided that her wedding would be "low-key".
When it came to the topic of a maid of honor dress for her sister, Christina, Deanna's response was that Christina could wear "whatever she wanted".
CHALLENGE ACCEPTED, Deanna.
Christina had some fun with her sister's laid-back attitude toward the wedding, and sent her sister a text stating,
I found my dress!
Included with the excited proclamation was a link to the "dress" on Amazon: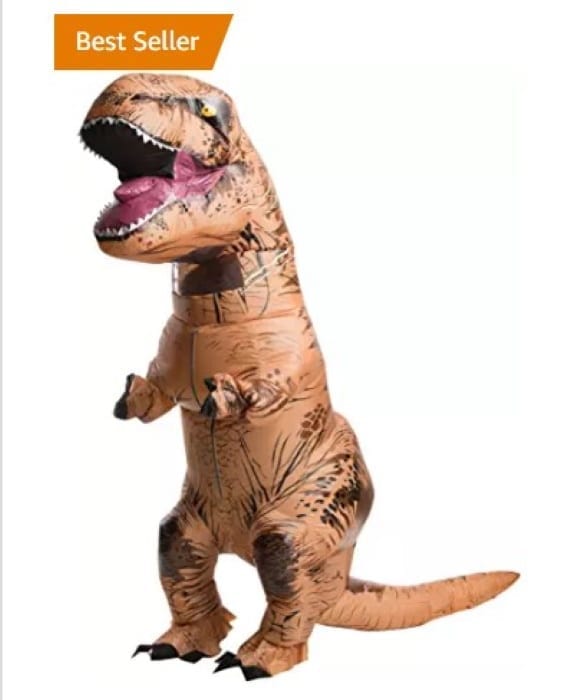 Not just any T-rex costume, but a "Best Seller". Because after all, this is a formal occasion, so…
I can tell you from personal experience that an inflatable T-rex costume is tons of fun.
In fact, I'm a little obsessed with them. My 13-year-old son asked for one for his last birthday- I'm not sure which one of us was more excited when he opened "his" present.
A T-rex costume is a gift that keeps on giving, people. It's impossible to be in a bad mood when there's an inflatable T-rex bopping about. Check out a few clips of people wearing them on YouTube, & you'll see.
Mowing the lawn? Funnier in a T-rex costume.
Stealing neighbor's holiday decorations? Funnier in a T-rex costume.
Greeting your kid's school bus? WAY funnier in a T-rex costume (for you. Probably not for your kid, though).
Running down your own street at night? Absolutely more fun in costume than you can imagine; this I know from personal experience. Not sure if my neighbors enjoyed it as much, but it's a blast!
While Christina originally intended her text to be a joke, some brides would have shut that kind of wedding humor down hard.
But not Deanna.
Clearly a great sense of humor is in their blood, because as Deanna explained when interviewed by The Today Show:
I thought it was hilarious and told her she had to do it. It then became kind of a game of chicken? — I don't think she expected me to be cool with it.
But Deanna was cool with it. Game on, SISTA!
Sure enough, Deanna's wedding day arrived, and her maid of honor was pumped. Or "pumped-UP", rather, since, you know, her dress was inflatable.
Yup. Christina did it. She actually wore the T-rex costume to her sister's wedding.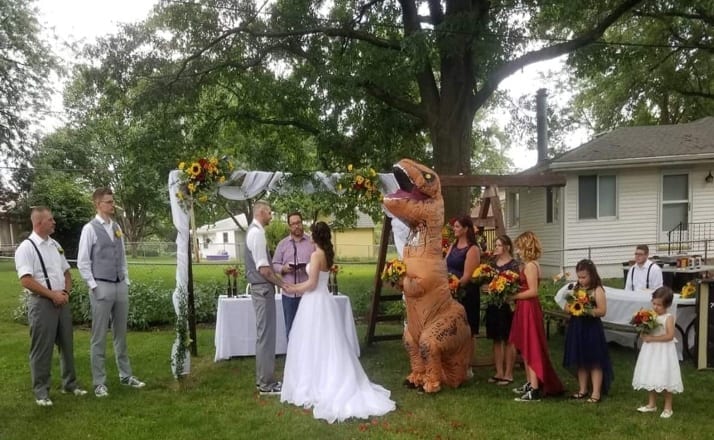 Christina's T-rex threads quickly went viral after Christina posted the above photograph of her in full costume during the wedding ceremony.
Even better is her photo caption:
When you're maid of honor and told you can wear anything you choose…I regret nothing
She "regrets nothing"- SAVAGE!!!
But more importantly, Deanna didn't regret it, either. Rather than obsess over every little detail in making her wedding perfect, she opted for a moment of genuinely hilarious joy.
She embraced her sister's weird hilarity, & it became a hilariously bizarre memory of her wedding day.
Christina's Facebook picture has earned over 38K shares, which shows that people still have a fabulously fun sense of humor, even about weddings.