The only thing worse than a sick kid is a sick and miserable kid. All too often, that combination strikes at night, leaving your kid unable to sleep. If they can't sleep, you can't sleep either, and that's a bad scene all around. At this point, you may find yourself frantically searching for the correct Motrin or ibuprofen dosage for kids.
(Ibuprofen and Motrin are the same – ibuprofen is the name of the drug itself, Motrin is the brand name. Children's Motrin is probably what you're Googling the correct dosage for, bleary-eyed, at 1:00 AM).
Obviously, the correct ibuprofen dosage for kids is printed directly on the box and bottle.
If you're reading this, you may have already tried that and realized they don't always give you all the information you need.
For example, your average bottle of Children's Motrin (or any other kid's ibuprofen medication) will tell you, "Ask a doctor" if your child is under two years old. Children's Motrin gives the same dosing information on their website.
Not helpful.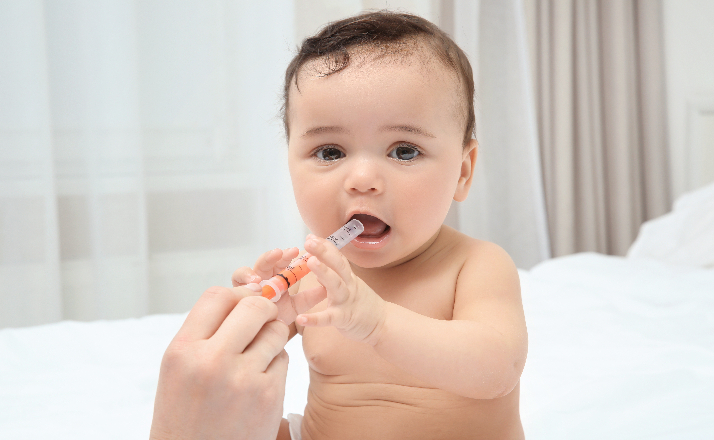 Fortunately, there's a lot of other reputable websites that have you covered.
Of course, this isn't medical advice—it's common sense. For specific information about your child's health, talk to their doctor.
Many pediatricians post the correct Motrin or ibuprofen dosage information for children, including infants, directly on their websites.
If your pediatrician doesn't have such a resource, feel free to use the ibuprofen dosing chart on my pediatrician's website.
If you'd rather not trust my family's personal pediatrician, that's understandable. You can find a similar version of the ibuprofen dosage chart for kids on the Healthy Kids website. It also gives some helpful reminders, like not to give it to babies under six months of age and how often you can administer doses to your child.
If you're considering giving something other than ibuprofen, you can check out this post that covers medication dosing for many common children's medications.
Administering the correct ibuprofen dosage to your child.
When you're giving medicine to your child, that's not the time to rely on household silverware or the measuring spoons you use for baking.
This post contains Amazon affiliate links. If you click on a link, Filter Free Parents may receive a commission. See our full disclosure policy HERE.
You should really use medicinal syringes or cups specifically made for accurate dosing of medication. You should have received one with your bottle of Motrin, but chances are good you lost it at some point. I like to stock up and keep these syringes and these medicine cups on hand because there's a lot of people in this family and someone always seems to be sick.
(You can also save the syringes you get from places like CVS, but don't keep them too long. They get gross quickly and aren't meant to be kept long-term.)
What if I want to rotate ibuprofen doses with Tylenol doses?
Well, I'm no doctor, but we've certainly done that in our household before. You can check out the correct dosage information for Children's Tylenol here if you need that.
Remember: this will pass. It may pass like a kidney stone, but it will pass.
When your kid is sick, the days are long and the nights seem even longer. The good news is most symptoms you treat with children's ibuprofen or Motrin clear up quickly. May the odds be ever in your favor!