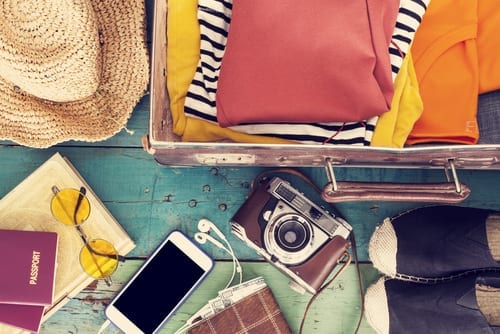 As a busy mom, you probably rarely ever have any time for yourself. Your life revolves around your children, home and your job, which doesn't leave time for much else. But since winter is here and many take off time during the chilly months, chances are high you'll have a vacation coming up soon. And if this applies to you, you're going to need to pack well for it.
Traveling in the cold months is tricky since you usually have to bring more clothes to handle the cold weather. These tips and tricks will help you decide what to bring.
Plan Carefully
For starters, make a packing list. This can prevent you from bringing too much. Once you make that list, hold each item in your hands and ask yourself if you can wear it more than once. If the answer is no, leave it out. If the answer is yes, bring it. You also want to plan out your outfits ahead of time. This forces you to bring more versatile pieces and prevents you from packing unnecessary items.
Pick a Smaller Suitcase
One of the most effortless ways to prevent yourself from overpacking is by using a smaller suitcase. This way, you're forced to bring less. Plus, if you can swing it, you can use a bag that fits in the overhead bin and saves your the checked-bag fee that most airlines charge. It's a win-win situation.
Bring Your Bulky Items on the Plane
One of the easiest ways to save space in your suitcase is to not pack things that take up the most space. Wear your clunkiest boots and heaviest jacket on the plane. If you can, pack scarfs, gloves and hats in your pockets. The more you can carry on you, the less you have to put in your carry on or suitcase.
Pack Layers
Packing sweater after sweater might seem like a great idea, but those sweaters take up so much room in your suitcase that you're better off bringing clothes you can layer on. Pack T-shirts, tank tops, cardigans and other items you can layer on to keep warm. Fleece is a great material to bring since it's light and doesn't take up as much room as heavier fabrics.
Go Somewhere Warm
If you're going somewhere warm, this changes the game entirely. If you're lucky enough to be headed to a hot tropical destination where the warmest thing you'll be wearing is a beach cover-up, you won't have to pack heavy clothes. Your days will be spent basking in the sunshine and chilling by the pool. Since your kids will be in tow, you'll want to keep them safe by packing inflatable baby floats and swim gear. Save space in your suitcase by not packing your sunscreen and after-sun lotion, and instead buy those items upon arrival or order ahead and have them delivered to your hotel.
For clothes and shoes, the same versatility rules apply. Pack items that you can wear with at least two different outfits.