Sure, I've stepped on Legos stumbling through the dim hallways during the middle of the night. Sure, I've cursed the Toys R Us Christmas catalogue. Sure, I've sworn off Nerf guns, PlayDough, Hot Wheels and Little Tikes. And sure, my kids don't need anymore toys. And I don't necessarily want anymore toys either, if I'm being honest. We are good here. We are fully loaded. Seat's taken.
We have an entire room solely dedicated to toys. It's why you have to sleep on an air mattress if you visit our home. "Welcome! We are so glad you are here. Make yourself at home, but good luck making yourself comfortable, because we don't have a guest room. But we do have a play room. I hope you brought an air pump and your own set of sheets." It's ridiculous, I know. Trust me, I know. I am sick of the clutter and junk and mess and spoiled children too.
But it's not really about me.
My kids like toys. They like unwrapping them.
And their grandparents like to give them toys. They like watching their eyes light up with delight.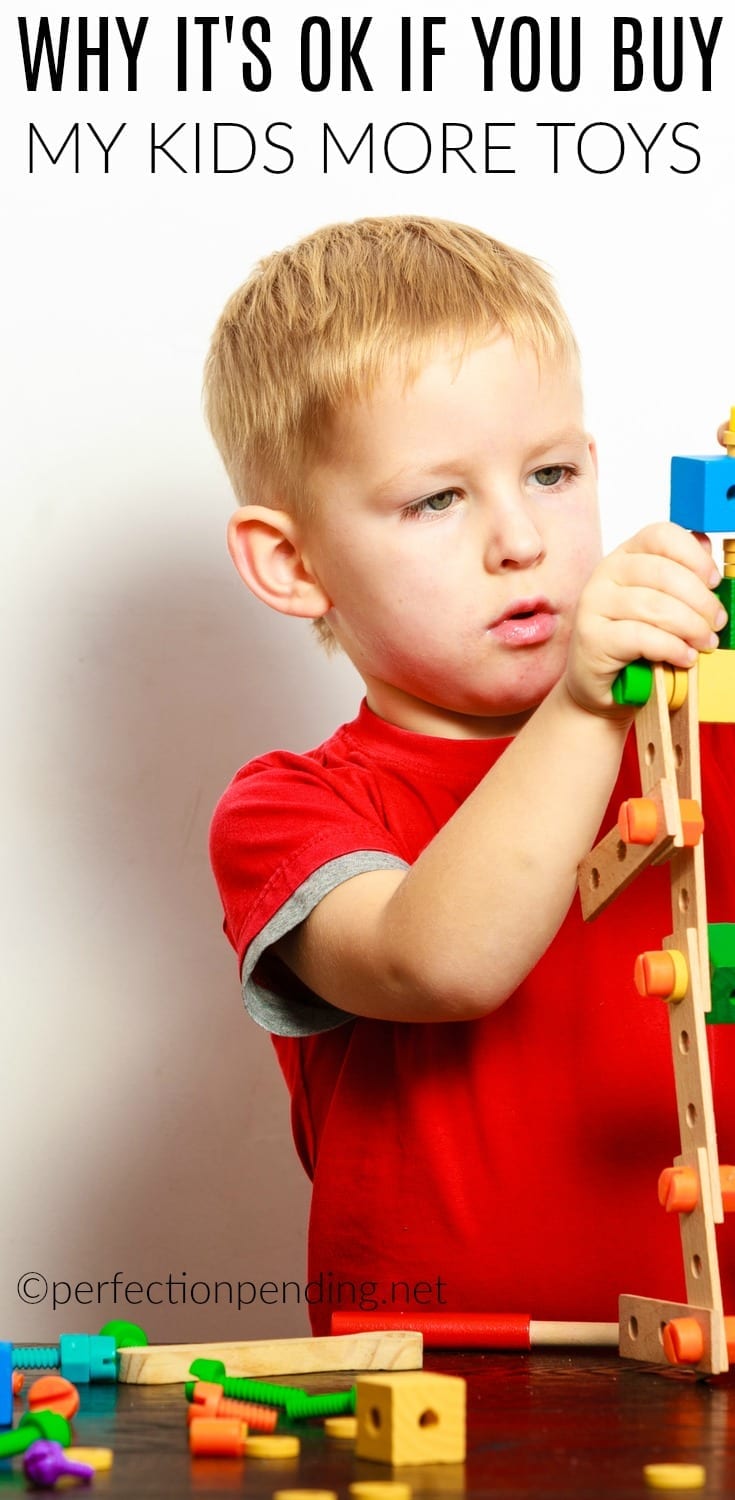 So no, I may not want anymore Magnatiles or My Little Pony or Duplos. But by all means, give away.
My husband sees my closet busting at the seams with Lululemon and Nordstrom purchases, and doesn't think I need anymore clothes either, but he needs to back off. Give me all the clothes. Stop trying to rain on my blue jeans parade, jerk.
So please feel free to do what makes your heart happy.
Do what makes their heart happy.
Who cares if it makes my life a little inconvenient for a day or two? Like I said before, it's not really about me anyway.
But for my part, I do promise to use these toys teach my kids to take care of their things.
I do promise to use these toys to expand their imagination and their vocabulary.
I do promise to use these toys to teach them creativity, and teamwork and the art of building things for yourself.
I do promise to use these toys to teach them to be grateful for whatever you are handed, to look for the best in every situation and that the wrapping is never what matters most.
And a year from now, when we are choosing toys to donate to our favorite local charity, I do promise to remind them how blessed with extra our lives are. I do promise to use the opportunity to teach them about how to pour into others because people have chosen to pour into them. I do promise to use these toys to instill the value and the importance and the beauty of giving.
We will be grateful however, whenever, and whatever, you choose to give: whether it's a hug, homemade Chex mix, a vacation, a gift card to Walmart, or a shiny new toy in a box that's entirely too hard to unwrap.
Plus, new toys mean I don't have to spend money on that crap until birthdays roll around and I am all in favor of that.
***
I love red lipstick, graphic tees, and Diet Dr. Pepper a little more than I probably should. Most days you can find me lounging in sweatpants, running kids from one place to the other like a crazy person. My family is my home and my passion is helping women find courage, confidence, and the deep-rooted knowledge that their life has a deep and significant purpose. Find me on Facebook, or come join my FB group at In & Out Beauty by Amy.