When Korben told his mom, Nina Green, at twelve he wanted to wear a gown to his prom, he couldn't have expected his picture to receive seven million views on social media four years later.
But his mom's tweet last Monday announcing his dress choice garnered strong support with over 4,000 retweets and more than 119,000 likes.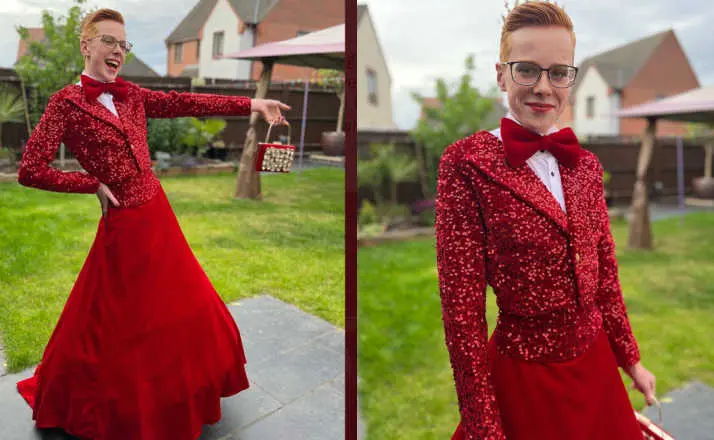 She wrote:
"At age 12 my son announced he wanted to go to his school #prom in a gown. Four years later we made it happen. I'm so incredibly #proud of him for being true to himself & the reception he got from his whole school was incredible."
Loud cheers
Korben's dress choice didn't just receive online love. When he arrived at school prom in a sequined red tuxedo and ballgown skirt-in a nod to actor Billy Porter- he was met with loud cheers from his fellow students and staff at Archbishop Sancroft High School in Norfolk, Great Britain.
Be who you want to be
Nina Green told the BBC:
"As soon as he got out of the car, everyone just cheered and I was crying, some of the teachers were crying, because he was being who he wanted to be."

"Everyone has been very supportive, and his year group has been incredible.

"If you let your child be who they are then you'll get nothing but the best out of them.
Drag Queen
Since he was small, Korben has been dressing up and even performed as a drag queen under the name of 'Miss Frou Frou'. But for the prom, he preferred to dress as himself.
The day after his prom, mum and son went to Pride, celebrating the 50th anniversary of the first Pride parade in London with over 1.5 million LGBT revelers.
When they got there Nina's phone went ballistic with retweets and messages of support from Michelle Visage of Ru Paul's Drag Race, and Korben's idol.
Korben was delighted Visage had shared his pictures with a cute message:
"Ohhhhhhhh yes! You are an amazing beautiful mom and your child is a STAR."
He told the BBC,
"To me, she is such an icon, a wonderful celebrity and I really admire her,"
And now he is inspiring others, too.
Her tweet sparked a string of tweet replies of others that have worn dresses to prom and were true to who they really wanted to be.
i did the same thing ! it is the best feeling ever! i hope he had the best night ever ??
ps. here's a pic of what i did from one king to another ? pic.twitter.com/iHO8c6uYuy

— ty :)) /thank you little mix (@tyler_waage) July 1, 2022
Praise for Korben's mom
Other parents were full of support for Nina Green's tweet, praising her on Twitter:
"Absolutely STUNNING! If only our children here in Iowa had this kind of support…"
Another said:
"Thank you for being the supportive mom we all deserve! It always makes my heart happy to see our youth being loved as they are. He looks absolutely stunning!"
Proud mom
Nina Green is delighted with all the online support she received for her message, even leading to a tv appearance on ITV.
She says:
"I really hope it will help others be more accepting, let proud parents feel they are not alone, and that they can celebrate their children, and for young people to know there is a network there if they need it."
We're at @PrideInLondon #ProudMum #Pride pic.twitter.com/ujhuhk3yep

— Nina Green (@thisisneenz) July 2, 2022
That message certainly rings true through the cute picture she shares of Korben and herself with matching rainbow flags and makeup on their faces at London's Pride.
You can read the entire tweet exchange here:
At age 12 my son announced he wanted to go to his school #prom in a gown. Four years later we made it happen. I'm so incredibly #proud of him for being true to himself & the reception he got from his whole school was incredible. What do you think @michellevisage @theebillyporter pic.twitter.com/lsLKnmY9k5

— Nina Green (@thisisneenz) July 1, 2022