Are you looking for some great hobbies for women? Something to give yourself some "Me Time?" With the way the world is now, there is literally something fun to do anywhere you are!
No matter if you're looking for an outdoor activity or are wanting to stay calm and cool inside, there are so many hobbies you can easily look forward to. And no, I'm not talking about stay-at-home jobs that have you working every day! I'm talking about fun things that get you excited for more!
Hobbies are great for women (and men!) but since I'm a female myself, I'd really like to share hobbies I feel other women might enjoy. And they deserve to do something they love doing in their personal time!
I've gathered up some fun hobbies I think women of all ages will love!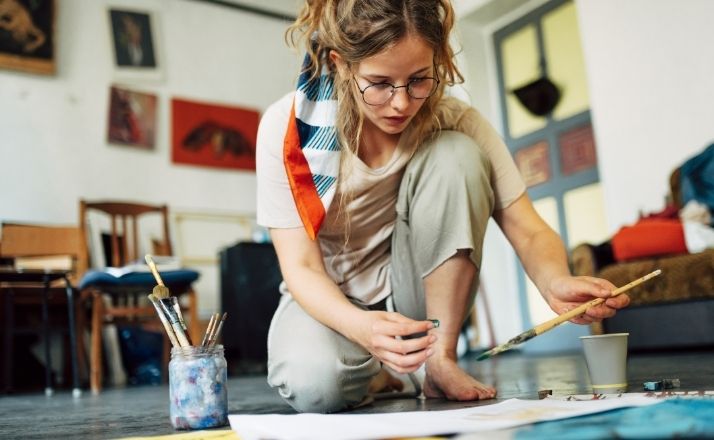 What is a hobby?
A hobby is an activity that someone does for fun or pleasure. Sometimes it's a sport, sometimes it's an activity, and sometimes it's just learning something new and fun like a new musician or a new instrument.
Are hobbies for women the same as hobbies for men?
You bet! Hobbies are the same for men and women and are perfect for getting outside of your comfort zone.
What are the best hobbies for women?
The following list is a super awesome list that you should try! You could even turn it into your bucket list and see how many new hobbies you can try this year!
A hobby doesn't have to be something you do forever. It can be as quick and simple as trying it once and moving on to something else. But if you love it, you've found something to do for yourself whenever you have the time.
Some of the best hobbies for women include:
Rollerskating
Drawing or sketching
Photography
Painting
Writing poetry
Running
Working out
Scrapbooking
Taking flying lessons and flying a plane
Gardening
Playing card games or online games
Reading
Refinishing furniture
Putting together puzzles
Making jewelry
Traveling
Following politics
Crocheting or knitting
Snorkeling or scuba diving
Antique shopping
Visiting wineries
Brewing beer
Finding coffee shops
And the list goes on and on! Anything that you're interested in can totally be a hobby!
How do I start a new hobby?
You literally just make up your mind to do it and make it happen. Find a hobby that fits in with your current budget and lifestyle and then have a blast.
How do I find my hobby or passion?
If you're still unsure about finding a hobby or passion, don't stress. You can easily take a lesson in something you're interested in and see if it's something you want to pursue further.
The great thing about hobbies is that you don't have to fully commit if you don't want to! Try out a few things and see what you're naturally interested in.
Hobbies for women will open the door to making friendships, memories, and happiness. Creating a source of hobbies will keep you busy when you want to be and have you relaxing when you're tired!