The effects of the coronavirus are being felt worldwide. Italy has completely shut down, the stock market is in free fall and fear and mass panic are beginning to wreak havoc.
The World Health Organization has officially declared the coronavirus a pandemic and toilet paper has become an endangered species.
Add to that yesterday's news of Trump's suspension on travel from Europe to the United States, the NBA halting its 2019-2020 season, and Tom Hanks and Rita Wilson's coronavirus diagnosis and it's clear the outbreak is escalating.
As of this morning, there have been 129,775 reported cases of COVID-19, with 4751 deaths and 68,672 people who have recovered.
The virus, which originated in Wuhan, China has spread to 125 countries with China and Italy being the hardest hit.
As the virus continues its onslaught the chances of quarantine, whether voluntary or government-imposed, is increasing. A number of companies, including Google and Amazon, have implemented working from home in an effort to protect their workers.
Colleges and universities across the country are canceling in-person classes and moving to remote learning as concerns continue to escalate. Several school districts in Seattle and New York have also closed their doors for the next couple of weeks.
While experts are warning against panic buying and hoarding of products such as toilet paper, water, and hand sanitizer, it is important to be prepared in the event of a quarantine.
The US Department of Homeland Security recommends stocking up on a two-week supply of food and water. This covers the expected length of a coronavirus quarantine. Before you go rushing out to the grocery store take stock of what you already have in the freezer and the pantry.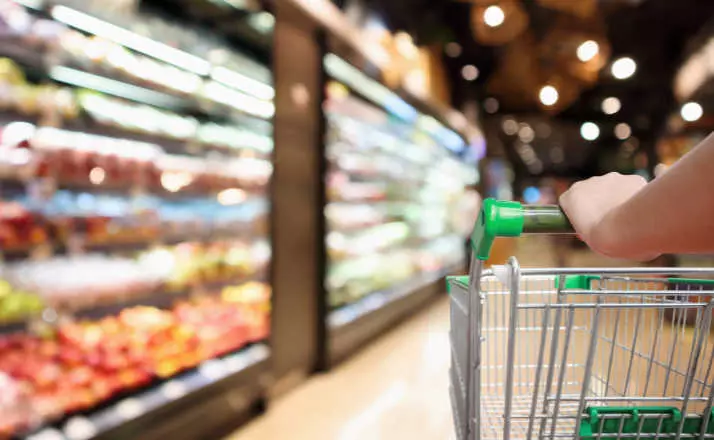 In an interview with The Huffington Post, Laura Fuentes, founder of MOMables.com says:
"[Many] households in the U.S. have enough food stashed in their freezers and pantries to get them through a week. Make a plan to eat what you have on hand first. Then head to the store and buy the other staples that will get you through two weeks."
This should include:
Dry Goods – Pasta, rice, beans, oats, whole grains, and cereals.
Canned Foods – Meat and fish products, soups, broths, stews, pasta sauce, fruits, and vegetables.
Frozen Foods – Meat, fruit, vegetables, dairy products such as ice cream and frozen yogurt, and prepared meals.
Staples – Peanut butter, jam, crackers, bread, cheese, yogurt, eggs, potatoes, popcorn, granola bars, flour, sugar, chocolate, and coffee.
Liquids – Bottled water and a supply of fluids with electrolytes, such as Pedialyte or Gatorade.
Apples, oranges, carrots, onions, potatoes, and squash have the longest shelf life when it comes to fruits and vegetables.
Be sure to buy items that can be used to make flavorful meals that can be frozen. Such as lasagna, soups, and casseroles. You don't need to live off of Kraft Dinner, rice, and beans.
The American Red Cross also has the following suggestions:
Have a supply of food staples and household supplies like laundry detergent and bathroom items, and diapers if you have small children.
Check to make sure you have at least a 30-day supply of your prescription medications and have other health supplies on hand, including pain relievers, stomach remedies, cough and cold medicines, fluids with electrolytes and vitamins.
In addition, the Mississippi Emergency Management Agency (MEMA) has released a list of items to include in a COVID-19 emergency kit:
Non-perishable food for at least three days.
Bleach.
Hand sanitizer with alcohol solution of at least 70% alcohol.
Bottled water (1 gallon per person per day).
First Aid Kit with prescription medications.
Plastic dishes/eating utensils.
Baby supplies (food, diapers, medication).
Pet supplies (food, leash & carrier, vaccination records).
Sanitary supplies.
Toothbrush, toothpaste, soap, shampoo, cleanser, bleach, towelettes, toilet paper, trash bags, feminine hygiene products.
Copies of important documents.
Fever medication.
Driver license, SS card, proof of residence, insurance policies, wills, deeds, birth and marriage certificates, tax records, medical records, family pictures, etc.
Along with food, medical supplies, and toiletries, you should also stock up on board games, books, and other entertainment items to help pass the time should you be confined to your home for a few days.
While we should try to refrain from panicking, it makes sense to be ready for a possible quarantine.
American Red Cross spokesman Anthony Tornetta tells USA Today:
"If you are out and you are at Target or Walmart or at a grocery store and you have the ability to pick up a few things, by all means (do) … and use those to start building a safety preparedness kit that you can use no matter what the disaster is, whether you have to shelter in place or flee your home, Now is the time to prepare."
We cannot let the threat of COVID-19 consume us and we don't need to become Doomsday Preppers.
However, we can take a page out of the Boy Scouts and "Be Prepared." The best way to handle the coming days is to remain calm, stock up (not hoard) on a few items, and above all else, wash your hands.