As parents we are often charged with answering questions that we are not prepared to answer. It seems as if they skipped this part in the parenting manual.
Each year our kids get older and pay closer attention to the world around them, looking for cues on how to respond by looking to their parents.
But what happens when the parents don't know quite how to explain the complexities of the world to young and developing brains?
We are keenly aware that our children look for our responses, and in these historic times, we ourselves are looking for guidance.
And the good news is, Sesame Street is stepping in to help us on the sometimes complex topic of race.
Sesame Street has taken the reigns to explain our trying times with racism and inequality in our country – with a town hall meeting coming this Saturday Morning at 10 A.M. in conjunction with CNN.
Sesame Street is no stranger to helping parents out when the world seems to be flipped on its axis, so it should come as no surprise they're diving head first into this as well.
Sesame Street is known for tackling difficult and controversial issues and breaking them down in ways that are easy to digest for their young viewers, while opening dialogue in homes across America.
Sesame Street, which has been on (PBS) Public Broadcast Station since its inception, has been on the air longer than middle aged parents have been alive.
Over the past few years Sesame Street has addressed serious issues that affect Americans daily, such as homelessness, the opioid epidemic and Autism, with grace and care.
It should come as no surprise that they're at it again!
This time, they're bringing their message to cable television and teaming up with CNN for their second historic Town Hall.
Big Bird and friends will be coming into the homes of families for an open and honest discussion about race relations in America.
The Town Hall boasts that
"the show will talk to kids about racism, the recent nationwide protests, embracing diversity and being more empathetic and understanding."
This Town Hall will be aired on CNN, which will be made available to be streamed free via the CNN app, so you don't have to have cable to watch this important 60 minute event.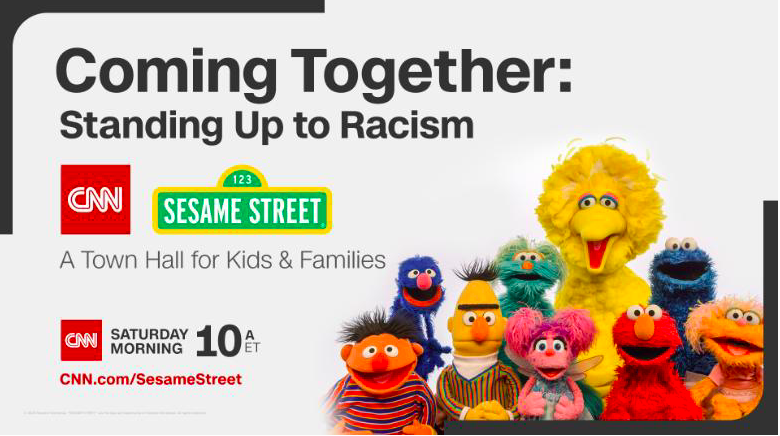 This broadcast is meant to answer questions about the civil unrest and racial tensions being displayed across the country right now after a particularly challenging week, which included the death of George Floyd.
Tensions have remained high since his death, which sparked protests to expand across the globe, including 18 countries.
Some of the demonstrations have become violent and children likely have very intimidating questions for their parents, who may not have the answers.
And parents everywhere are relieved that Sesame Street is here to answer the call.
If you are interested in having your questions or your child's questions answered; the process is fairly simple. You can even submit your own questions your child may be asking you right now.
Parents can read up on how the Town Hall will work on CNN's site and scroll to the bottom of their page to submit their questions for the characters, Van Jones and Erica Hill to answer.
This is a great opportunity to gain insight on how to discuss racism with young children in a way that is delivered with love, facts, and voiced by some of their favorite characters.
Families can turn this into a teaching moment for the whole household. Gather around, take notes, and rest assured that Sesame Street is ready to help your family learn.