June is Pride Month, a perfect time to celebrate our LGBTQ+ family, friends, and neighbors.
And while we should always honor that love is love, June gives us a rainbow opportunity to teach our kids about why it matters to be inclusive, empathetic, and kind to everyone.
With that in mind, here are ten beautiful LGBTQ+ Affirming books that explore and celebrate LGBTQ+ people, relationships, and family structures. Just in time for Pride Month.
This post contains Amazon affiliate links. If you click on a link, Filter Free Parents may receive a commission. See our full disclosure policy
here.

by Robb Pearlman and illustrated by Eda Kaban
This lovely picture book, Pink Is For Boys, invites kids to bend the rules of genderizing colors, because as the author says, "life is not color-coded." The cast of diverse characters and the beautiful illustrations combined with simple to follow text makes this a perfect book for kids as young as four.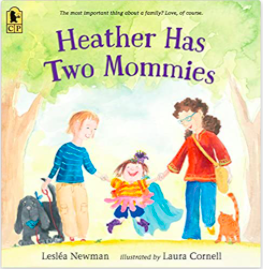 by Leslea Newman and illustrated by Laura Cornell
We have a sea of books that show a family consisting of one heterosexual mother and one heterosexual father. But what about books that represent kids who live in homes with a different family structure? Heather Has Two Mommies is a wonderful answer to that question. This is a great book for kids as young as three.
by Roy Youldous-Raiss and illustrated by Yossi Madar
A Day of Pride is geared towards kids between ages five and ten and does a great job at explaining the struggle for LGBTQ+ rights. This book covers a lot of ground, including themes of anti-bullying, inclusion, diversity, gender identity, rainbow families, social skills, self-esteem, and so much more. This is an excellent resource book for families.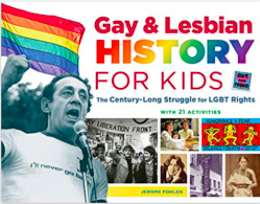 by Jerome Pohlen
Gay & Lesbian History for Kids is a history book that dives into the struggle for LGBT rights over the past century. Although this book is geared toward kids, it does an excellent job of providing an introduction of historical moments for adults to understand as well.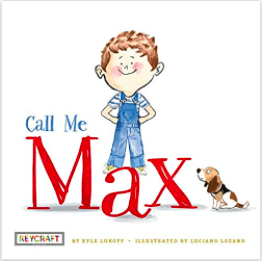 by Kyle Lukoff and illustrated by Luciano Lozano
Many parents find that they don't quite know how to explain what it means to be trans, which is why we love this book, Call Me Max. The story follows a little kid who wants to be called Max and identifies as a boy. Told with compassion and gentle insight, trans write Kyle Lukoff gives kids as young as seven a chance to understand – on their level – what trans truly means.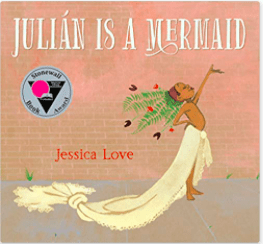 by Jessica Love
When Julián sees a group of women dressed up in brightly colored mermaid costumes, his imagination is ignited, and he tries his best to create his own gorgeous mermaid outfit. Julian is a Mermaid is a spectacular picture book shows kids as young as two how beautiful and poetic it can be to embrace and explore individuality.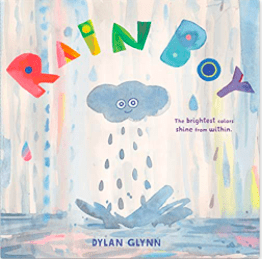 by Dylan Glynn
Rain Boy is a perfect read-aloud book for kids as young as three that explores LGBTQ+ themes, including bullying, empathy, kindness, and friendship. The illustrations do a fantastic job at helping kids understand big emotions through colors and shapes. This is a perfect book for families.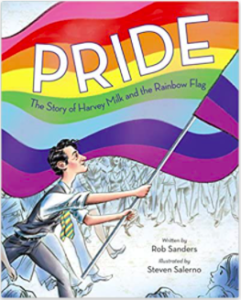 by Rob Sanders and illustrated by Steven Salerno
Have you ever wondered why the Pride flag is a rainbow? Did you know that each color of the flag holds a special meaning? You can teach your kids all about it in this fabulous book that explores the life of LGBT activist Harvey Milk and the fascinating origins of the Pride flag. This book is perfect for kids as young as five.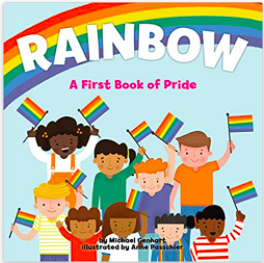 by Michael Genhart Ph.D. and illustrated by Anne Passchier
If Pride is a new topic in your family, then this is a perfect book to snap up right now. You can consider this a Pride 101 style book for kids as young as three, which is quite a wonderful thing because many families want to talk about LGBTQ+ but do not where to begin. Rainbow: A First Book Of Pride uses the pride flag as a launching off point, the author shows families how to celebrate Pride and all that that can mean.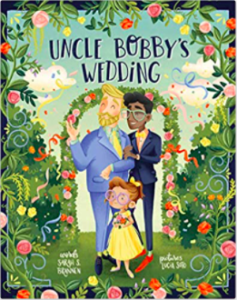 by Sarah S. Brannen and illustrated by Lucia Soto
Who doesn't love a fabulous gay wedding? We certainly do. This amazing book, Uncle Bobby's Wedding, which is geared toward kids as young as three, shows kids another beautiful example that love is love. When little Chloe finds out that her uncle Bobby is getting married, she is not super into it. But when she realizes that she's not losing her uncle, she's actually gaining one; everything turns out perfectly awesome.