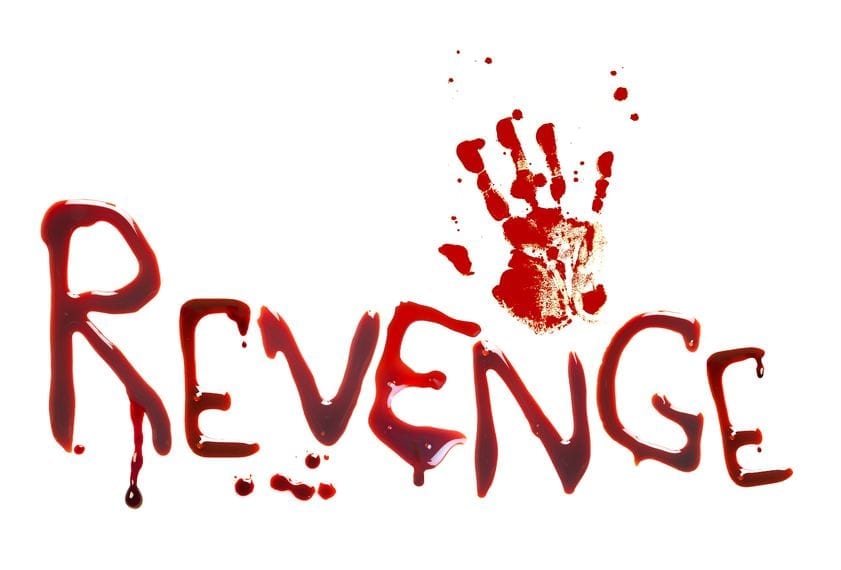 "Revenge is a dish best served cold."
The concept of revenge is as old as history. As far back as can be traced, there have been acts of vengeance to right wrongs and avenge those hurt or harmed by others. It's a natural human instinct to want to lash out at our enemies. This is especially true where matters of the heart or family are concerned, and why I love the new book The Inheritance: Anything He Craves by Terry Towers.
All families have secrets, but the one that Angelica Lawson is keeping is unbelievable. In order for her to receive her rightful inheritance, she will have to expose even deeper secrets and get to know Logan Sinclair, a brother she never knew she had. Would they come to find peace? Or would Angelica go to no uncertain ends to get revenge and remove the one obstacle standing between her and a windfall?
Inspired by the book, here are five crazy, but true tales of revenge:
You'll Never Take What Belongs to Our Family
For the Nyerges family, a foreclosure notice from Bank of America came as a total shock. They paid for their home with cash and had no mortgage. After attempts to contact the bank fell on deaf ears, the family hired an attorney and the case was dismissed. The family was awarded a judgment against the bank to recover their legal fees. And they waited. And they called. And they waited some more.
Five months passed with no response or payment. The Nyerges went back to court and got a writ of execution, which gave them permission to seize bank assets in payment for the judgment. And seize they did! Several days later, the family, along with two sheriff's deputies and a moving truck, showed up at a local Bank of America branch. Management was informed that they could either pay the Nyerges' or the movers would remove the bank's furniture and cash. The bank manager quickly gave the deputies a check.
Cheating Lying Yard Sale
When one woman found out her husband was cheating, she waited until he went away with his "floozie" and then advertised a "Cheating Lying Yard Sale" on Craigslist. On the front yard, sat his favorite leather sofa, golf equipment, and computer equipment. A "For Sale" sign was even placed on the house. If that wasn't enough, this woman scorned also offered shoppers a chance to view the ashes of her husband's charred clothes—which she burned in a mad fury. Supposedly all proceeds from the sale went towards the divorce fund.
Posthumous Last Laugh
In the early 18th century, James Annesley was born to a wealthy Irish family. James' uncle was furious that a boy replaced him as heir. He thereby unleashed a maniacal plan to remove anything that stood between him and James' inheritance, starting with his own brother. Historians believe that Richard poisoned him in an unthinkable act. Later, when James turned 12, he was kidnapped by men hired by his uncle, placed on a ship to America, and forced to work as an indentured servant. He worked off his servitude after 12 long years, found his way back home, and attempted to reclaim his fortune from his uncle. Although he passed away before he could restore his identity, he would enjoy a posthumous last laugh. The course of events publicly ousted his uncle, where he was doomed to a life viewed as a scoundrel and bigamist. His business reputation was ruined and his fortune suffered.
Murder in the Hamptons
When Ted Ammons' wife, Generosa, found a receipt for a divorce lawyer sitting on his desk, things went sour in a series of unfortunate events. She began an affair with a local electrician and sought to take everything from her soon-to-be ex-husband. Just days away from their divorce being finalized, Ted, a wealthy philanthropist, was found bludgeoned to death in his Hamptons vacation home. Since their divorce had not yet been finalized, Generosa inherited half of the estate, in accordance with the will. She later married Daniel Pelosi, her electrician lover, and sold the properties she had owned jointly with her former husband. After her death, Pelosi was tried and found guilty of Ted's murder. Although it is believed to be a solo act, Pelosi maintains that Generosa had asked him to commit the murder.
Kung Fu Rebellion
One of the most infamous examples of avenging a family happened in first century Vietnam. Trung Trac and Trung Nhi lived in a small village. They were trained from childhood in martial arts, and knew the art of self-defense. At the time, their land was ruled by the Chinese, who were cold and brutal. When Trac's husband took a stand against the tyranny, Han warlords responded with unspoken brutality, killing the husband and torturing Trac. Trac, Nhi, and other female villagers later rallied an army of 80,000 women, who unleashed their wrath upon the invaders—diminishing the army to nothing more than a handful of scared men and taking back their land.
Disclaimer: This is not a sponsored post. Nor was any compensation or product received. I enjoyed the book and was inspired to write about revenge.