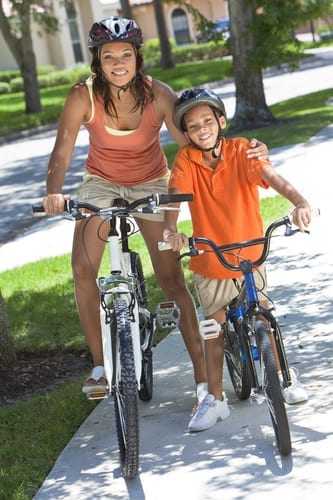 When it comes to outdoor activities, it seems like dads always have the upper hand. But moms can enjoy the outdoors with their sons, too. There are plenty of activities that you can do with your son on a nice day out. And these activities can also be a great learning experience for him, too. Here are a few ways you can enjoy the great outdoors with your son.
Hiking
Hiking is a great way to get some exercise and to share a conversation together. It's a fun, easy way to take in the beauty of nature while bonding. Facilitate good conversation by preparing some questions you've been meaning to ask your him. Allow the conversation to flow naturally and let him ask you questions well. Making this a bi-weekly or monthly mother-son ritual can make for a great bonding activity. This experience will also teach your son about how to communicate naturally yet effectively with women. Bring a camera on the hike to take pictures of animals, insects and plants. You can try to identify them together when you get home.
Bike Riding
Head to the nearest park, beach or neighborhood sidewalk for a fun bike ride together. Both you and your son will be sure to enjoy the scenic view while getting some exercise. Pack a basket of food and enjoy a picnic together after you've worked up an appetite. Again, you can use the time during to converse and just enjoy each other's company.
Go to the Zoo
Spend a day at the local county zoo with your little man. Learn about all the different kinds of species in the animal kingdom together. If it's feasible, interact with the animals by feeding the giraffes or watching the cheetah run as up close as possible. While you're there, teach him about the wonder of nature and respecting wildlife.
Have a BBQ
It's usually Dad who gets to fire up the grill and barbecue, but who says Mom can't do the same? You're probably a pro in the kitchen, but even if you're not, learning to use the grill is no big feat. For this one, you can invite the whole family to dine outside in the backyard or at a nearby park. Grill up some burgers and hot dogs and enjoy your afternoon together. Extend family time by setting up activities, like board games or capture the flag, to play together during the evening. Having moments like these will teach your son the importance of family time. Make these moments a regular thing to ensure he will carry on the tradition when he starts his own family.
Shooting
If you'd like to take your son on a more thrilling mother-son date, take him target shooting. This will certainly add excitement to your bonding experience. Shooting an airsoft gun is a great way to introduce your child to gun safety, respect and responsibility. This activity will be sure to earn you some "cool" points — having a mom who can shoot is impressive by any standard.