The one stark truth about stepping into the role of raising a little person is that parenting is hard AF.
And sure, there might be 600 different parenting books on the market, not one can tell you exactly how to raise a kid to grow up and be a decent person. But that may soon change thanks to a viral TikTok video.
This week, TikTok user @dougweaverart posted a three-minute story about how his mother put him and his brothers through a DIY course she made up on the fly and called 'Husbands In Training.'
The video lit up and quickly went viral with more than 4 million views, 936K likes, and more than 36K comments all in support of what @dougweaverart shares in his video.
"So, when I was a kid, my mom did this thing for me and my two older brothers called 'Husbands In Training,' that's what she called it," He says into the camera.

"It was a full, like multiple-year curriculum on how to be a better husband. It covered everything from eating etiquette to chivalry, to, like, the ethics of the porn industry, just anything you can think of."
With an affable tone of voice and friendly face, he shares that his mother too pains to use every teachable moment she could find to help her sons learn to respect women by listening to them, learning to be peaceful people, and quite literally how to be good future husbands.
But some of the husbands in training was a bit….much.
Because like any good parent trying to teach their sons how to grow up and be good to women, this mother had no choice but to at least try and explain things like porn.
Apparently, she might have been a little too gung-ho.
"I remember one thing, in particular, that was called 'The Porn Quiz,'" he says in the video.
"I think I have it on one of my old laptops, that was a quiz about the porn industry, and it was too much. But there was a lot of really good stuff in that curriculum."
According to @dougweaverart, she managed to teach them some valuable lessons thought that are still serving them all well to this day.
"There was stuff like what to do when your spouse says something and the information that they give is wrong.

How to handle it if they say something wrong in public versus in private, when it is appropriate to correct them and isn't.

We talked about consent, we talked about the basics of respecting and honoring women, and listening to women, and all of the things that really just make you a decent human being."
People in the comments have been eating this up and leaving plenty of words of support for what this man shares about his mother and her tenacious spirit when it came to raising good men.
In one particularly useful comment that attracted plenty of agreement, @al4scythe wrote, "The world needs this curriculum! maybe spouse in training though, because a lot of it sounds helpful to the ladies too!"
To which @dougweaverart responded, "We can call it 'how to human.'"
Let's be frank, the world needs more decent people. Period.
And we all know that decency isn't relegated to just one gender.
This comment also has a lovely opportunity to open up issues that people of different genders experience.
When it comes to issues of consent, speaking up for oneself (or for others), and the etiquette of how to deal with pronouns, particularly when you're not sure what to say or do is important.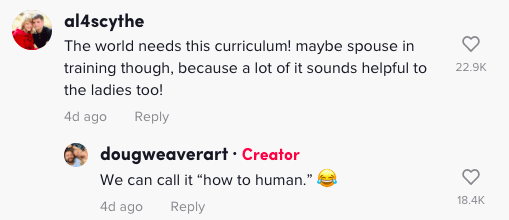 Madeline Mann noted, "It's such a huge responsibility to raise a boy because their ability to do good or damage is amplified due to their status in society."

@dougweaverart goes on to share that his Husbands In Training course was such a hit within the family, that at some point, his own dad signed up for the informal classes.
"When I was in high school, my dad realized that a lot of the things that were were learning from my mom was things that he was never taught growing up and so he also decided that he wanted to take 'Husbands In Training' and so myself and my dad and my brothers were all learning how to be better men from my mom."
So, when did the course end? Why, on his wedding day, of course.
"My mom even made certificates of completion that she signed and gave to each of us on our wedding day," he says in the video.
He continues by explaining that he is now raising his son through the family "husbands in training program because he wants his kid to understand how things like consent work.
"I'm definitely raising my son to understand how consent works and the necessity for consent doesn't end when you get married that things still need to be consensual."
He talks in-depth about how he learned conflict resolution, how to appropriately express his feelings, and what to do when someone expresses feelings toward him.
He gives lots of examples of the kinds of things his mother thought about what a good man should be.
And honestly, I am here for it — and so it is the internet because there have been a lot of requests for @dougweaverart and his mom to put together an actual curriculum for the rest of us.
In a follow-up video, he says that he talked to his mother and was flabbergasted by the overwhelming response.
"She did read everyone's (36.7k) comments, which are very nice but it is a lot of sudden attention.

And she said, 'Well, if we can actually help people then we should give it a try.'

Compiling, and editing, and producing a curriculum takes a lot of time and so we decided to try and start by trying out making some videos."
In the meantime, @dougweaverart's mom doesn't have much in the way of decent audio or video recording equipment, so he set up a Go Fund Me.
In his video post appeal for funding for raising , he noted that he added a couple of hundred to the ask so that his mom could buy some snazzy clothes because her immediate response was to worry about her outfits.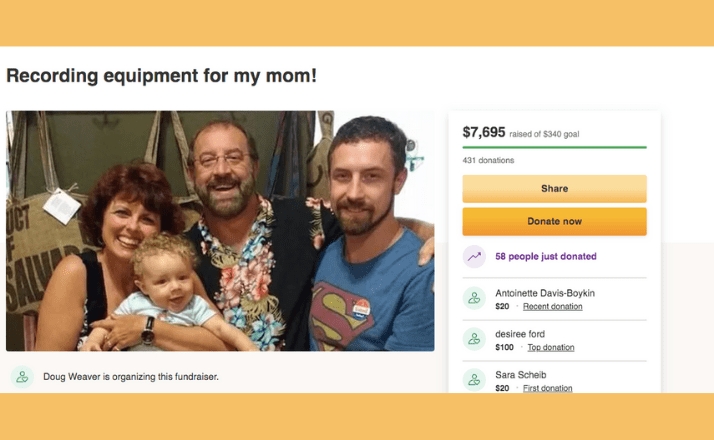 The original goal was to raise $340, which looks like a humble and reasonable amount to ask the internet for.
Incredibly, they raised $7,695 and it is still going.
Clearly, the world wants to hear what this mom has to say about raising good people.
After they received some funds from Go Fund Me, @dougweaverart's mom made a hilariously adorable video to show her new fans the new outfit she bought.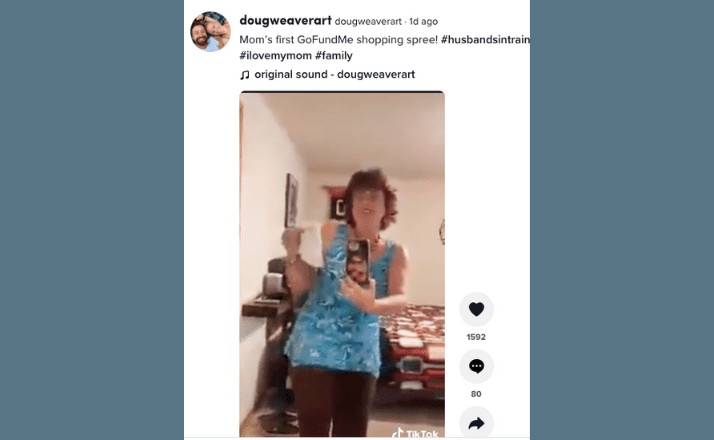 In a blurry, wobbly, selfie-style video, @dougweaverart's mom says, "I'm saving my receipts!"
She does a semi-twirl motion to show off her new, lovely blue shirt as she says, "It was a blue label, half off at The Goodwill, so it was only $2.49, so I have a little credit."

Like me, and thousands of others, TikTok user @naptownangel06 gushed, "OMG your mom is a gem! Tell her to table the mama guilt (I know all about that) and go ger her an outfit she always dreamed of!"
She is simply the most adorable mom ever. Watch her full video here.