(TW: This post mentions suicide).
So many of us battle depression, and yet, more often than not, we battle in silence. Depression is the monster we do not see. It steals our joy, our passion, our energy, our thoughts, our health, and sometimes, even our lives.
It is shrouded in secrecy and cloaked in guilt. Its power lies in its ability to isolate and shame.
And it doesn't discriminate. Young or old. Female or male. Mother, father, sister, brother. Even those you would least expect are not immune.
Even a 6-foot-4, 315-lb starting offensive lineman at the top of his game.
In a powerful message, one football player is pulling back the curtain on his fight against depression and in doing so is giving hope to others who struggle with their mental health.
Harry Miller was a college junior football star with a 4.0 grade-point average as a mechanical engineering major at Ohio State University. He was a five-star recruit and helped lead the Ohio State Buckeyes to a Big Ten championship win in 2020.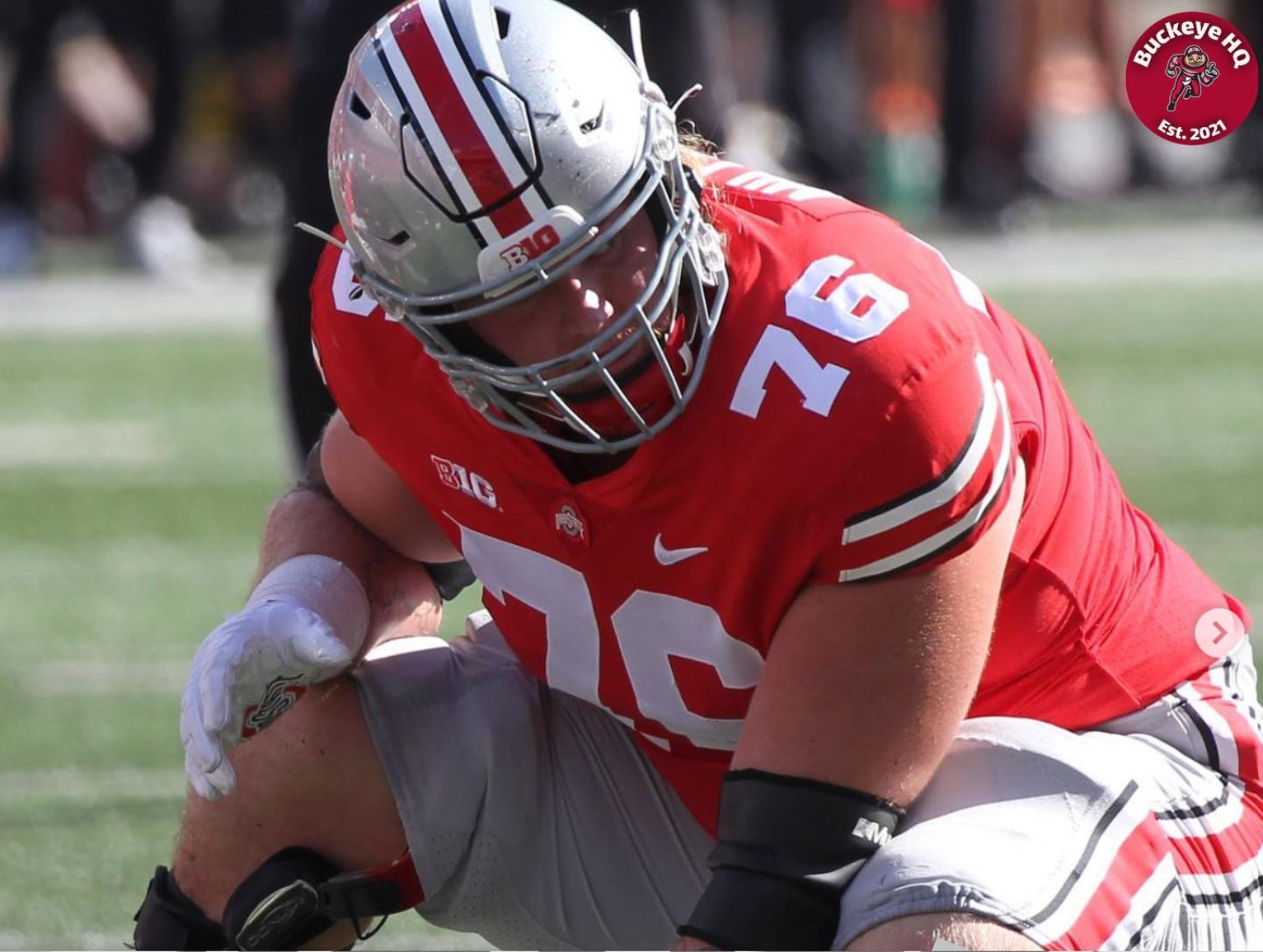 He was valedictorian of his high school graduating class, an avid reader of classical literature, and a regular attendant on Nicaraguan mission trips.
On the surface, he appeared to have everything. But underneath, was a different story.
Miller took to social media to publicly announce that he is medically retiring from football. However, it's not because of physical ailments.
So what IS wrong with Harry Miller?
In a gut-wrenchingly raw Twitter statement, Miller explained:
"Prior to the season last year, I told Coach Day of my intention to kill myself."
His coach immediately referred Miller to mental health professionals, Dr. Candice and Dr. Norman.
After a few weeks of therapy, Miller decided to return to the football field. And the pain he felt on the inside was only slightly visible in the scars on the outside.
"After a few weeks, I tried my luck at football once again, with scars on my wrists and throat.

Maybe the scars were hard to see with my wrists taped up. Maybe it was hard to see the scars through the bright colors of the television.

Maybe the scars were hard to hear through all the talk shows and interviews."
He continued:
"They are hard to see, and they are easy to hide, but they sure do hurt. There was a dead man on the television set, but nobody knew it."
And that's the thing with mental illness. No one sees it. And if you can't see it, it must not be real, right?
Wrong.
While we may not see it, hear it, or physically touch it, we feel it. And the power it wields is cancerous.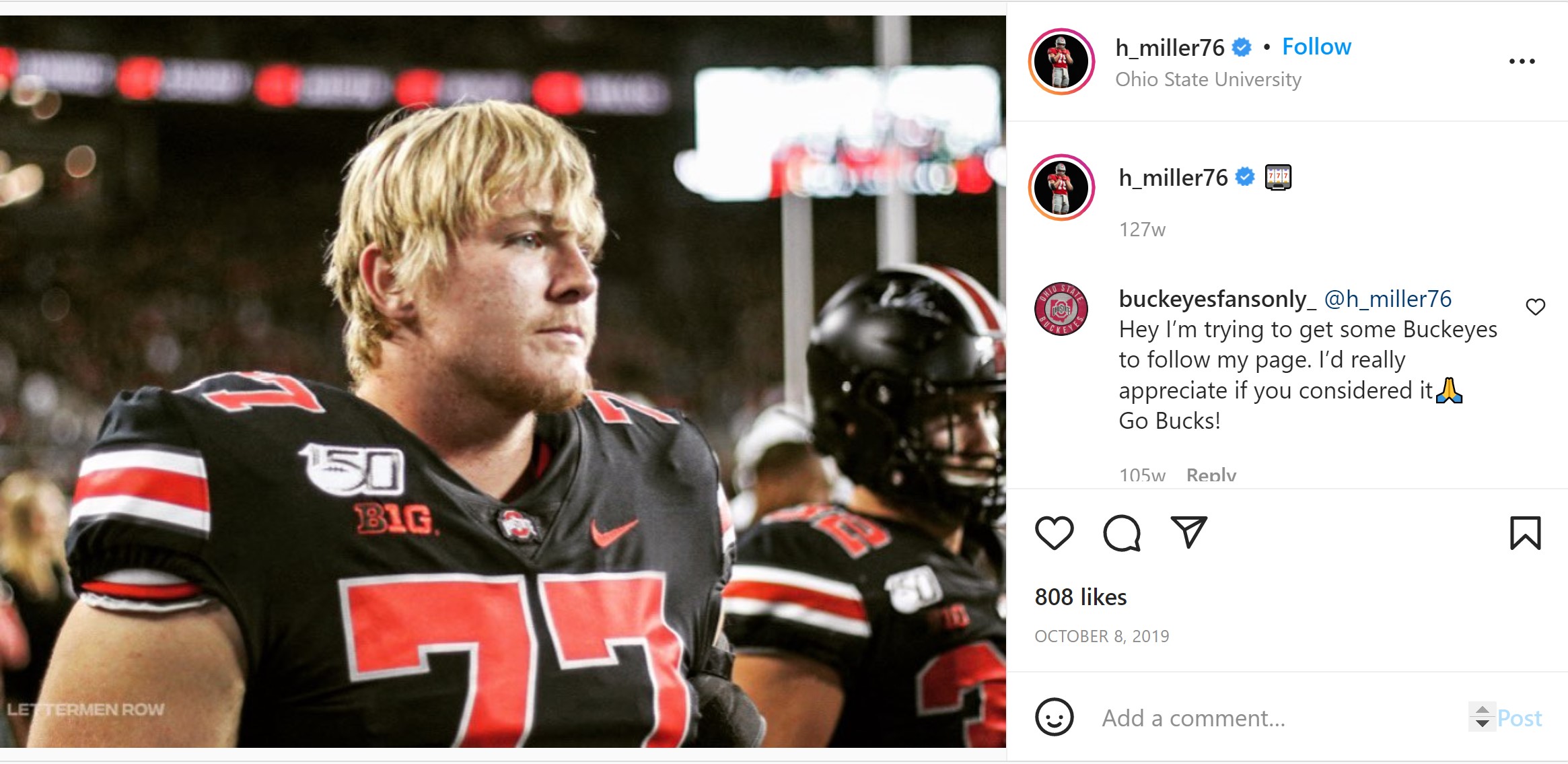 Miller goes on to explain that he wrestled with getting help. He feared how people would respond once they found out about his mental health struggles.
And it is heartbreaking.
"I had seen people seek help before. I had seen the age-old adage of how our generation was softening by the second, but I can tell you my skin was tough. It had to be.

But it was not tougher than the sharp metal of my box cutter.

And I saw how easy it was for people to dismiss others by talking about how they were just a dumb, college kid who didn't know anything."
Except he's not just some "dumb, college kid." He's not a "snowflake" or "weak." He's an all-star athlete who also happens to have a 4.0 GPA in engineering.
But he is also someone who has struggled with depression and anxiety for as long as he can remember.
"A person like me, who supposedly has the entire world in front of them, can be fully prepared to give up the world entire."
But instead of giving up, he is speaking out, regardless of what the critics may say, in the hopes that his story can help someone else who is hurting.
And if that isn't brave, honestly, I don't know what is.
In an interview with the Today Show, Miller humbly admitted that he doesn't think what he is doing is brave, but rather, "this felt like not dying…"
He also talked about the extreme pressure he was under and what contributed to hitting rock bottom.
"You've got these young people being thrust under these bright lights. You play a game, it's a hard game, perhaps you made a lot of mistakes, and people send you a message saying, 'Transfer, you suck.'

Some people get death threats that I know on the team, and I'm trying to text my mom, that's the first thing I see, and then you can't worry about it too much because you've got an exam the next day.

And you have that for weeks and then months and by the end of the semester and you're like, 'What is happening right now?'"
Just think about yourself or your kids for a minute. Imagine what it would be like to receive death threats, because of a game.
Imagine the constant judgment on top of just trying to keep up with the daily grind? It would be exhausting, mentally and emotionally. THIS is the type of pressure our young people face.
Is it really surprising that this would take such a drastic toll on someone's mental health?
And Miller isn't the first college athlete to struggle with his mental health. Tragically, just a few days prior to his retirement announcement, Katie Meyer, a Stanford University soccer star, died by suicide.
As for Harry Miller's mom? She couldn't be any more proud of her son.
She shared a post on Twitter, calling him her hero:
My heart outside my body, out there helping others, THAT is who Harry Miller is. Harry always wanted to use his platform for good, I just never imagined this was the good. He is my hero. #BreakTheStigma @h_miller76 So proud of you. ????? https://t.co/Vi80XMd1id

— Kristina Miller (@KschilbMiller) March 21, 2022
In his interview with the Today Show, Miller shared a special message for all of the people out there who know the struggle of depression firsthand:
"I would just say, hope is just pretending to believe in something until one day you don't have to pretend anymore.

Right now, you have all the logic, all the rationale in the world to give up on it. I would just ask to pretend for a little bit, and then one day you won't have to pretend anymore and you'll be happy."
And it seems that Miller has finally found his happy. Not where the world says it should be – on a college football field – but where his mental health says it needs to be.
You can read his full tweet here:
— Harry Miller (@h_miller76) March 10, 2022
If you or someone you know is having thoughts of suicide, please contact the National Suicide Prevention Lifeline at 1-800-273-TALK (8255).