As anyone that has a strong social media presence knows, there is a particular type of message that frequently pops up in your inbox (it's not a dick pic, although those are alarmingly common, too. Why, men, WHY?? No one wants to check their messages & find a pic of your junk. Trust me).
As sure as the sun will rise, there will always be some dude trying to slide his way into your DMs. Most of us tend to immediately hit "delete" and move on, but sometimes accepting a dubious chat request results in comedy gold.
In the viral Facebook post "Big Dave vs. Naughty Scammers", a troller was the one trolled by his would-be victim in a hilarious series of messages exchanged between the two.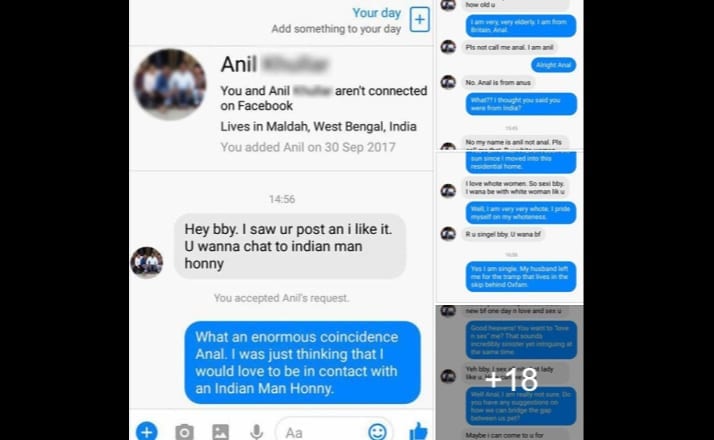 The saga begins when a DM arrives in the unnamed woman's inbox. The sender states that he has been immensely charmed by the victim's most recent social media post & wants to offer his social companionship:
Hey bby. I saw ur post an I like it. U wanna chat to indian man honny
(If she "wanna", that is.)
Now this is the point where 99% of these crap chat requests are deleted, sending them to die a withering, unread fate in the trash folder.
But today was Anil's lucky day, or so he probably initially thought, when his chat request was accepted.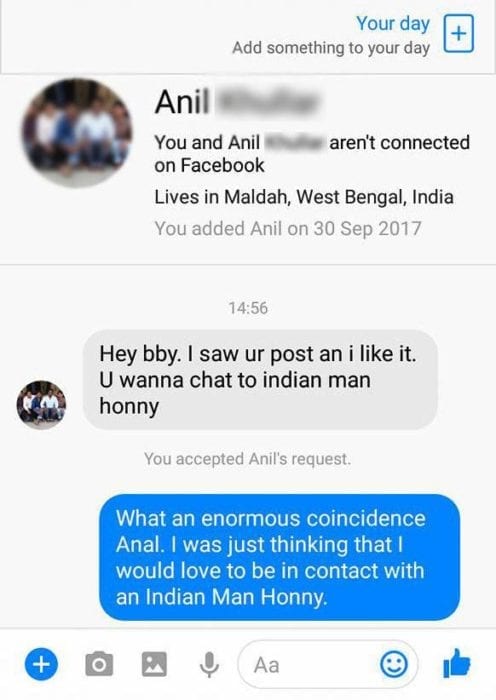 Game on, Anil. Or ANAL, as she refers to him…. deliberately.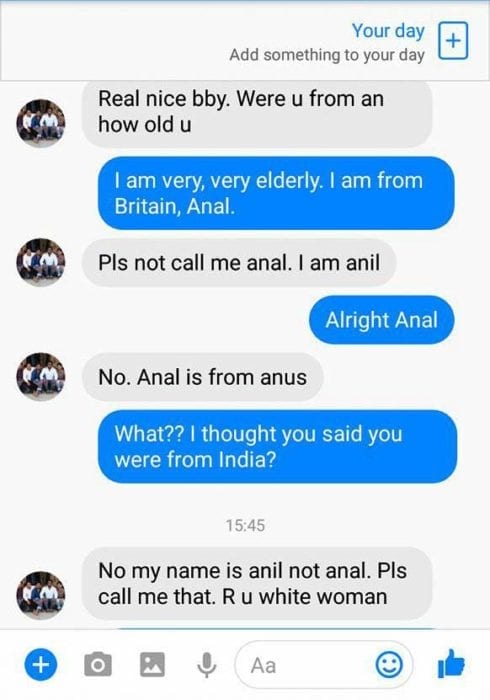 It's clear that Anil doesn't know virtually anything about his new friend, but no matter- despite being "very very elderly" Anil's still in it to win it.
How funny is it when he corrects her (mis)pronunciation of his name since "Anal is from anus", and she fires back with:
What?? I thought you said you were from India?
He's willing to overlook this slight as long as she's still his type, which at this point focuses on: "r u white woman".
The woman states she's white, since:
I haven't seen the sun since I moved into this residential home.
That's not enough to deter Anal -sorry, ANIL- since despite his target being both very elderly, very pale, and living in an old-age home:
I love whote women. So sexi bby. I wana be with white woman lik u.
Age doesn't matter here: Anil's in love! He loves WHOTE women like our ancient pale Brit here, and he's all set for a WHOTE wedding with a gal "lik u".
After assuring Anil that she is single (ever since her no-good husband took up with the neighborhood tramp), Anil offers to be her knight in shining armor…
Well, in his own poetic way:

Yup. Things are getting steamy in this cozy chat-for-two!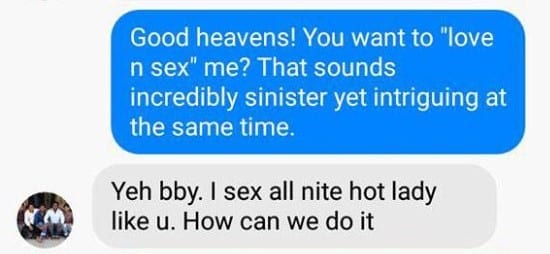 Since clearly distance is an issue between these new lovebirds, the woman asks Anil how they can make this work in person.
"Anal" (whom by this point is fine with being called that) suggests that she pay for his plane ticket to Britain so he can, you know, "sex u". The woman's response: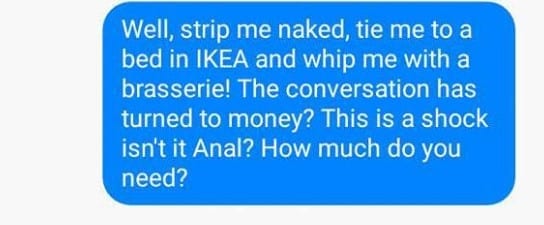 We're talking about LOVE here, Anil. But the woman is still apparently hooked by his "sinister yet intriguing" offer. He explains that $500 wired to him should do it: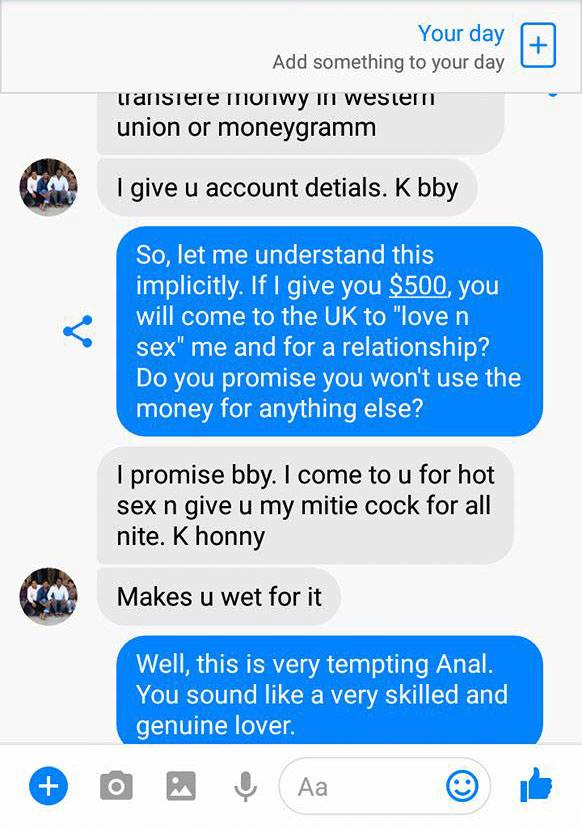 Well, THAT escalated quickly! Anil & his "mitie cock" are ready to work all nite (if it really was that "mitie", HERE would be the arrival of the dick pic).
The two negotiate terms, but when Anil mentions money again, the woman points out that he doesn't seem as interested in her "as a lady". He must have sensed that the deal was in danger, because he again tried to charm his new "love":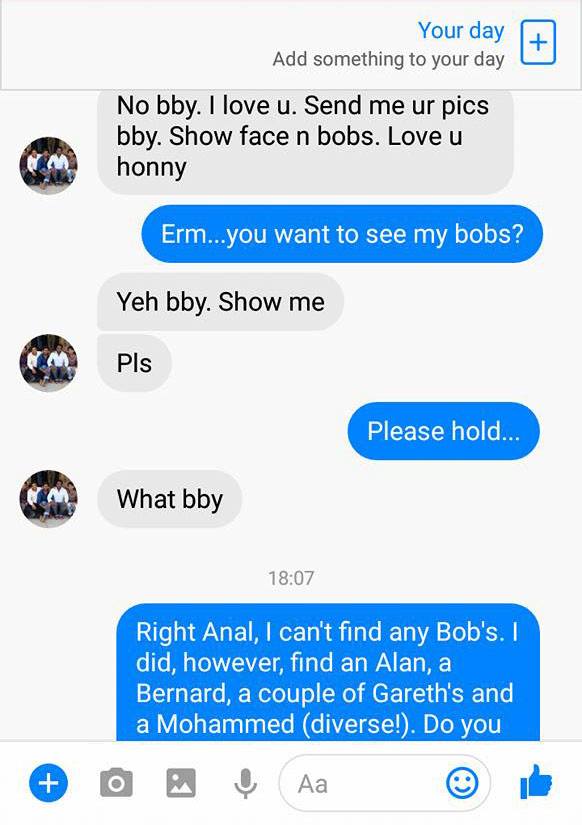 Bobs. BOBS. The woman tries to find him a good pair of bobs, but no dice!
When Anil explains that he means "tities", the woman makes it clear that in order for this match made in heaven to come to fruition, he's got to abide by her own code. She's the boss, he who henceforth shall be known as: Anal from Anus.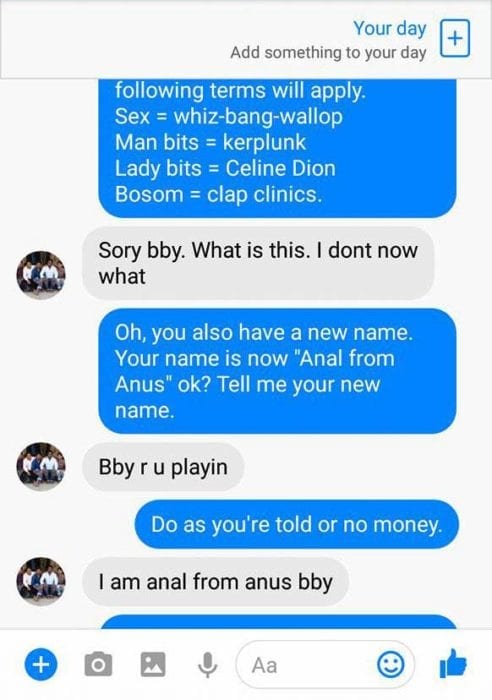 Now the troll unwittingly becomes the victim of his own message trolling as the woman ingeniously maneuvers him into voluntary public humiliation.
In order to prove his love for her, the woman tells Anil -sorry, ANAL FROM ANUS- that he must post a public Facebook status attesting to his eternal devotion: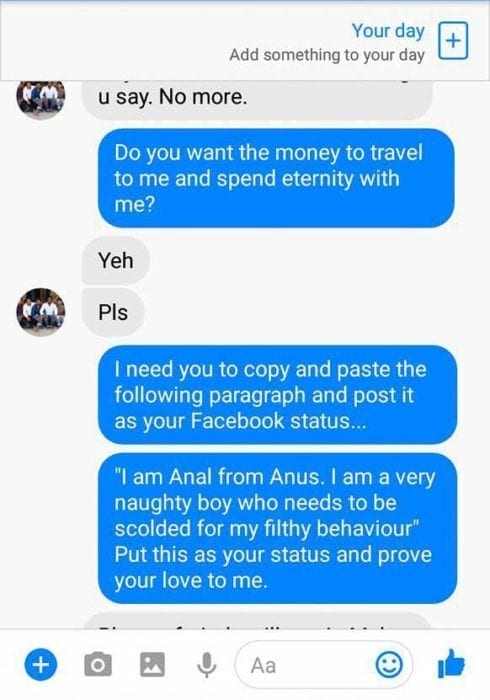 And sure enough, love wins: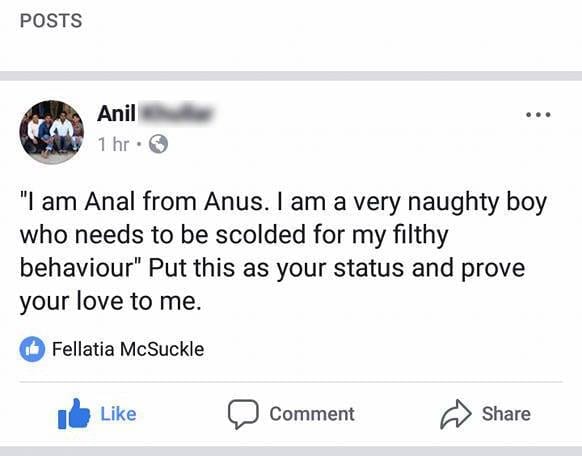 And we all know that the woman, now known as "Fellatia McSuckle" OBVIOUSLY LOVES IT because this is frigging ah-mazing!!!
Anal must have felt pretty good about earning his money at this point… up until Fellatia tells him that there is an issue at the Western Union office she is transferring his funds at. The error code reads as: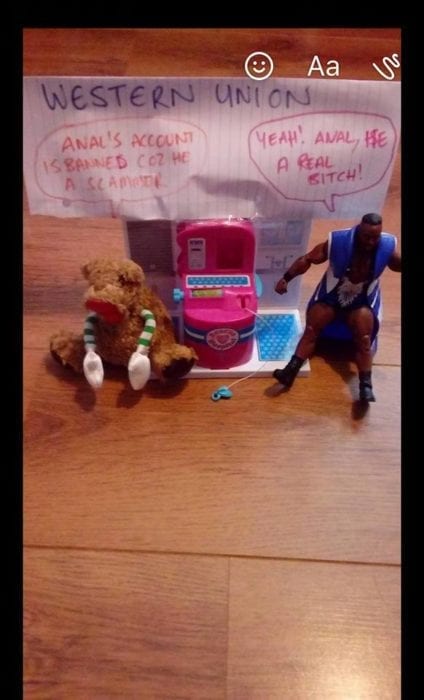 In your FACE, scam-man!
While Anil claims to be hurt by Fellatia's spurning of his genuine affections for her, he is clearly able to move on quickly with the rest of his "hot woman" (and they're probably hot WHOTE woman):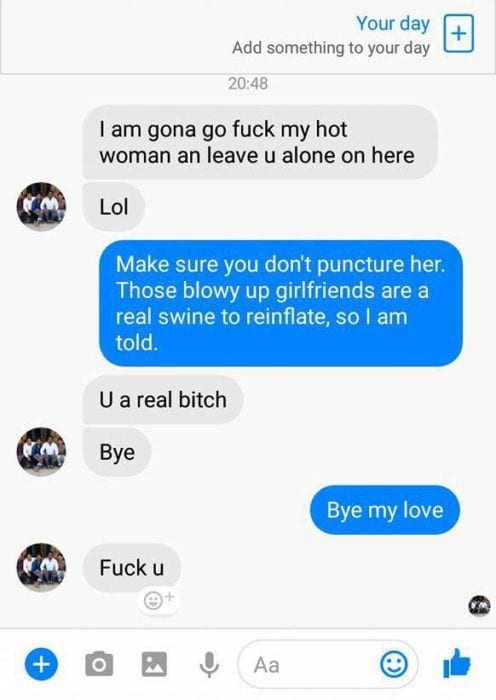 While the whirlwind romance between Anal and Fellatia McSuckle was obviously short-lived, the sweet memories of their courtship will last a lifetime… because what happens on the Internet stays on the Internet forever.
Anal is definitely a "bad boy", but his public whipping is so, so good!!
To read their conversation in full, check out the link below: