Whether we want to believe it or not, online predators are a real threat.
Do you know what your kids are doing online? Who they are talking to? Do you know the potential dangers they are facing when they post on popular social media sites like Instagram and TikTok?
One 37-year-old mother decided to find out. And the results? They are absolutely sickening.
In an article written for Medium, Sloane Ryan (not her real name) outlines her experience while posing as 11-year-old Bailey on Instagram.
Ryan runs the Special Projects Team at Bark, a child monitoring app for parents and schools. The company uses AI to monitor text messages, emails, and various social media platforms for signs of cyberbullying, depression, online predators and adult content, and alerts parents and schools when children are threatened.
The team of tech savvy individuals, which also includes a lawyer and former military personnel, set up fake accounts to demonstrate to parents what can happen online. And what can happen? Will make you want to grab your kids and hightail it on out to the middle of nowhere. With no internet. No cell phones. And no scary people.
Over the course of one week, over 52 men reached out to an 11-year-old girl. And the messages will make your stomach turn.
With the help of clothing, hair, lighting, and photo editing, Ryan transformed from a 37-year-old woman to Bailey, a fictitious 11-year-old girl. A girl. Not nearly close to being a woman. An 11-year-old child, like yours or mine, who likes glitter nail polish, hoodies, and wears scrunchies on her wrist.
Ryan writes:
The majority of 11-year-olds are still prepubescent. Menstruation hasn't started, and they're generally not yet wearing bras that are categorized by letter-and-number sizes. Their hobbies and interests vary, but largely, they're not thinking about sexual relationships or sex organs or sex at all.
But their predators are.
And for the predators that found Bailey within seconds of her photo being posted on Instagram? Sex is ALL that they were thinking about.
The picture posted to Instagram was "a generic, innocuous selfie of Bailey with an ear-to-ear smile". It was captioned
"v excitedd to see my friends this weekend at carly's party! Ilysm!!"
followed by a string of emojis and hashtag #friends.
Almost immediately, Bailey has three new requests for conversations. They all start the same way. Telling her she's beautiful, wondering how long she has been a model, if she has a boyfriend. But they quickly escalate from PG to R-Rated in mere moments.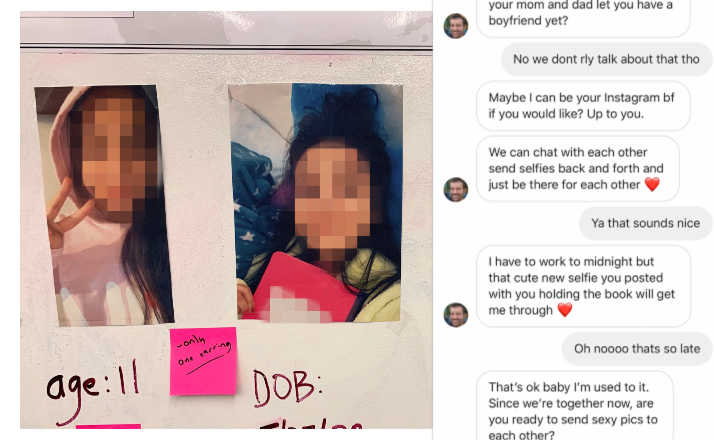 Within 5 minutes @ XXXastrolifer is sending Bailey a video of himself masturbating. Another instagrammer, @ XXXthisguy66, is talking blow jobs and sex, sending pictures of his erect penis, and requesting naked photos back.
Ryan writes:
By the end of two-and-a-half hours, I've had seven video calls, ignored another two dozen of them, text-chatted with 17 men (some who had messaged her before, gearing back up in hopes for more interaction), and seen the genitalia of 11 of those. I've also fielded (and subsequently denied) multiple requests for above-the-waist nudity (in spite of being clear that Bailey's breasts have not yet developed) and below-the-waist nudity.
And if this isn't enough to make you want to throw all your devices into a dumpster fire and burn it all to ashes, I don't know what is.
While it's easy to bury our heads in the sand and say articles like these are fearmongering at their finest, statistics don't lie.
The National Center For Missing And Exploited Children received more than 10.2 million reports of child sexual exploitation in 2017. One in 5 U.S teenagers have been victims of unwanted sexual solicitations online.
In addition, the Centre for Cyber Safety and Education conducted a study of grade 4 – 8 students internet usage. These are kids ranging in age from 9 years old to 14 years old. They found that 40% of the kids connected or chatted online with a stranger.
And these online predators aren't just targeting kids on social media apps like Instagram, Facebook, and Twitter. They are also using popular messenger apps and gaming sites and even EMAIL.
As much as parents may not want to think about this happening to our own children, this is the reality of living in a digital world. And we need to arm ourselves with knowledge so that we can better protect our children.
This CAN happen. To anyone. We owe it to our kids to recognize the dangers that are lurking behind the computer screen and equip our kids with the weapons to fight against it.
Parents need to be engaged with what our kids are doing online.
We need to follow their accounts. We have to be vigilant.
It is our responsibility to educate ourselves and our children on what measures need to be taken to keep them safe. Keep their accounts private. Do not respond to messages from strangers. If they do receive a message from a stranger? Let your kids know that they can tell you.
Will this happen to your child? My child? I pray it doesn't. But the hard cold reality is that it absolutely could.