They say a picture is worth a thousand words. But sometimes? A thousand words aren't even close to being enough.
This is Beckett and his older sister Aubrey. And this? Is the reality of childhood cancer.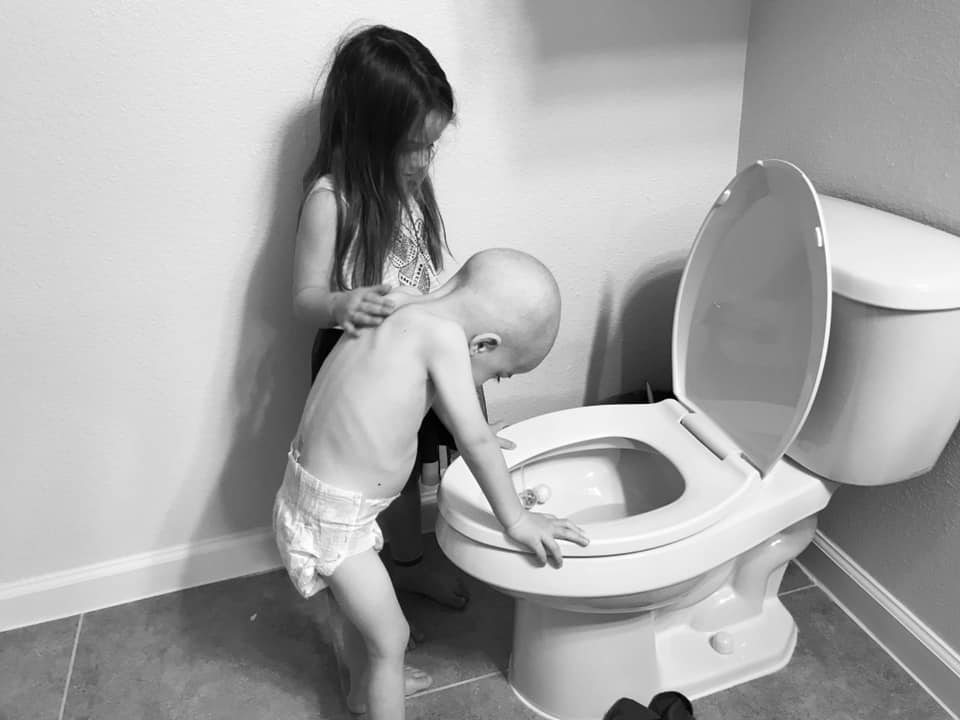 In a Facebook post that has gone viral, Kaitlin Burge shares a photo of her 4-year-old son Beckett, who is fighting Acute Lymphoblastic Leukemia (ALL), being comforted by his 5-year-old sister Aubrey, as chemotherapy wreaks its havoc. It is absolutely heartbreaking.
Kaitlin begins the post on her page, Beckett Strong, by saying:
"One thing they don't tell you about childhood cancer is that it affects the entire family. You always hear about the financial and medical struggles, but how often do you hear about the struggles families with other children face?"
Kaitlin Burge and her husband Matthew are parents to three children. Aubrey (5), Beckett (4) and Chandler (23 months). On April 25, 2018 their lives were irrevocably changed when Beckett was diagnosed with Very High Risk Pre-B Acute Lymphoblastic Leukemia, Pneumonia in the left lung, and Acute Respiratory Failure.
Cancer. It is the last thing any parent wants to hear. But it's not just parents that carry the burden. Brothers and sisters do too. And it's the unsung hero siblings that Kaitlin wanted to honor and hilight.
She explains in her post that Beckett went from being a "lively, energetic, and outgoing little brother" to "a quiet, sick, and very sleepy little boy." And for 5-year-old big sister? This was difficult to understand.
"Why couldn't they go to their favorite trampoline park anymore? Why couldn't they go to the splash pads they previously went to? Why didn't he have to go back to school, but she did?"
Hospital stays, doctor's visits, and therapies became the new normal. But through it all, Aubrey has stood by her brother's side. And the strength of their sibling bond is obvious.
This raw and powerful photo? Yes, it shows the pain, the sickness, the sadness that cancer inflicts.
It shows the fragility of the human body. But it also shows the strength of the human spirit. The strength of the one who is fighting and the power of those walking hand in hand alongside. It is a testament to the bond of love, unbroken. Even in the face of a disease which tries its hardest to break you.
Kaitlin shares the story behind the image and why she took it, with Filter Free Parents:
"Chemotherapy makes kids sick. Beckett would often have an upset stomach and would take himself to the bathroom. He would tell his sister it hurt and she knew what that meant. She knew by rubbing his back, it would let him know she was there and He wasn't alone. He preferred her to mom and dad. I wanted to capture the way cancer affects the siblings and find the good in a horrible situation."
Since his diagnosis, Beckett has been undergoing cancer treatment and will continue to do so for a total of 3 YEARS. Kaitlin tells Filter Free Parents:
"He is receiving chemo in pill form every night. he gets methotrexate weekly and goes to clinic to receive chemotherapy monthly. He takes steroids 5 days out of the month, every month. He will finish treatment August 8, 2021 (I know it's two years out, it's brutal)."
While some people may find it difficult to understand why Kaitlin has chosen to publicly share their journey, she hopes to raise awareness about childhood cancer. And in doing so, provide hope and encouragement to other families going through the same.
"I shared his journey so family and friends could receive updates. Overtime, we had a few others join in. I chose to be so open about his journey because I want to raise awareness for childhood cancer. Our kids are underfunded at only 4% and it's important to me that if we can make a difference in the lives of families battling this disease along side us that we do. I hope that Beckett's story can encourage and push someone else who may be going through the same. Sometimes just knowing you're in it together is enough to get through the journey, one day at a time."
Cancer touches almost all of us in one way or another. But when it comes for our children, it feels even more malicious.
I was 12 years old when we moved to a new house, in a new city. Our neighbors had a daughter, 3 years younger than I was. While I was outside riding my bike, playing tag with friends, and enjoying the carefree life of being a kid, she was fighting an aggressive form of leukaemia. She began her treatments with 9 other kids. By the time she was done, there were 2 of them remaining. Just 2.
Thankfully, survival rates have increased significantly since I was a child. For Beckett? According to St.Jude Children's Research Hospital, his prognosis is excellent with 98% of children going into remission. But there is still so much further we need to go. We need a cure.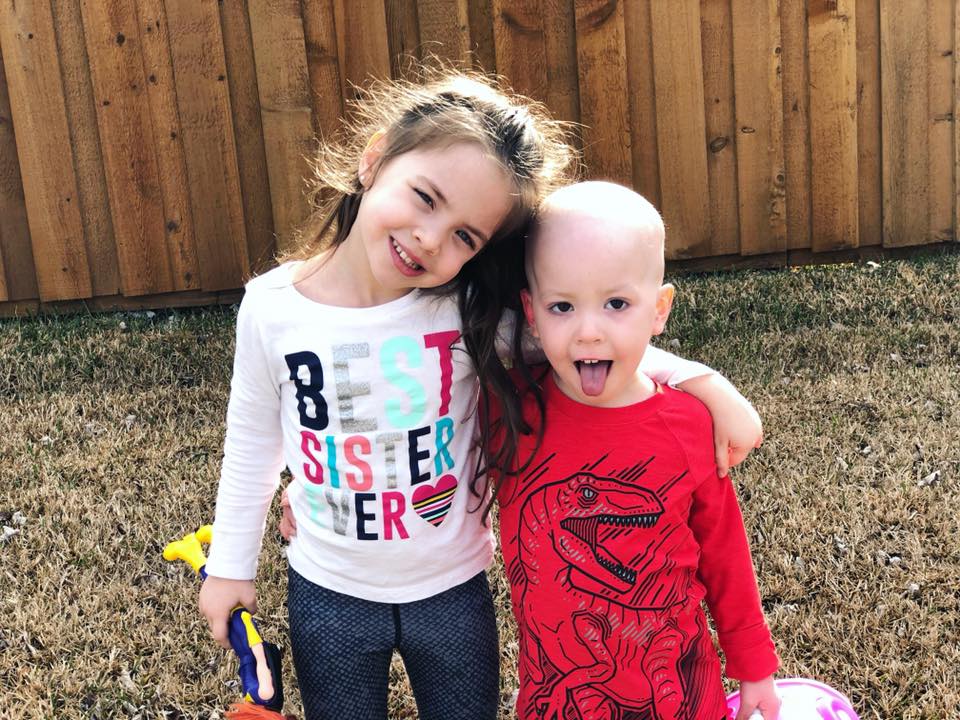 And for those families neck-deep in the fight, battling cancer, Kaitlin has this message for you:
"I want them to know they're not alone in this fight. It's okay to have bad days. There are brighter days ahead. Find your strength, whether it be a sibling or a story, and keep on pushing through. This is a chapter in your life."
And for the Burge family? We hope you will be able to close the book on this chapter soon and start a new one. Full of bright days.