Breast cancer is one of the most potentially devastating diagnoses a woman can face, and it's become an all-too-common reality for many women. The impact of battling breast cancer is massive; it's quite literally a life-changing process, with no guarantee of an ideal outcome. In short, it can be terrifying.
My own mother was diagnosed with breast cancer almost two years ago. A double mastectomy soon followed; fortunately, her cancer was caught early enough that she is presently doing physically well. But as a close family bystander, I witnessed the roller coaster of uncertainty that a cancer patient faces, and it can be utterly heartbreaking.
Fighting breast cancer can take every last bit of strength inside you, at a time when you are feeling most vulnerable.
Photographer Mandy Parks created a series of poignantly beautiful photographs to illustrate what strength looks like when it comes to breast cancer.
The portrait series features breast cancer patient Kelsey Johnson and her husband, Charlie Johnson. The visual story begins with Kelsey seated before a mirror, gazing at her own face. Next, her husband Charlie holds an electric razor in his hand.
The time has come; now that Kelsey has been undergoing chemotherapy treatment & losing her hair, she has opted to shave her head.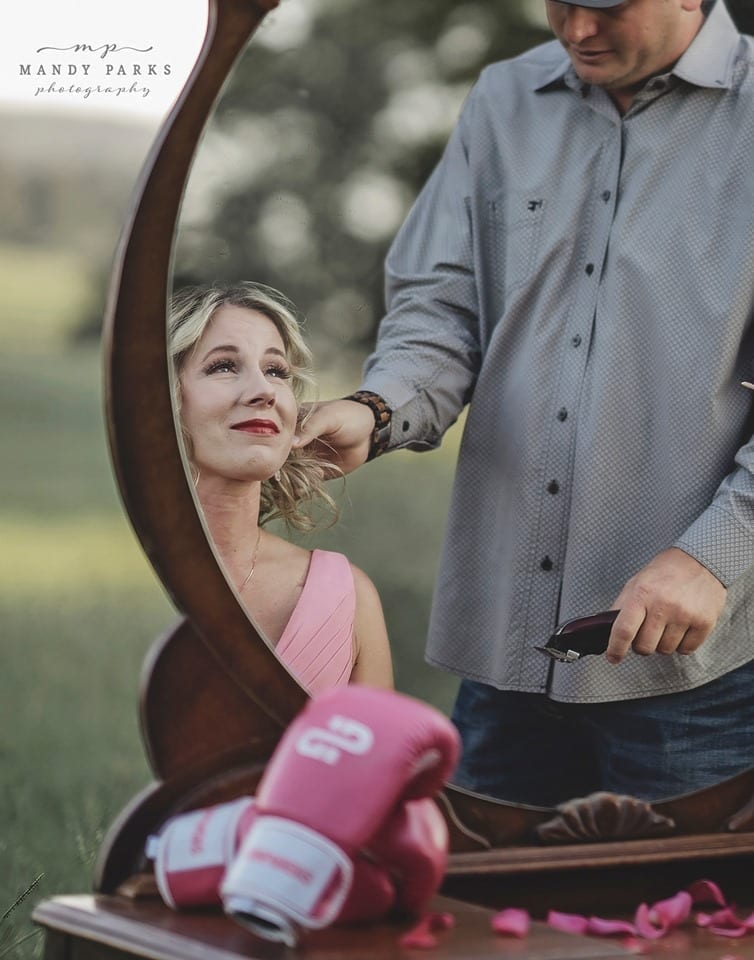 The next few photos depict the shaving, including one of a solitary lock of her beautiful blonde hair as it falls to the ground. Kelsey looks soberly at her reflection after the first few strokes of the razor has made its mark: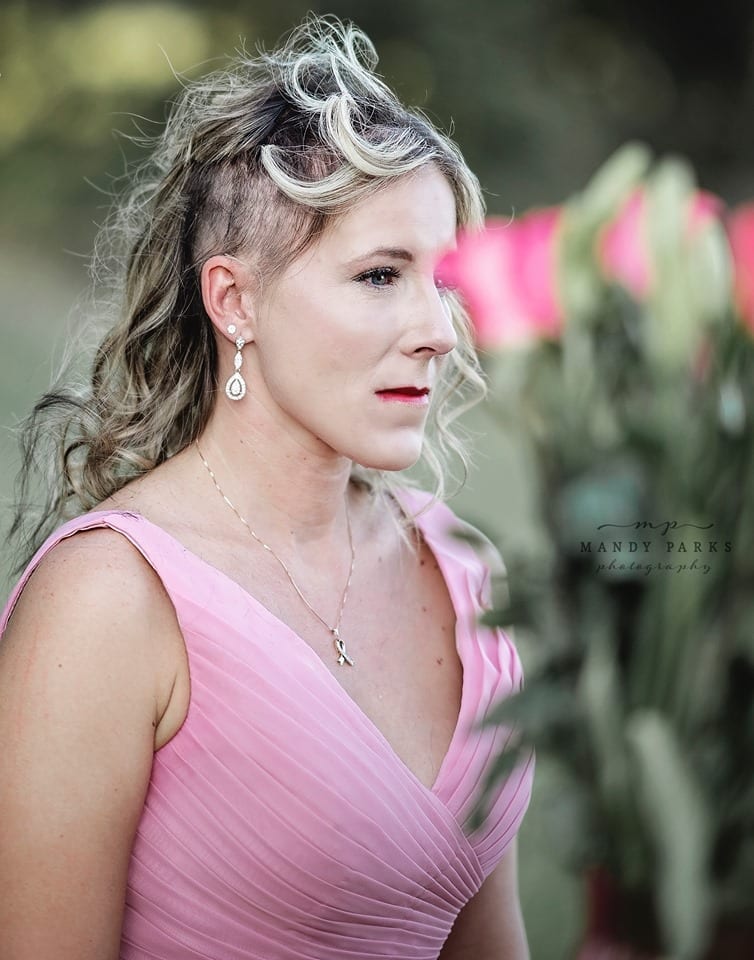 Then the act is finished; Kelsey's head is completely shaved, and her new reality sets in.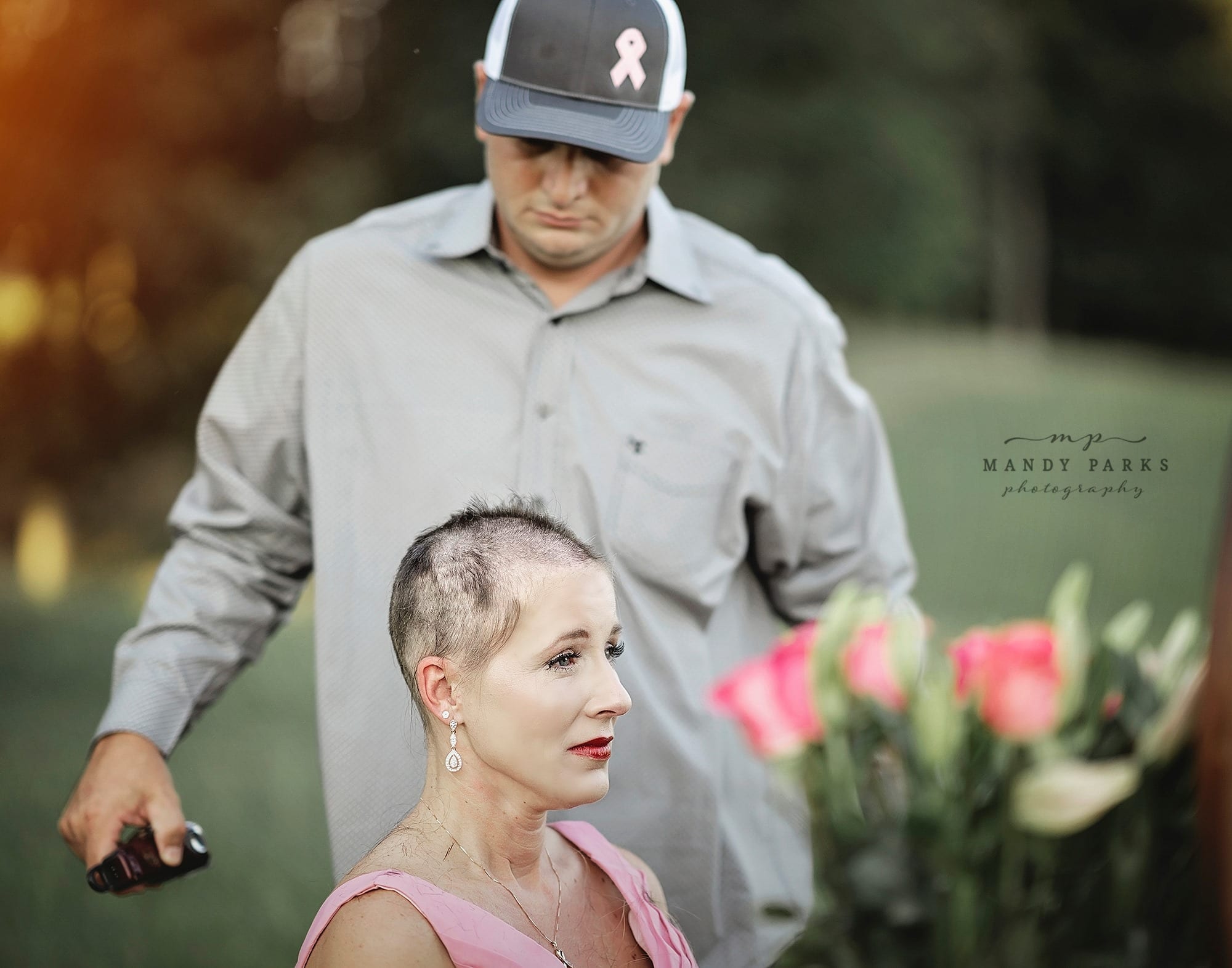 As expected, it's not without pain. It's a loss, and both Kelsey and Charlie feel it.
There are pictures of Charlie's tear-stained face; he's clearly hurting for his hurting wife. Their "normal" has been disrupted, and they are adapting to their "new normal".
But they are adapting to it TOGETHER.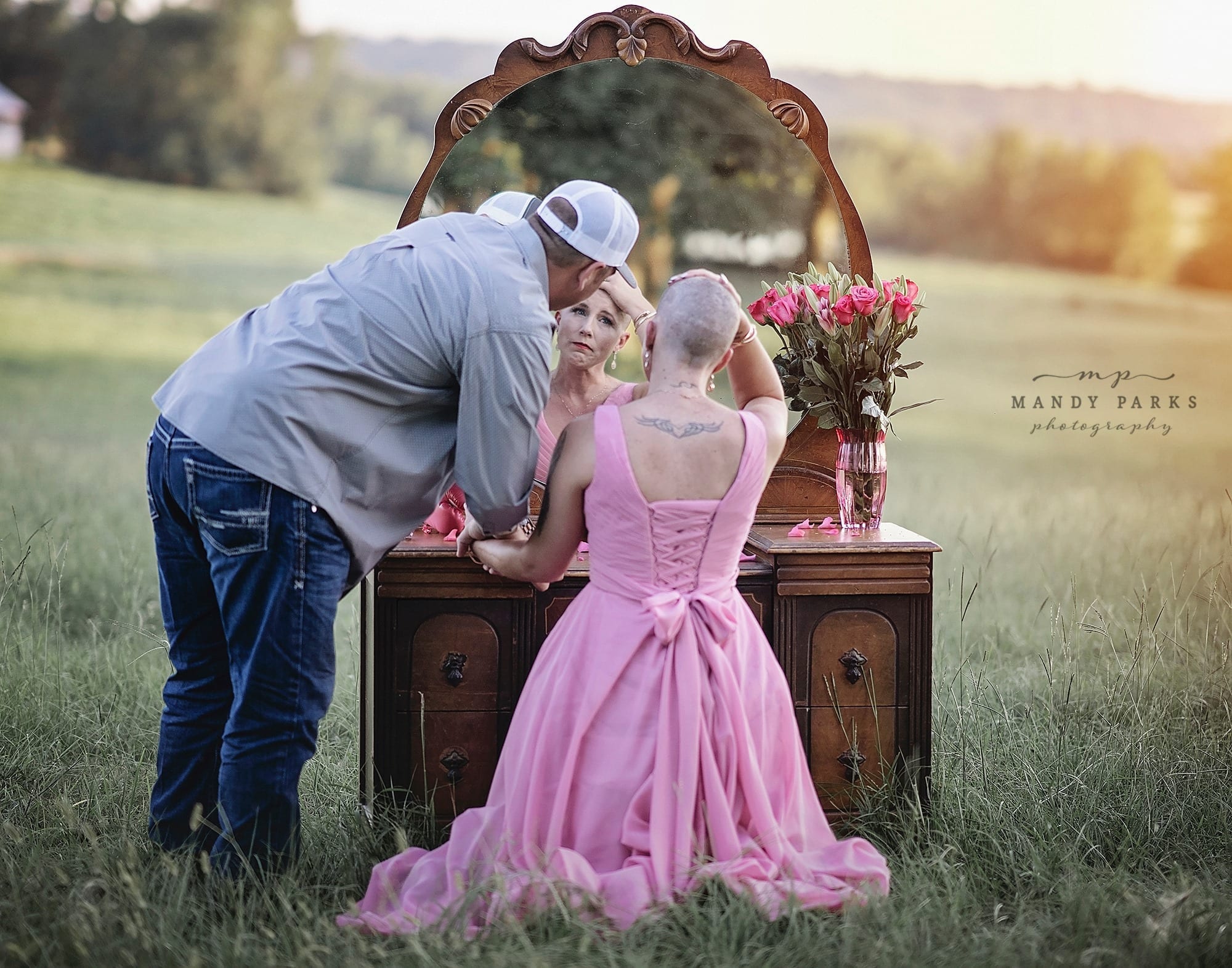 If the picture series were to end here, we'd perceive it as a bittersweet illustration of a couple facing a tragic circumstance in unity. And while there is an aspect of that in the photos, the subsequent photos show another side of facing a breast cancer diagnosis.
There is a time for the fear, and the sadness. But there is also a time to fight. HARD.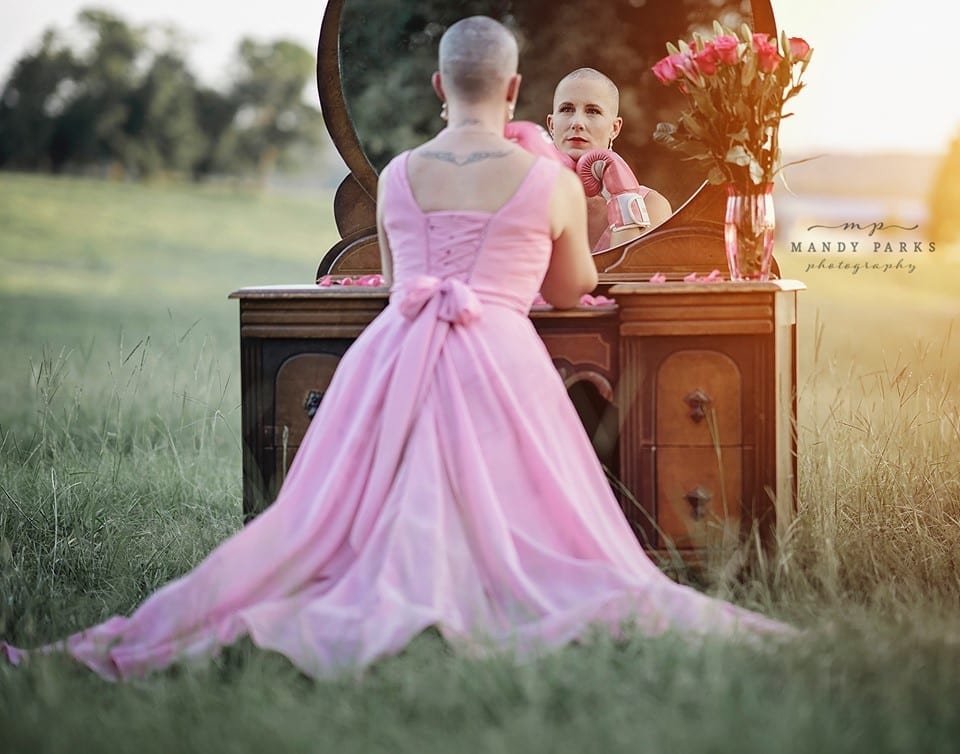 (Note that Kelsey is sporting pink boxing gloves in this shot- she's ready for the fight ahead!!)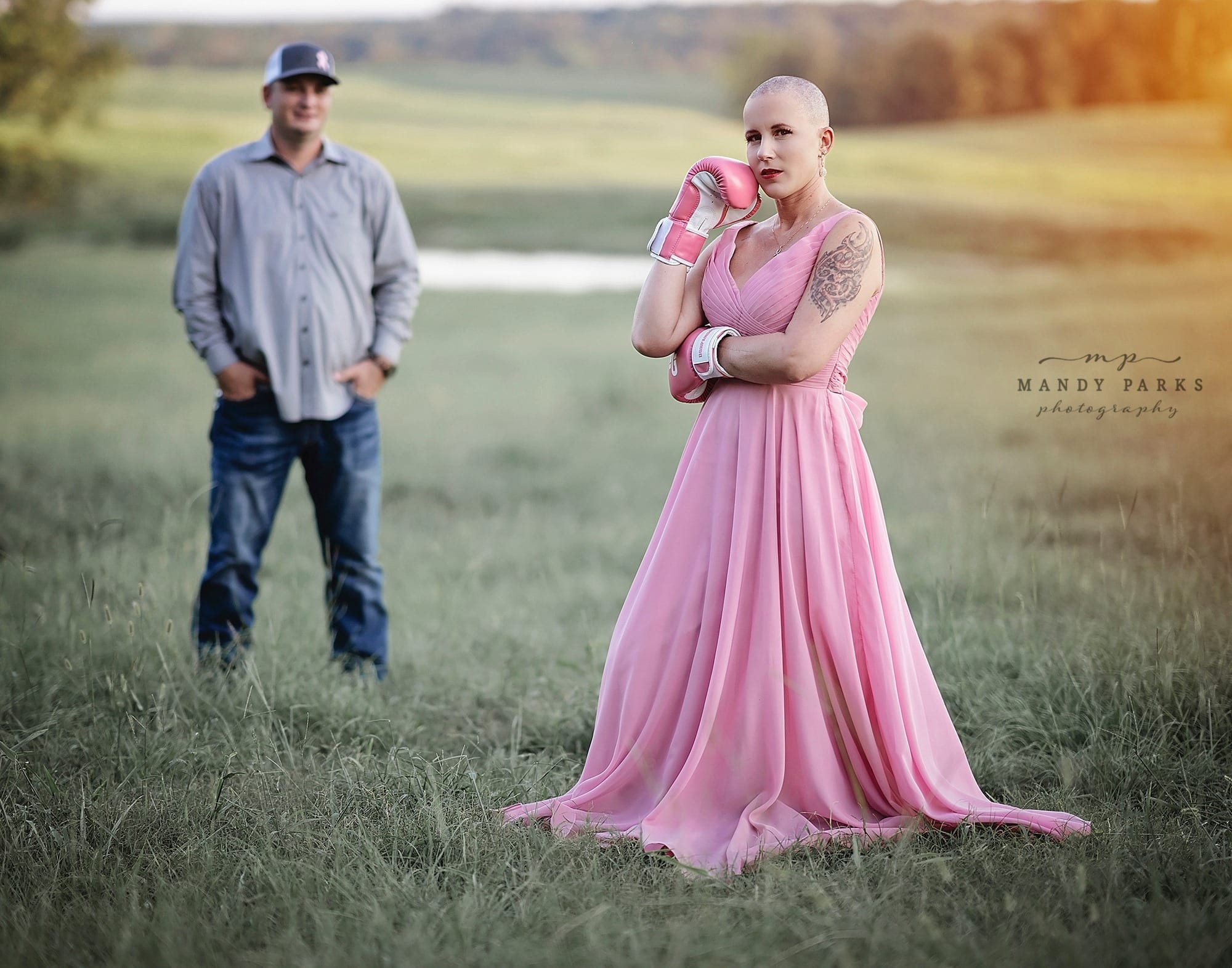 There isn't sadness in this picture. This picture embodies strength. Stubbornness. A fierce inner drive to kick cancer's ass.
The picture's achieved Mandy Parks' intentions: as she stated in the post description on Facebook, the photo series was intended to support & encourage other women that are facing the same plight as Kelsey Johnson:
Strong women aren't simply born. They are made by the storms they walk through. From the pain, mistakes, and heartache we achieve pride and strength.
Accurate AF, Mandy Parks!
She also reminds her audience that it's not just the breast cancer patient that needs to be strong, but the people around her as well.
It's not meant to be a solo fight; we need to rally around any woman that faces the same diagnosis:
I don't know who needs to see this today. Or yesterday. Or someone you know might get this phone call tomorrow.

Show them what strength looks like. Let them know they are not alone. Stand by them as they kick this like the warrior they are!
Mandy's photographs are a touching illustration of the fight against breast cancer, but the responses of fellow breast cancer survivors to the post made it even more poignantly beautiful.
Many commenters shared their personal experiences with dealing with their own diagnosis. Others took the opportunity to share pictures of their own shaven heads to express solidarity- not just for Kelsey, but for one another.
For ALL of the women out there battling breast cancer.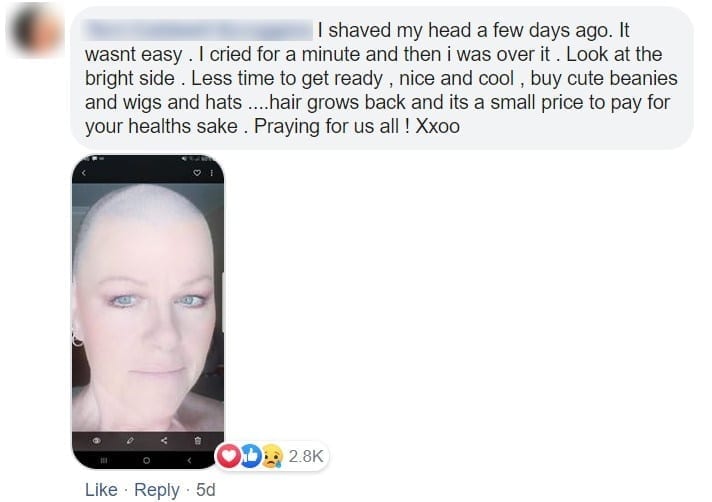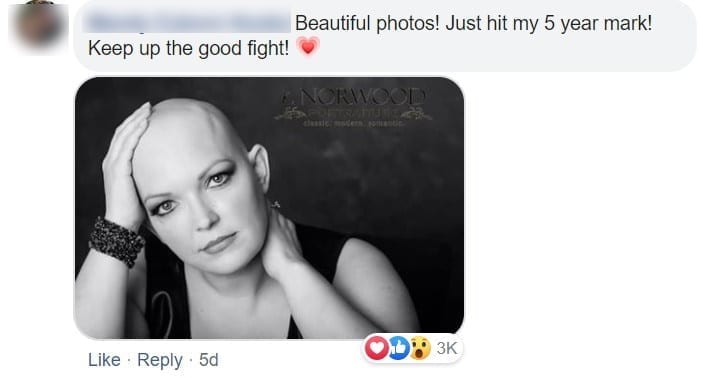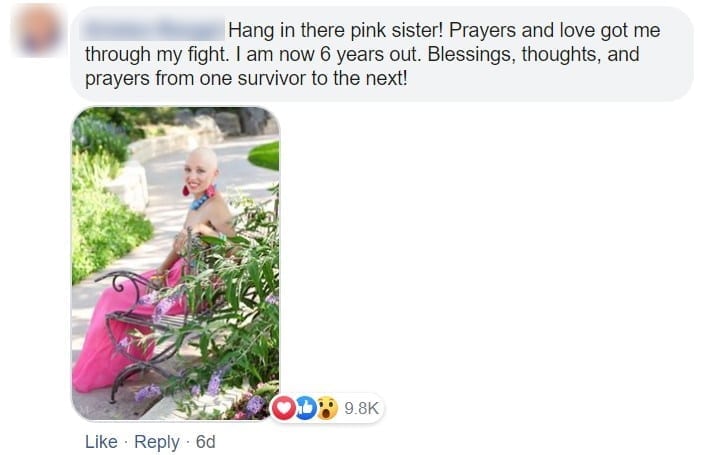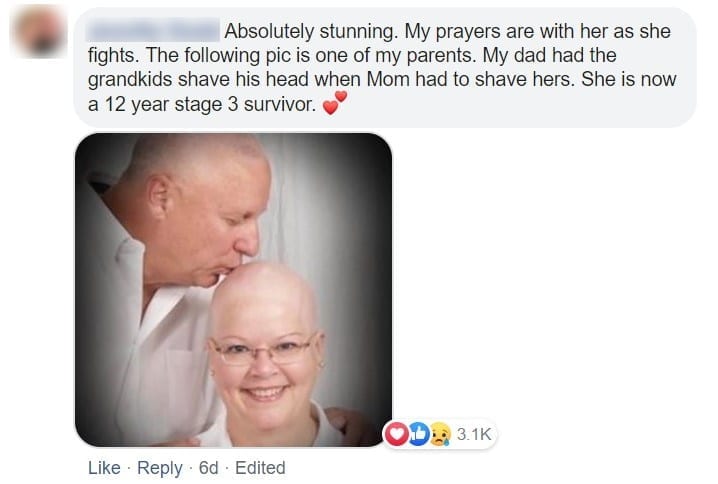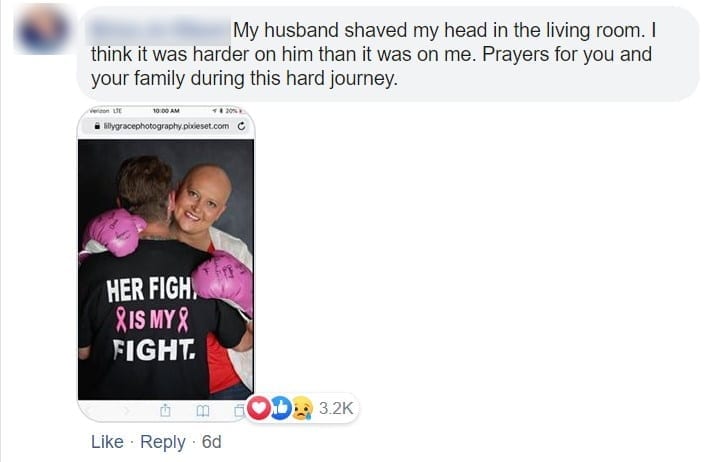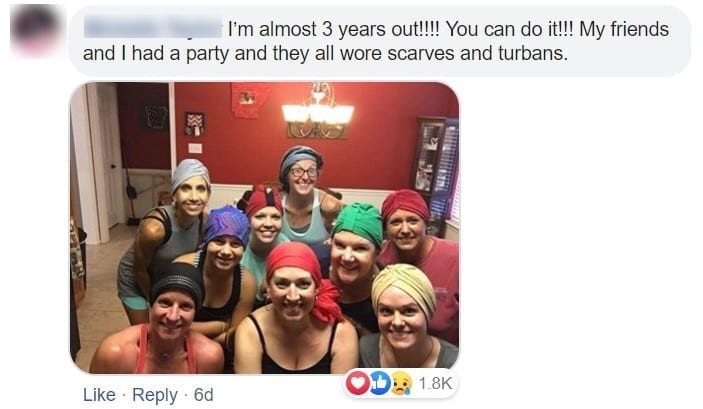 These are just a few of the comments shared, but there were too many to possibly feature. The post itself has already earned over 304K shares and 50K comments since being published on August 20.
What is clear based on the sheer volume of comments is that breast cancer has touched nearly every woman's life in some way- either though a personal diagnosis, or the diagnosis of a loved one.
Being diagnosed with breast cancer is scary. It's a road fraught with uncertainty, and many highs and lows. But in the midst of the battle, knowing you're fighting with an army of support behind you can make a vital difference.
Mandy Parks' post captures the "pain, beauty, and bravery" that breast cancer warriors experience on their journey, and has become a beacon's light of hope in its message of solidarity to those who need the encouragement most.