It seems like only yesterday that Prince Harry married his beautiful American bride Meghan Markle in the televised fairy-tale wedding that was witnessed by millions.
And we LOVED it. It was some serious Prince Charming stuff that left every wife telling their husband:
"Sure, Harry is telling his bride how amazing she looks while biting his lip & takes her on a real carriage ride after their wedding, but you can't even put your dirty socks & underwear into the hamper instead of ON it."
But despite the glitz and glamour of being members of the royal family, Harry & Meghan have been determined to do things THEIR way, even if it means bucking tradition.
The couple made their boldest move yet, shocking many as they formally announced their intention to step back as senior members of the royal family.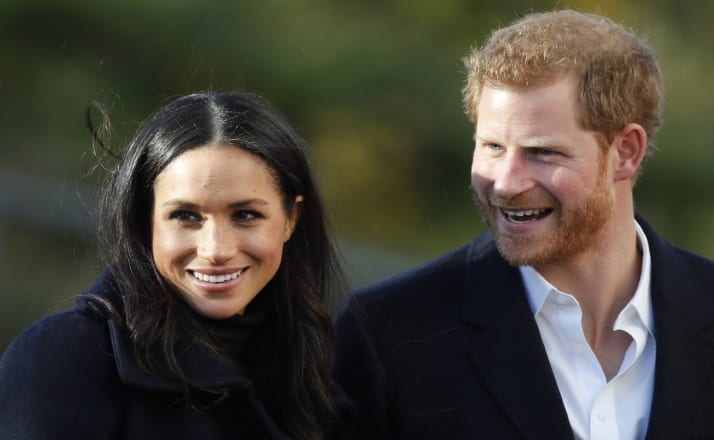 The couple has decided to pull back from royal life & responsibilities in a big way; according to their explanation they are:
making plans to split their time between the U.K. and North America.
This basically means that Harry and Meghan are loosening the chains of royal protocol, and plan to distance themselves from daily royal life, for more opportunity to establish themselves outside of the royal titles and responsibilities.
Here's a tweet presenting the couple's statement to the press:
Prince Harry and Duchess Meghan confirm that they are stepping back as senior members of the royal family and will divide their time between the UK and North America. Full statement: pic.twitter.com/D2iAs71rWc

— Omid Scobie (@scobie) January 8, 2020
But instead of revealing their intentions simply in the "official announcement" via the press, Harry & Meghan also did it their OWN way, in a method that suits their down-to-earth, unpretentious vibe perfectly.
They shared the news on their Instagram account.
One of the most impressive details in their description is their mutual desire to:
work to become financially independent, while continuing to support Her Majesty The Queen.
They plan to get jobs, people! Rather than live off the well-filled coffers that the Royal Family possesses, Harry and Meghan want to be as financially independent as possible, which is pretty damn impressive.
And the wording just may indicate, oh so delicately, that Harry & Meghan are basically resigning from the Royal Family, more or less.
But were clear in their respectful intention to honor the Queen, because family is still obviously important to them….
And their own new family unit is one of the major motivating factors in Prince Harry & Meghan's decision to split their time geographically as well.
Since their son Archie was born, the two have appeared to be doting parents, and clearly seem motivated to build a tight, cohesive family unit… of their own, rather than ONLY through the lens of the royal lineage.
They explain their desire to split their time between the U.K. and North America because:
this geographic balance will enable us to raise our son with an appreciation for the royal tradition into which he was born, while also providing our family with the space to focus on the next chapter.
In other words, they need space. They need enough space to create their own traditions, and their own family model, while still teaching Archie about his father's royal line.
It's a uniquely blended family, and Harry & Meghan are determined to take the reins and decide for themselves precisely how their family will thrive.
While the announcement may seem shocking to some, others could sense that change was a'coming. Meghan had admitted in a rare vulnerable interview just how challenging the pressure of the constant royal fixation has been.
And Harry has come a long way from the cheeky, mischievous party-boy that he was long ago. He's now a husband and a father, & by all appearances, he's damn good in both roles.
If building a healthy, balanced family requires a departure from the Old Guard, then Harry's just the one to do it, with Meghan right there at his side. They've got this.
(And I can't help but think about how proud his mother Diana would be of Harry's determination and maturity to stand up for himself & his family, and to make the decision he and his wife feel is best for THEM.)
So while it remains to be seen just how this new departure will affect the Royal Family's future commitments, Harry and Meghan's decision to change things up could be just the thing to breathe new, progressive life into time-honored royal tradition.