Christmas is TEN DAYS AWAY and no this is Not. A. Drill.
Moms across the globe are hard at work making sure the magic of Christmas will fall over their homes.
On top of checking off everyone's lists, wrapping all the things, and making the favorite Christmas dishes is the one task ALL moms hate but no one seems to talk about.
Finding the dreaded holiday outfits. UGHHHH.
However, a hilarious Saturday Night Live commercial spoof about Christmas clothing for kids is giving us all life right now. Because it's relatable AF.
Disguised as a Macy's ad, this spoof starts off like a normal commercial touting deals for moms and dads. But then in true SNL style it takes a hilarious turn that has us all shouting "SAME!".
After the picture-perfect mom & dad outfit options, the commercial pitches the perfect holiday outfit to for your kids. And, then it hilariously pans to a little girl jumping up and down exclaiming – "It's too hot!!"
While another boy cries – "IT ITCHES!"
Talk about a truth bomb. Then there is this toddler who's clearly not loving the holiday get-up he's being forced to wear.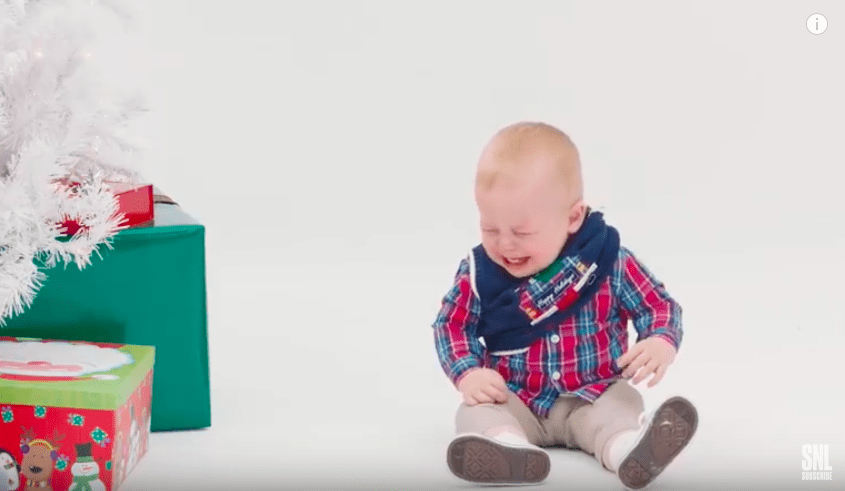 The next deal offered is 40% off boy's corduroy pants that are guaranteed to "pinch his little nuts". As a mom of a seven-year-old son I can assure you this is completely true and getting my son to wear real pants is the biggest struggle in our house.
It's easier to get him to clean his room than to put on dress pants.
Buy why, seriously?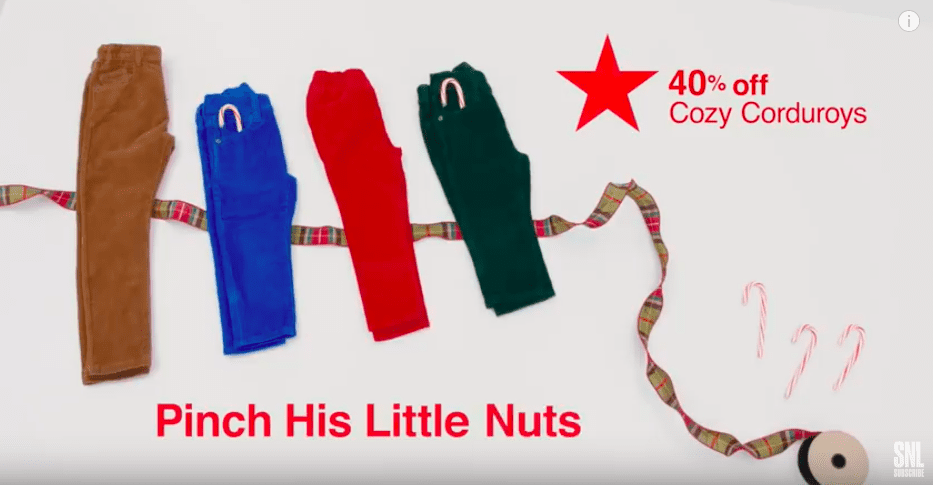 Next up is great deals on little girls' shoes that promise to hurt as the mom on screen hobbles and explains to her daughter,
"Welcome to the world of being a woman, Kylie."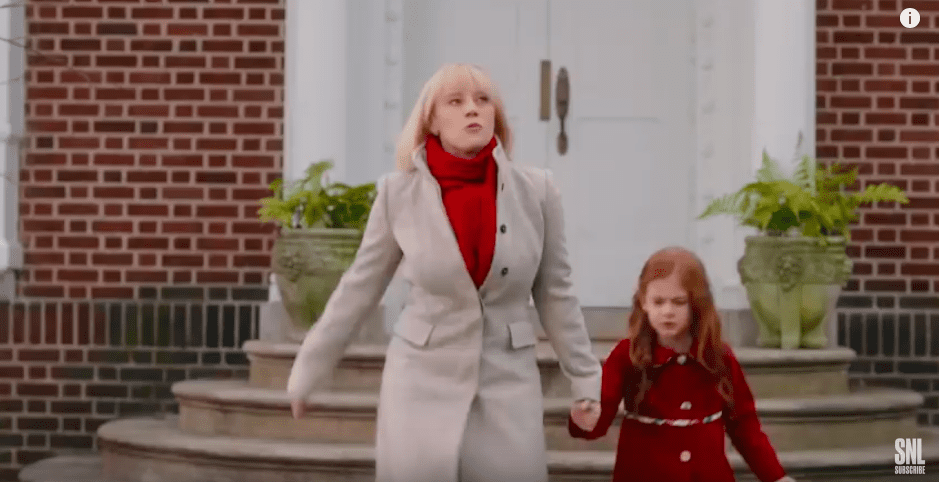 Teach them young, right?
In this hilarious ad that frankly gives me a little bit (OK – A LOT) of anxiety, they also include the cute holiday rompers that you won't be able to get off in time for a bathroom break and shows the all too real moment of a mom on the floor of a bathroom with a hair dryer attempting to salvage the outfit.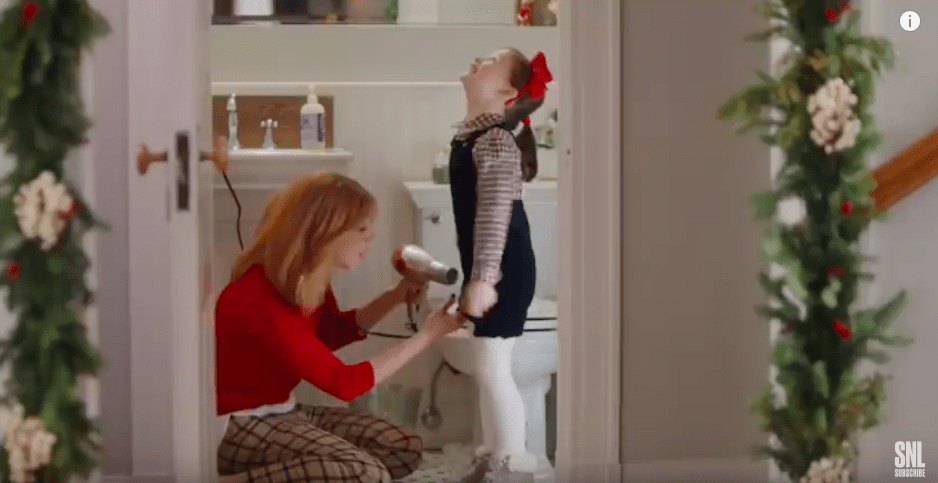 If you have little girls, it's ok to admit it – we have ALL been there.
Of course, you can't have a holiday kids' clothes sale without winter coats.
Winter coats that they won't wear and even IF they did, they won't fit in their car seats. After a struggle, Dad shuts the car door and exclaims – "F$%@K!!!".
We are all lamenting with him. The struggle is REAL.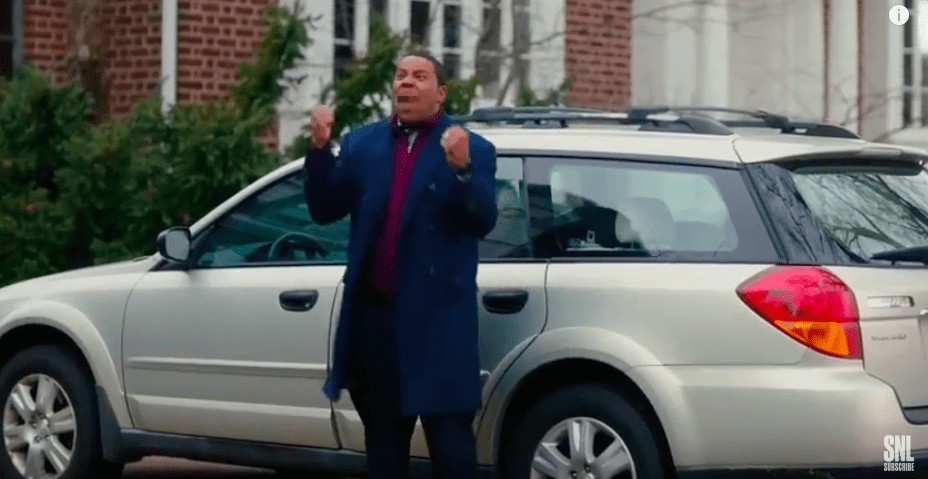 Being a Floridian, I thank my lucky stars that I don't have to deal with the Devil, also known as snow boots, but I SEE YOU moms and dads across the states that are faced with this plague.
I send my thoughts and prayers.
The commercial touts deals on snow boots that will "strain your marriage".
I'm rolling here because I can not even imagine how my husband and I would be able to get through this. Our marriage would not survive. Bless you all.
The hilarity ensues in a quick back and forth where the wife threatens to cancel Christmas plans at Grandma's house and the husband seems quite OK with that idea.
Then the commercial highlights options for the littlest members of your family.
You know, those adorable baby onesie style outfits with five million buttons and snaps. Do the baby fashion designers just hate us all? Why. Why. Why.
The ad touts that they,
"…have so many tiny snaps you'll let your baby sit in a loaded diaper for hours just to avoid having to put it back on."
#RELATABLE.
And also, why the f*ck do we need to buy these outfits for the babies and toddlers that they will legit only wear ONCE? Whose idea was this anyway?!
To finish up the commercial is the advertisements of the last-minute deals, you know the important ones:
"Mittens to lose, shirts with the wrong Disney princess,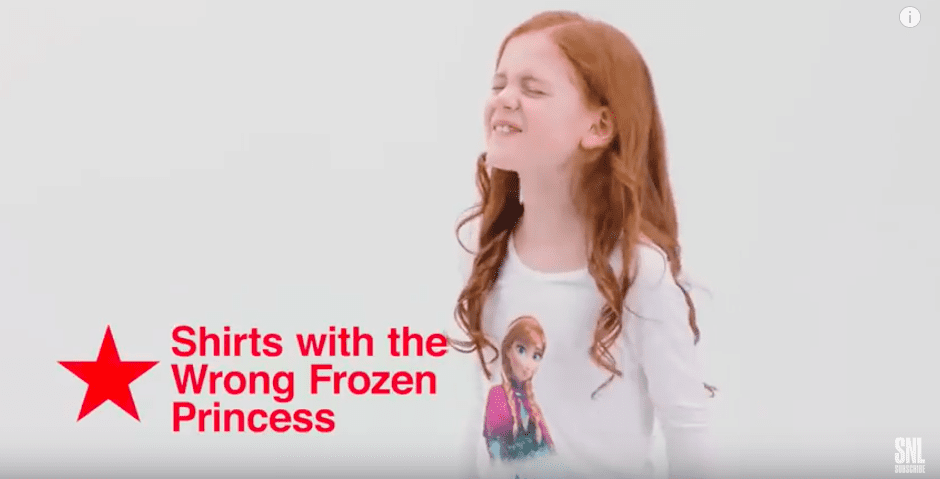 sweaters to make them hot, flannels that make them hot, scarves that make them hot."
One last laugh comes when Dad discovers he ended up with the wrong fully bundled up son after he slowly unwraps the scarf and exclaims,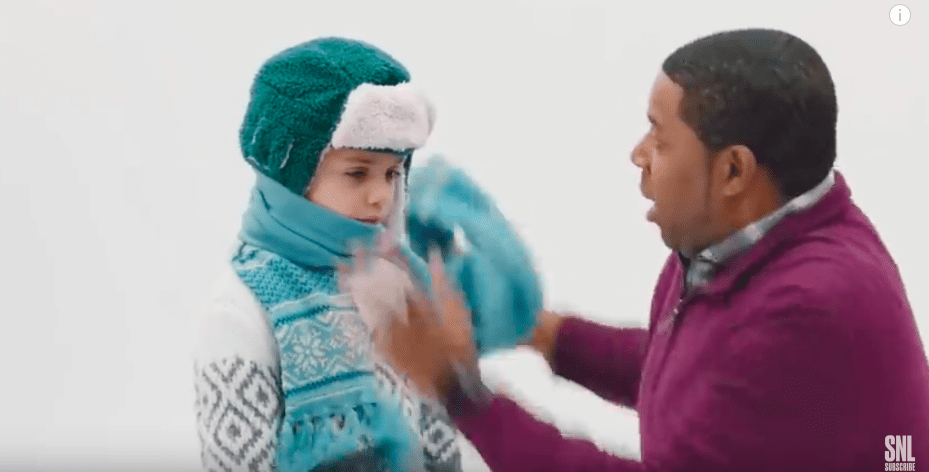 "Where's my son!?"
The commercial closes with a montage of a photoshoot gone all wrong, or is it actually?
Because we have all sat through those photoshoots this month, right? Solidarity.
In true SNL fashion they managed to hit our funny bones and remind us that nothing picture perfect ever really is. You can watch the whole commercial here:
No matter how torturous your holiday outfits are to your children – don't forget, come Christmas morning the agony will be a distant memory.