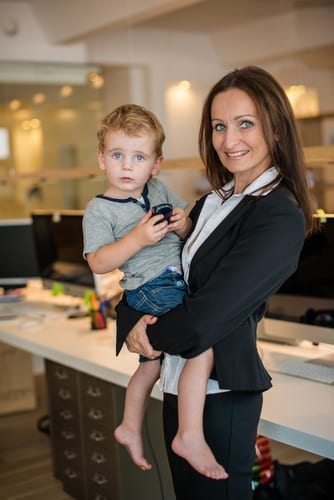 Despite the barriers and challenges, women are as equally qualified as men to run big businesses. According to a new Pew Research Survey, most Americans found women to be more innovative, more intelligent, more compassionate and stronger than men when it comes to being organized leaders. Women are making strides in the business world. Find out what you can learn from them. Here are three women in big business who are leading the way for today's mompreneurs.
Believe in What You're Doing
Julie Clark, the founder of Baby Einstein, resigned from her high school teaching job to become a full-time stay-at-home mom. As a teacher, Julie wanted to teach her baby about all of the things she loved most, like art, literature, music and more. However, there was nothing on the market that fit the bill. So, Julie began making videos, which included editing and adding music, out of her home during her free time. After investing $15,000 into her project, Julie marketed her videos by attending trade shows and she also sent her concept to publications to be reviewed. A retailer picked up her idea and purchased 100 videos. They were sold out in just two days.
In 2014 Julie told Tiffany Pham in an article for Forbes "Fear and doubt are always the biggest obstacles in starting a business." She continued "…I really believed in what I was doing." Before Baby Einstein, Julie had never marketed or sold anything before. But she believed in what she was doing and that's what made her so successful.
Continue to Evolve
LifeLock president Hilary Schneider has a long-list of achievements on her résumé. Before taking charge at LifeLock, the Harvard grad served as executive vice president at Yahoo! and Knight Rider and she also served as CEO of Red Herring Communications. Today, her approach at LifeLock focuses on creating a company that continues to evolve, through challenges and high points.
Continue to evolve in your own career and consider working for a company led by an influential woman. Working in close proximity to female leaders provides a plethora of benefits, as they are great examples to aspire to. To launch a career at LifeLock, visit its website today.
Embrace Being a Generalist
Sheila Marcelo was supposed to be a lawyer. After applying to Harvard Law and being accepted into the prestigious university, she deferred, and for a few years she worked in consulting and litigation as well as the telecom industry. After two years Sheila had to go back to school, and after just one year in the law program she decided that she wanted to pursue business. After four years she earned her MBA. While creating Care.com, Sheila used the skills she learned from consulting and she applied what she had learned at Harvard.
In an interview with Businessweek, Sheila said "People fear finance courses or marketing courses or anything they're not already exposed to. Embrace being a generalist. If you want to be an entrepreneur, don't underestimate the value of skills learned in those classes." Entrepreneurs aren't necessarily masters of one trade. Apply what you know to what you love and it's likely that you will find success as an entrepreneur.