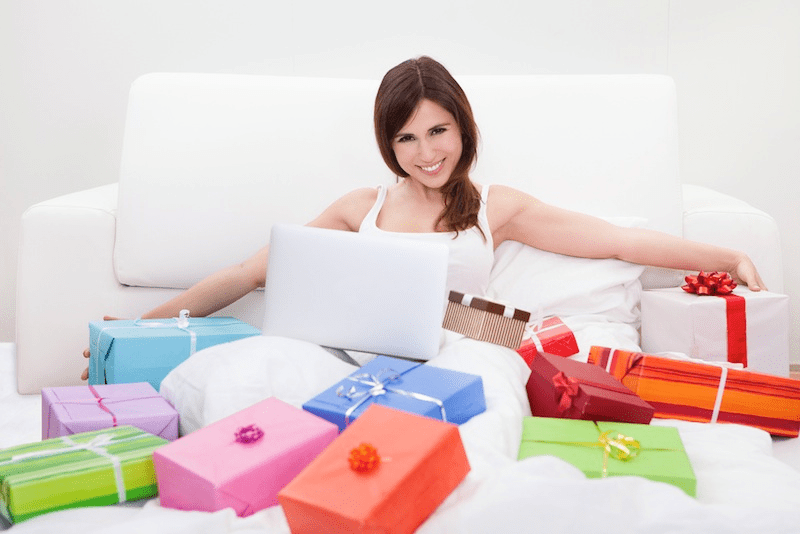 Being the best mom ever that you are, you've probably already brainstormed what to get your kids for the holidays. Every year is filled with festive decorations, twinkling lights and cheer of course, but what also comes with the territory is additional stress that results from long lines, crowded stores and annoyed holiday shoppers. To avoid the chaos this year, take note of these holiday shopping trends, tricks and tips to make the gift-giving process a breeze this season.
Holiday Shopping Trends
If you're living in 2015 then you fully understand that e-commerce is where holiday shopping is going. Forget about "door-buster" sales on Black Friday because Black Friday has made it's way into the cyber world of shopping with metaphorical doors. Many customers this year will be shopping off their mobile devices and with mobile commerce comes social commerce.
Knowing where to look for presents is half the battle and thanks to technology, you now have internet access to a database of almost every store and item right in the palm of your hand. Keep an eye out for more ads that are targeted to your interests as you search for presents online.
Retailers are also engaging shoppers via social platforms more and more. This means daily deals, sales and gift ideas are being promoted nonstop on brand social media sites. And if you do decide to weather the physical act of shopping at the store, you'll likely see brick-and-mortars integrating social components on the shop floor to attract consumers.
Gifts that are trending for those mobile millennial kids of yours are circling around technology. For example, wearables such as smartwatches are a mecca for the youth to stay constantly connected and social.
Holiday Shopping Tricks and Tips
If you're at a loss for what to buy the family, there are some very helpful websites that'll spark ideas. Pinterest has become a very shoppable digital platform that gives you a visual guide to what is out there and popular. All you need to do is search key terms (like the interests of your daughter) and the site populates results to click on and explore, with most of these "pins" leading to where you can buy the product.
Another source to determine which tech device or accessory to gift recipients is the T-Mobile naughty or nice quiz. Channel your inner Santa and take the short quiz but answer as if you were your kid to find out what gadget fits his/her personality best.
Online shopping for the holidays has made the process for moms highly efficient. Capitalize on real-time deals by following retailers and brands on their social pages. Many retailers reward their social media followers with exclusive coupons and early access to major sales. Speaking of coupons, if you're the extreme couponer kind of mom (who doesn't love a deal?!) then peruse through coupon sites like RetailMeNow.com, CouponCraze.com and CouponMom.com to get coupon codes to plug and chug into retail sites.
Finally, since a lot of brands are utilizing email and mobile communications during this peak-shopping season, be sure to sign up for email and text alerts to receive special discounts. They may be annoying but the reward is worth it, especially if it's making that new iPhone 6S Plus half priced.
Holiday shopping does not have to give you a headache this year. By understanding what is available in the e-commerce world, you can be everyone's favorite during the holidays and give the best gifts bought from the best deals in the most convenient channel of shopping.
– By Jennifer Thayer
Jennifer Thayer is a technology writer who is passionate about exploring new ways technology can be used to make day-to-day tasks easier. Follow her on Twitter.